Agency
Industry Space Days
Industry Space Days (ISD) are organised by ESA to bring together the main European players in the space sector. Their main purpose is to increase the involvement of SMEs in space activities and to foster cross-fertilisation between the different actors in the entire space sector.
To this end, a series of measures are taken to facilitate networking and the establishing of new business contacts. These include: pre-arranged face-to-face meetings, exhibitions highlighting the innovations and expertise of selected SMEs, briefings on business opportunities by large groups and institutional organisations, and conferences on space perspectives and market trends.
Benefits arising from the ISD event
The ISDs provide:
An efficient way to establish new contacts:
The ISD event guarantees the opportunity to pre-arrange and have a significant number of meetings with potential partners who may otherwise be difficult for SMEs to meet.. This allows SMEs to present their distinctive competence and products, and to build new partnerships.
A time-saving time-efficient communication tool:
The intensity of the meeting opportunities at the ISD means that an SME can explore and initiate many valuable cooperation possibilities and obtain new insights from sources often not visible from the SME's own position in the value chain.
An opportunity to exhibit expertise and products:
During the ISD, space is made available for a number of technology exhibitions where selected SMEs can present their products, innovations and expertise. This provides an opportunity for informal ad-hoc get-togethers with other professionals, with the potential of leading to new business opportunities.
The ISD is a unique event which provides an excellent opportunity for SMEs to meet and discuss prospective business with new contacts, to attend conferences and workshops, and to showcase their technologies to potential partners.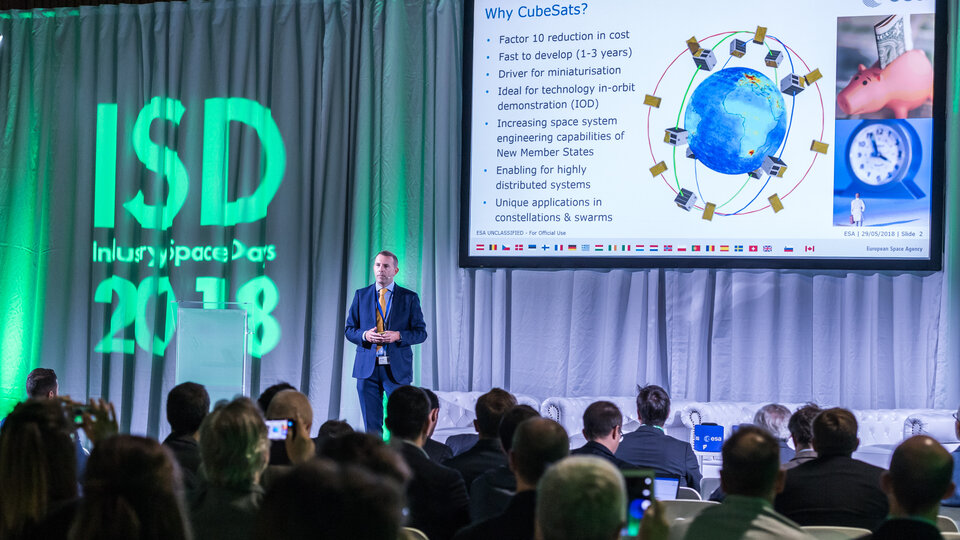 The seventh Industry Space Days event organised by ESA's SME Policy Office supporting SMEs working with ESA, took place at ESA ESTEC, Noordwijk, in the Netherlands on 11–12 September 2018.
ISD 2018 was attended by over 1500 people from industry. Some 850 companies from 39 countries participated more than 10 000 pre-arranged business meetings.
An industry exhibition featuring 140 stands provided additional opportunities for European suppliers, especially SMEs, to present their products, projects, or their R&D to potential customers.
Industry Space Days 2020
A record 1900 participants registered for the Industry Space Days held online on 16–17 September 2020.
This event usually takes place at ESA's Technical Centre in Noordwijk in the Netherlands but due to the COVID-19 pandemic, ESA moved it online for the first time since its inception in 1999.
Presentations were web streamed and thousands of prescheduled B2B meetings were held in virtual meeting rooms.
ESA hopes to host its next Industry Space Days on site at its European Space Research and Technology Centre (ESTEC) in the Netherlands on 8–9 September 2021.