Agency
ESA's technical heart marks 50 years of Europe in space
A year of celebrations marking half a century of European cooperation in space concluded this week with a royal visit to ESA's largest establishment, in the Netherlands.
His Majesty King Willem-Alexander of the Netherlands visited ESA's ESTEC technical centre in Noordwijk on Tuesday afternoon, joined by the Dutch Minister for Foreign Trade and Development, Lilianne Ploumen, more than 20 national Ambassadors and representatives from Dutch industry and local government.
The event commemorated Europe's achievements in space during the last 50 years, as well as looking ahead to the next half-century.
The King was welcomed by ESA Director General Jean-Jacques Dordain and the Head of ESTEC, Franco Ongaro, King's Commissioner Jaap Smit and the Mayor of Noordwijk, Jan Rijpstra.
Mr Dordain hailed the Netherlands as a pivotal player in European space cooperation, as one of the original 10 nations that founded the European Space Research Organisation, as well as the host country of what grew to become ESA's largest centre.
Reflecting on past successes, Mr Dordain picked out four key factors that have allowed ESA to flourish: cooperation, innovation, expertise and evolution: "You cannot stay the best if you don't adapt to a changing world."
Minister Ploumen spoke on the importance economic benefits to be drawn from ESTEC, Europe's main space hub, through strengthening cross-sector links with the broader Dutch economy: "Competitiveness comes from innovation, which derives from basic and applied research, and ESTEC is a key player here."
ESA's Dutch astronaut, André Kuipers recounted his experiences in orbit, including two assignments to the International Space Station, and told of his postflight work as a 'space ambassador'.
He had plenty of first-hand experience of space's power to excite and inspire – especially for children, the new generation of scientists and engineers.
"If I can only influence 1–2% of young people to consider a career in science and technology, that would be a job well done," André remarked.
Prof Dr John Krige, chronicler of ESA and author of this year's book50 years of Cooperation in Space: Building on the Past, Shaping the Future, added a historical dimension.
He picked out examples of when the sustained will to cooperate made the difference between failure and success.
"Cooperation is difficult, many would prefer to go it alone," he summarised. "But it is essential if ESA is to be the best space agency in the world."
Overall, this was an event at least as much about the future as the past. At the request of the King, Dutch primary, secondary and university students presented research projects they had carried out through ESA Education Office programmes.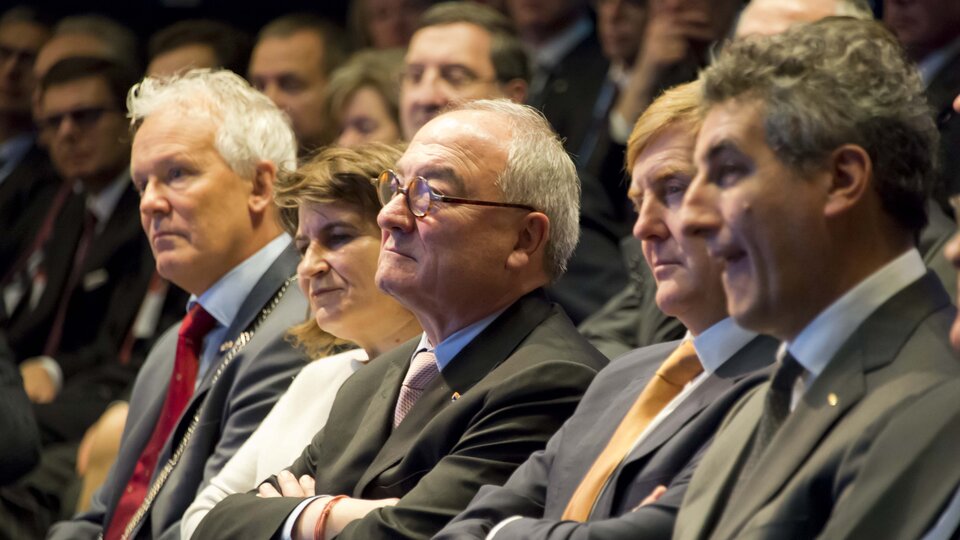 At primary and secondary school level, a variety of topics was covered, from experiments researching the existence of water in comets to the process of convection in gravity versus weightlessness.
University students displayed their unique experiment on how glacial ice flow is affected by changing gravity levels, using ESTEC's hypergravity-generating Large Diameter Centrifuge.
Also presented was the European Student Earth Orbiter, a microsatellite designed and built by university students, planned to fly in orbit to acquire remote sensing and astronomical images as well as radiation measurements.