Agency
ESA at the Paris Air and Space Show 2017
The 52nd Paris Air and Space Show 2017 at Le Bourget will open its doors on Monday, 19 June. ESA will present its programmes in a dedicated exhibition pavilion between the two full-scale models of the Ariane 1 and Ariane 5 launchers near the permanent Air and Space Museum.
The ESA pavilion will feature ambitious European missions and projects across all space domains, with a focus on recent achievements and upcoming endeavours.
Central to this presentation will be what ESA Director General Jan Woerner defines as 'Space 4.0', an era in which the space sector evolves from being the preserve of the governments of a few spacefaring nations to a new reality, with an increased number of diverse space actors around the world, from public to private, from local to global, from academia to citizens.
Accordingly, ESA will be highlighting projects ranging from space science and technology to future plans for human spaceflight, robotic exploration and from space transportation systems to space-based services and applications.
The Paris Air Show welcomes trade visitors from 19–22 June, with public days from 23–25 June, from 08:30 to 18:00.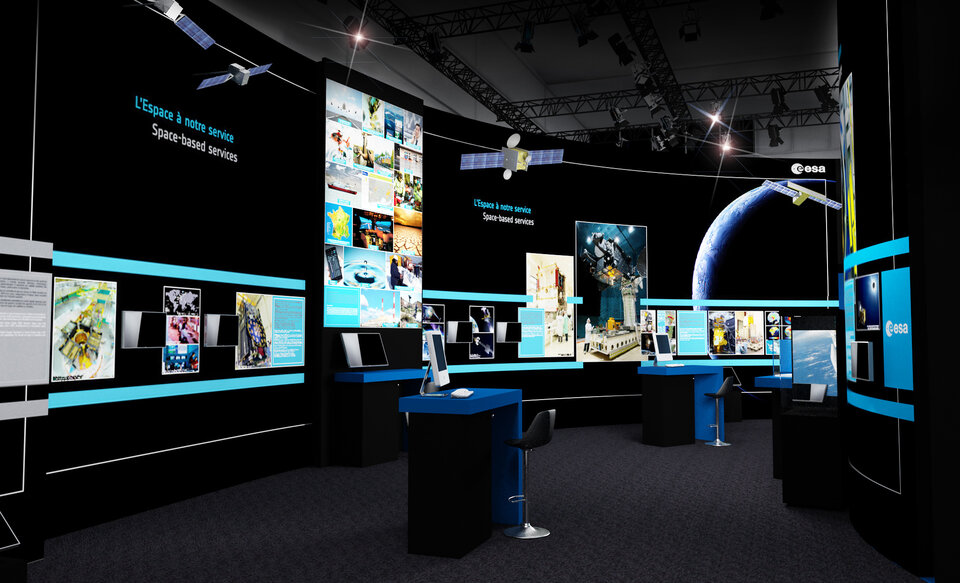 Thematic talks will take place each day in the central forum with Space 4.0 as the overarching vision, focusing on:
Media with ESA Director General Jan Woerner and all ESA directors on Monday, 19 June: 'Space 4.0ur future – ESA in motion'
ESA member states and partners on Tuesday 20 June: 'Space 4.0ur future – pushing the limits'
Industry and partner institutions on Wednesday 21 June: 'Space 4.0ur future – up and start'
Citizens and the ESA Citizens' Debate on Thursday 22 June: 'Space 4.0ur future – soundcheck with citizens'
Students on Friday 23 June: 'Space 4.0ur future – NewGen challenge'
Kids, teens, youngsters, social media on Saturday 24 June and Sunday 25 June 'Space 4.0ur future – AstroTalks' & 'Space 4.0ur future – plug and play'
Read more on the SocialSpace blog.
A full programme of events in the ESA pavilion from 19–25 June can be found here.