Agency
ESA at the Paris Air and Space show 19 to 25 June
Space for our Future
Visitors to the pavilion are invited to follow the latest developments at ESA, improving our knowledge of deep space, the Solar System and our Earth, providing space-based services for everyday life and developing the space transport systems of tomorrow.
Space science: understanding our surroundings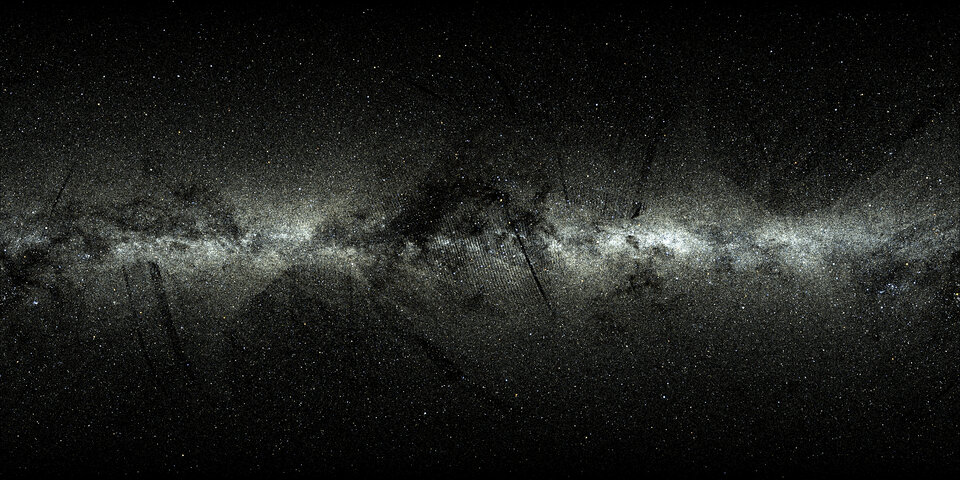 To help understand how our Universe formed and what it is made of, ESA will present the results of its most recent missions, including: Gaia's first detailed map of the Milky Way and the positions of two million of the stars in our galaxy, an overview of the LISA Pathfinder mission that is testing new technologies to detect gravitational waves, and the James Webb Space Telescope that will be launched on an Ariane 5. Other future missions that will be featured are Cheops, that will characterise planets outside our Solar System, and Solar Orbiter, that will investigate the uncharted areas around the Sun.
BepiColombo is one of a number of ESA's science missions that will be launched in 2018 to learn more about our place in the Solar System. An ESA mission in cooperation with the Japan Aerospace Exploration Agency, BepiColombo will reach Mercury after a seven-year journey to the inner Solar System. It will make the most extensive and detailed study of the closest planet to our Sun.
International cooperation to go beyond
Humans are preparing to go beyond low Earth orbit. The Moon has long been a prime exploration target, and visitors can learn more about the future possibilities for a 'Moon Village', a concept proposed by ESA's Director General for a permanent presence on the lunar surface in cooperation with international partners.
A new video presentation will give an introduction to ESA's vision for future human and robotic space exploration. Existing projects on display include a precision-landing system and a drilling and sample analysis package, developed for the Russian-led Luna-27 mission in 2021, that will seek out resources for future human exploration.
ESA's ExoMars mission will also feature with the Trace Gas Orbiter launched in 2016 and the ExoMars Rover, that will be displayed on a dedicated Mars terrain together with video material showing a series of laboratory tests.
ESA astronaut Thomas Pesquet has just recently returned from a six-month mission on board the International Space Station carrying out crucial maintenance tasks and running scientific experiments for hundreds of researchers on Earth. He will be followed shortly by ESA astronauts Paolo Nespoli in 2017 and Alexander Gerst in 2018. These missions and the research carried out in Columbus, Europe's permanent laboratory on the Space Station, will be highlighted, along with ESA's European Service Module (ESM), an important part of NASA's Orion spacecraft which will fly on its first unmanned mission in 2018.
Visitors will also be introduced to the 'Deep Space Gateway', a proposal for a new international partnership that will enable humankind to access cis-lunar space, the region of space near the Moon, providing an ideal hub to reach multiple destinations and test habitation systems and technologies.
Protecting the near-Earth environment
Any loss of the many services from satellites in orbit would have crippling effects on our economies and daily life. ESA's Space Situational Awareness programme (SSA) aims to provide Europe with the information needed to protect satellites in space and civil infrastructure on the ground. SSA will enable real-time warnings of orbital debris collision risks, space weather hazards and asteroids that threaten to impact Earth.
Space-based services and applications
Thanks to a long-standing and close cooperation between the European Union and ESA, Europe today has two satellite navigation systems and visitors to the pavilion can learn about both. The initial services of Galileo, Europe's civil global satellite navigation system, were declared operational by the European Commission in December 2016 and it will be fully operable from 2020. A series of audiovisuals will show how EGNOS has been improving signal accuracy of existing Global Positioning Systems and guaranteeing its quality since 2011.
Space is a unique vantage point for monitoring the entire Earth, providing vital information about our ever-changing planet. Visitors can learn about the Earth Explorers, a range of missions, designed to address pressing science questions, substantially advancing our understanding of Earth and contributing to climate-change issues.
Copernicus is the most ambitious Earth observation programme to date, headed by the European Commission in partnership with ESA. ESA develops, builds, flies and operates the Sentinel family of satellites which continuously deliver data on natural and human-made events, from floods and forest fires to changes in ice cover, rising sea levels, oil slicks and earthquakes. Examples of data from the Sentinel satellites will be on display to show how this dynamic programme is helping us to understand the global environment, manage natural resources and meet global societal challenges.
Satellite communications are the mainstay of the space industry: more than half of space business results from building and launching communication satellites. ESA, through its Advanced Research in Telecommunications Systems (ARTES) programme, ensures that European industry remain competitive in the world market by stimulating research and development. Current developments for satellite platforms, will feature alongside essential services such as the European Data Relay System, that will relay large quantities of data between spacecraft in low orbit and Earth in near-real time, Iris that will provide satellite-based air traffic management communications, and the SAT-AIS microsatellites that will track seafaring vessels anywhere on Earth.
Space Transportation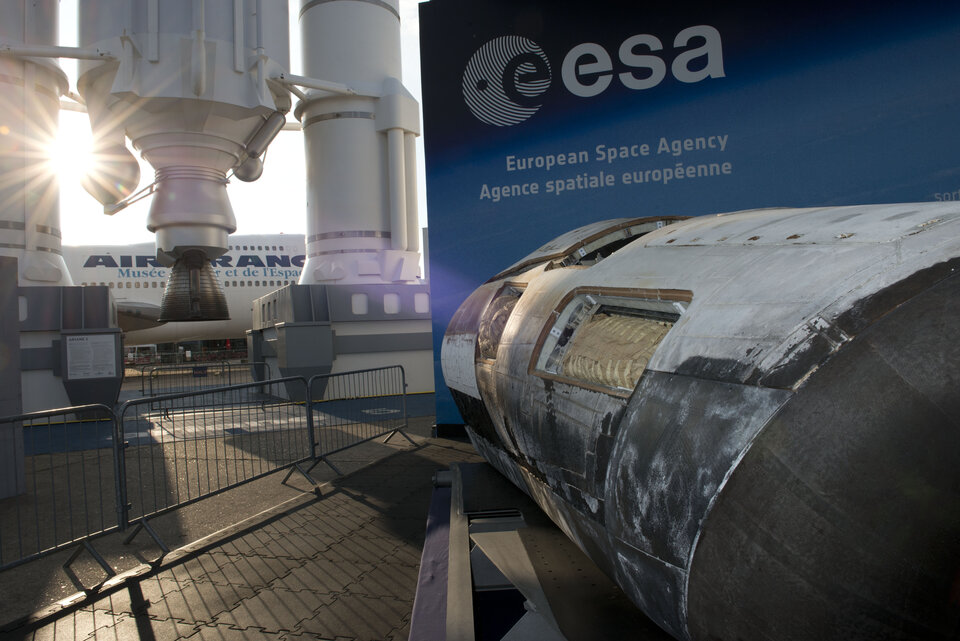 Modern life increasingly depends on space-based services: Global communications, broadcasting, weather forecasts, Earth observation and navigation systems all require reliable, high-performance and affordable launch systems. The three launchers, Ariane 5, Vega and Soyuz, that today provide Europe's Spaceport in French Guiana with a full range of space transportation capabilities will be on display, alongside the new Ariane 6 and Vega-C launchers that are now being developed.
Building upon ESA's experience with the Intermediate eXperimental vehicle, displayed at the Paris Air Show in 2015, visitors will be introduced to Space Rider, an independent, reusable end-to-end integrated space transportation system to be launched on Vega-C. Space Rider will provide Europe with a capability to routinely access and return from low Earth orbit.
Technology, building the future
ESA oversees a steady stream of technology development, and the focus at the Bourget in 2017 will be on the Proba series of small high-performance satellites that test new technologies in space, and on the much smaller 'cubesat' nanosatellites. The engineering model of GomX-3 will be on display along with its results. GomX-3 is ESA's very first cubesat to be supported through the In-Orbit Demonstration element of ESA's General Support Technology Programme, a long-running initiative to make ready promising new technologies for space and the commercial market.
The ESA pavilion will also be showing some of the results from its network of 16 Business Incubation Centres across Europe that supports over 130 space-related start-ups every year.