Agency
Director General's vision for the next decade
To build a consensus around a set of programmes for the coming years, we need to have a shared vision of how space should be contributing to Europe's goals on the global stage a decade or more into the future, in particular regarding further development of a knowledge-based society and security. The vision shall be both ambitious and attainable.
We need to firmly establish space as a pillar of the knowledge-based society and economy, and as a motivator for young Europeans to enter scientific and technical careers. The primary route to this will be through advancing space-related sciences and exploration. We will communicate clearly to a mass audience, as well as to decision-makers internationally, these advances in the knowledge and understanding of our Solar System and of the formation of the Universe and of life within it.
The awe-inspiring achievements seen in recent years will be surpassed in the Cosmic Vision 2015-2025 programme. In Earth sciences, ESA will continue to increase the understanding of the functioning and interactions of Earth's components (oceans, atmosphere, ice, land, and the solid Earth), thus refining our comprehension of the extent and evolution of global change.
In the field of exploration Europe has the capabilities to position itself among the leaders of future exploration, with benefits also to other space-related sectors and with a significant boost to innovation and competitiveness.
This could start first with Europe establishing itself as a long-term participant in the robotic exploration of Mars together with NASA, including in selected future Mars sample return activities, and as a key player in the next step of human space exploration, using the ISS as outpost and as a base for leading-edge science and technology research and development, with the active contribution of European astronauts. In addition, Europe should establish the basis for achieving a key role in space transportation and related communications, by developing relevant operational capabilities.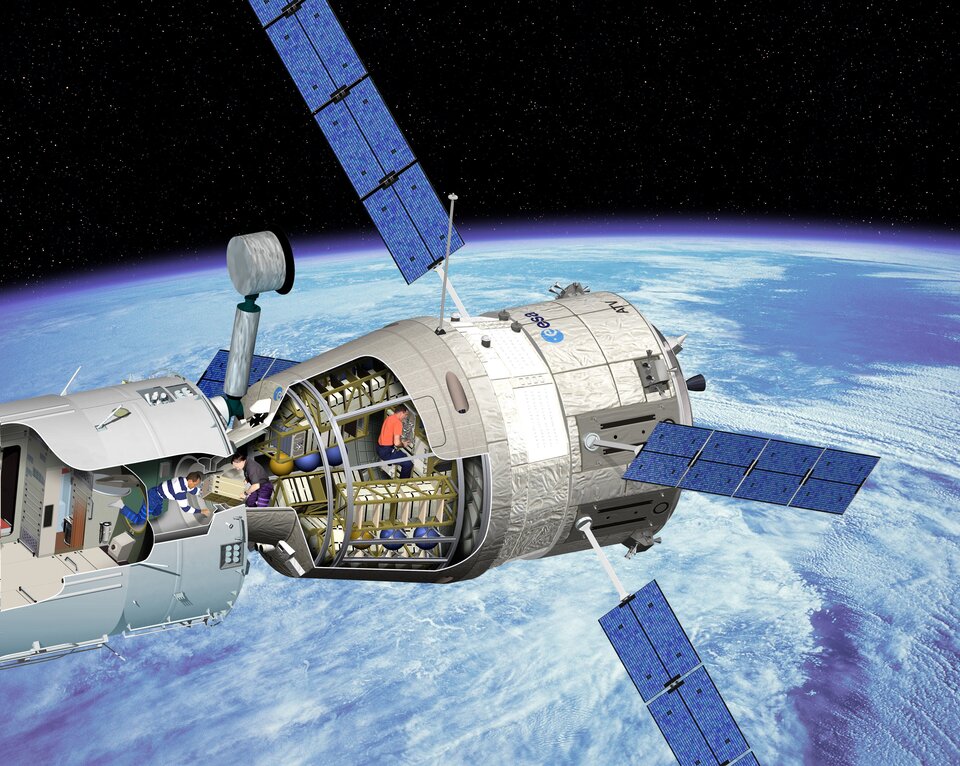 In addition, Europe should establish the basis for achieving a key role in space transportation and related communications, by developing relevant operational capabilities.
We will ensure that Europe is supplied with space applications serving citizens' needs in operational global monitoring and navigation services, along with telecommunications and meteorology, which are exploited on a daily basis by citizens and decision makers.
Meanwhile ESA will be developing state-of-the-art next generation systems in conjunction with the satellite operators and beginning to develop completely novel satellite applications. These operational systems will be fully integrated with terrestrial ICT and developments will be well advanced with the aim of providing rapid responses to a range of user needs for security-related systems, for the protection of Europe and Europe's pursuit of global stability.
Contributing in turn to the protection of these systems, there will be a comprehensive operational Space Situational Awareness (SSA) system, managed by dedicated operators and under the leadership of the EU.
Scientific discovery in space must continue to be a driver for European industrial competitiveness and technological excellence. Innovation in the manufacturing sector and, in particular, in the service sector will maximise the economic return from public investment in space. We will take further steps to improve the way we manage ESA and work with industry in order to facilitate this goal.
We must consolidate Europe's capacity to act more independently, in order to strengthen its role in international partnership and global competition. This requires a prolonged strengthening of the European technological base, especially in critical technologies.
Our ambition for independence of action in space, guaranteed access, relies equally on improving the competitiveness of the family of European launch services as it does on developing the next generation of launchers, to be operative beyond 2025, with a step-change in efficiency.