Applications
Galileo satellites await launch side-by-side
The twin Galileo satellites have been attached to the supporting dispenser that will hold them in place during their 20 October launch atop the first Soyuz from French Guiana.
The first Galileo In-Orbit Validation satellite – known as 'PFM' – was attached to one side of the dispenser on Tuesday 4 October, with the second flight model, 'FM2', joining it on the other side the following day.
The procedure took place in the S5B fuelling facility, where both satellites' tanks had been filled with 12 years' worth of propellant the previous week.
The Galileo launch dispenser, designed for Arianespace by RUAG Space Sweden, secures the satellites in place during the take-off of their Soyuz ST-B. The satellites remain attached to the dispenser for a total of four hours after launch.
Then, when the three-stage Soyuz ST-B's additional Fregat MT upper stage reaches the planned 23,222 km orbit, the dispenser fires a pyrotechnic separation system to release them in opposing directions.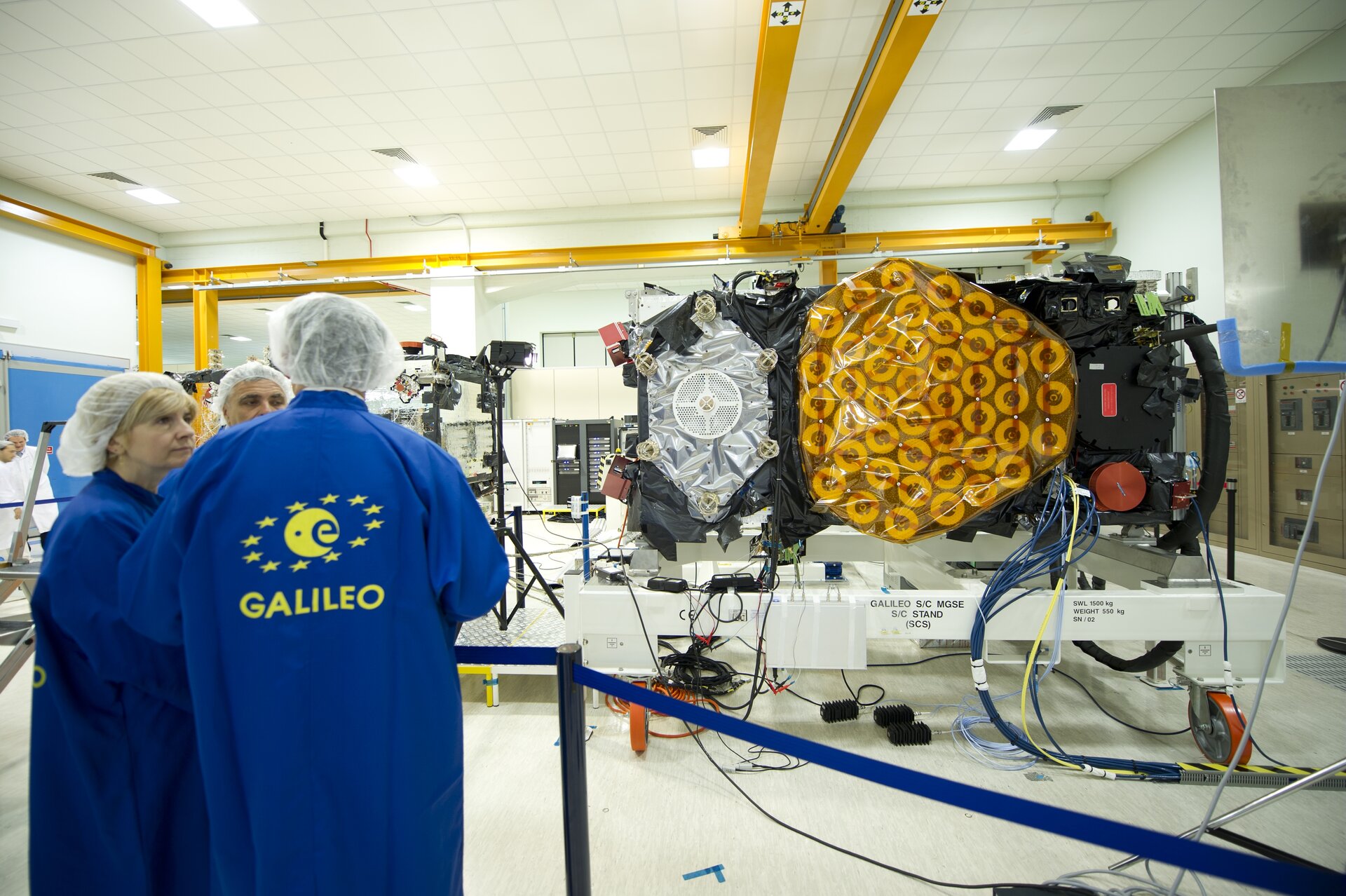 Today the Galileo 'payload stack' – the combined satellites plus dispenser – is scheduled to be transported to the Fregat integration building, where next week it will be integrated to the Fregat MT upper stage.
The Fregat upper stage, meanwhile, was transferred on Thursday 6 October from its fuelling hall in S3B to the Upper Composite Integration Stand in that same building where it awaits the arrival of the payload stack for final upper-stage integration on Monday 10 October.
The combined Fregat MT upper stage together with the payload stack, all entirely encapsulated by the two fairing halves, will then constitute what is called the 'Upper Composite'.
Whilst these operations continue, the Russian launcher teams are proceeding with the final check-out of the Soyuz ST-B three-stage launcher in their 'MIK' building.
The launcher will be transferred on Friday 14 October from the MIK integration building to be installed in vertical position on the launch table to wait for the arrival of the Upper Composite in the evening of that same day.
Soyuz from French Guiana
This month's launch will be historic: the first Soyuz launch from a spaceport outside Baikonur in Kazakhstan or Plesetsk in Russia.
As a medium-class vehicle, Soyuz will complement Ariane and Vega to extend the flexibility and competitiveness of Europe's launcher family.
Galileo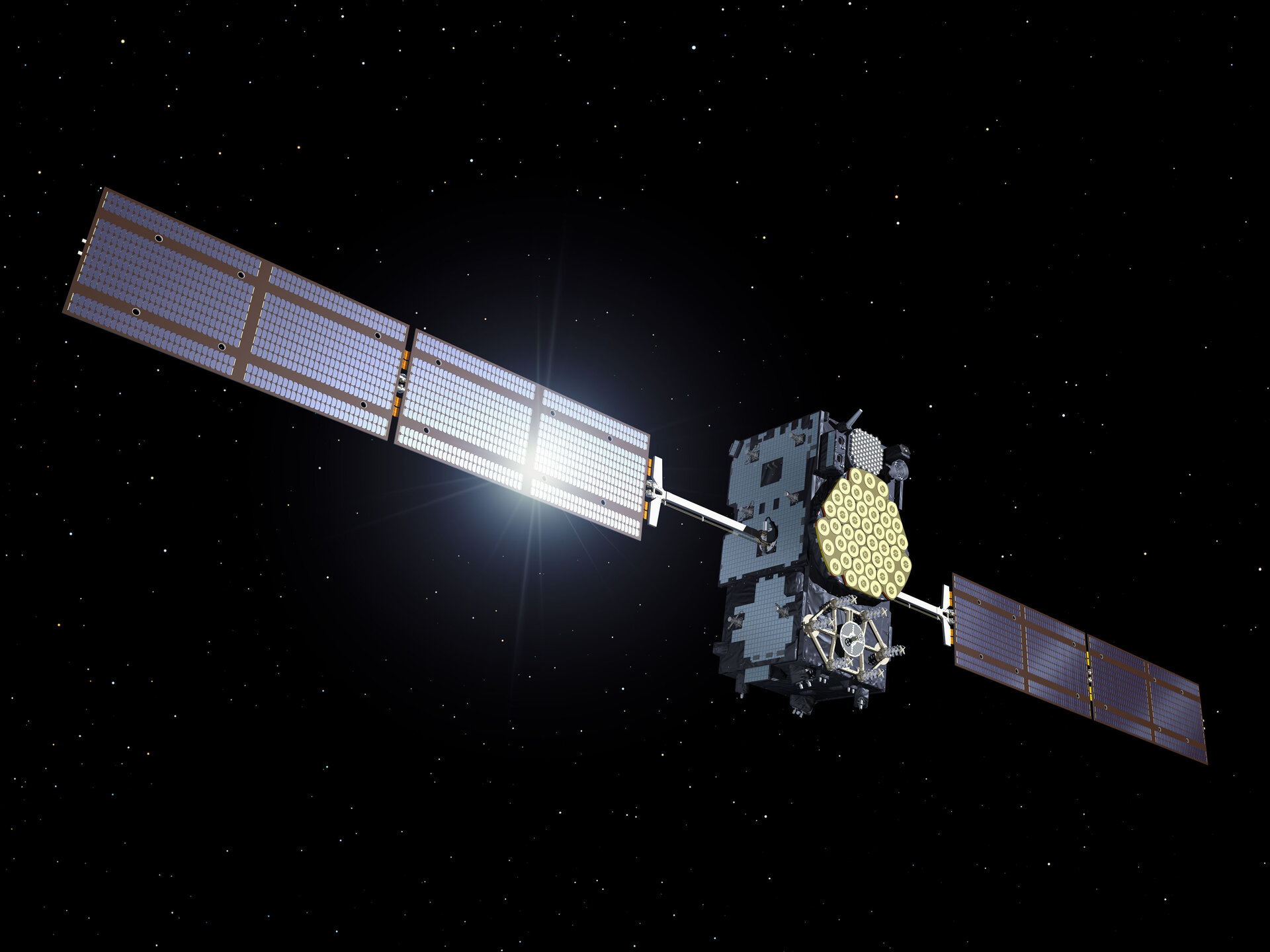 The first two Galileo IOV satellites, launched this month, will be followed next year by two more. This quartet of satellites, built by a consortium led by EADS Astrium Germany, will form the operational nucleus of the full Galileo satnav constellation.
They combine the best atomic clock ever flown for navigation – accurate to one second in three million years – with a powerful transmitter to broadcast precise navigation signals.