Applications
Satellites guide aid workers sinking water wells for African refugees
Caring for more than 180,000 Sudanese refugees gathered in the desert landscape of eastern Chad, the United Nations High Commissioner for Refugees has begun using satellite data to identify hidden water resources and site new camps.
By permission of the Chadian government, there are currently nine United Nations High Commissioner for Refugees (UNHCR) camps in place. UNHCR has transferred the vast majority of the refugees from the volatile border to the camps. Thousands more have come on their own from the border, further straining already scarce resources. And concerns remain high that more refugees could still flee from Darfur.
A huge volume of people has to be kept supplied with food, water and basic necessities in this remote region, linked by inadequate roads made worse by the onset of the rainy season. The greatest single need is water. UNHCR standards call for 15 litres of water per person per day, but some camps in eastern Chad are still below this minimum requirement.
In March UNHCR requested UNOSAT assist with locating hidden water resources and proposing optimal locations for new camps in the region. The ESA-backed UNOSAT consortium provides United Nations agencies and the international humanitarian community with geographical information products derived from satellite imagery.
Based on a preliminary analysis of the water conditions there, UNHCR proposed a water development strategy, and in collaboration with UNOSAT designed the water survey. "They asked us to address this major problem of obtaining water for refugees, and working with consultant firm Radar Technologies France (RTF) we designed a solution," said Olivier Senegas of UNOSAT. "By the beginning of July we supplied water target maps covering over 22500 square kilometres of territory around the refugee camps of Oure Cassoni, Touloum and Iridimi.
"Over the course of July UNHCR and RTF were able to successfully confirm these water sources detected by satellite with ground truth; which at the moment is being further examined through more focussed geophysical analysis on-situ to assess the actual potential/productivity of such water sources.
The technique is based on merging results from different satellites: multispectral optical imagery from Landsat, C-band radar imagery from ESA's ERS spacecraft and L-band radar imagery from Japan's JERS-1. In addition a digital elevation model (DEM) derived from the Space Shuttle Radar Topography Mission (SRTM) is applied.
"Landsat is a very good way of gaining an initial understanding of an area, letting us see any vegetation and surface water," Senegas explained. "It is also interesting from a geological approach, able to differentiate rocks well.
"The ERS radar identifies surface topography, including relevant geological structures such as faults, dikes, and especially buried drainage channels known as wadis that often yield water supplies. Then the JERS-1 radar has a longer signal wavelength, so can much deeper beneath the ground in arid areas to detect signs of water."
Using techniques previously employed for oil, gas and mineral exploration, Alain Gachet of RTF combined the information together to create water potential maps: "The optical imagery show you the surface; ERS sees to a depth of about 50 cm down, and JERS-1 goes down to a maximum 20 metres, so with them all together you obtain a kind of cross-sectional model of the landscape.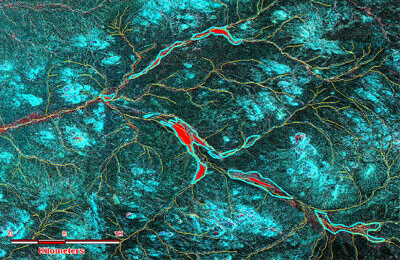 "And multi-temporal radar imagery can highlight underground humidity anomalies that may indicate ground water – we have developed specialised algorithms to pick them out."
The real test of the service came as aid workers used the maps to drill water boreholes and wells, Senegas added: "The service has to be accepted by local teams in order to be successful, so they have to be part of the process. They are not familiar with Earth Observation, but actually proved very interested in the technique.
"What the polygons on the map indicate to them is that this area has a high potential for water. And in fact their drillings within these polygons have indicated potential for water supplies – some areas outside them as well, but not to a depth that is useful."
Gachet himself went to Chad to oversee the ground truth campaign: "The refugees are in a desperate state, and water represents a precious commodity. Previously, well diggers had been pretty much digging employing essentially the local knowledge and basic geophysical techniques – they had a success rate of 50%, not bad in the circumstances, but still a waste of time and money. Now our maps direct them where best to go, they just have to follow them."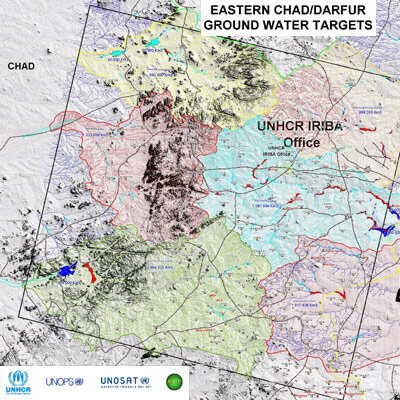 The second phase of the project has been to use the maps to review proposed sites of new camps. Five new camps had been provisionally planned but the survey showed they had no nearby water supplies. Instead seven more suitable locations were highlighted that combine nearby water resources with nearness to transport links and suitable topography and dry ground.
The plan is to extend coverage across eastern Chad as the situation demands, Senegas added. Chadian farmers can also use the same data in future, and the highly accurate and geo-referenced maps could potentially become part of a geographical information system (GIS) meeting national needs.
"The third aspect is, we hope, to benefit local people beyond this current crisis," Senegas concluded. "Only up to 30000 people live here ordinarily, but they have shared what little they have with the refugees. These maps can help them in a lasting way, telling farmers, if you dig in this area here, you will be more likely to find water for your fields."
Gachet added: "There is no absolute lack of water in the region, but a lack of any water management policy. As I left the rainy season began – two months of intense rainfall – but typically it evaporates before it can replenish groundwater supplies. Satellite mapping could in future guide local people where is best to build basic dams across the course of wadis that would retain and store water."
About Radar Technologies France
RTF is a private firm that has been turning past experience in gold and oil prospecting into groundwater exploration for humanitarian purposes.
RTF's experience with spaceborne radar imagery started in 1996, when it used satellite data combined with ground truth to make new gold and oil discoveries in the rain forests of Congo. The company is now consulted by major oil companies such as Shell, Agip, Total, Exxon and humanitarian organisations for mapping new water resources in desert areas, such as Libya, Chad and Central Australia.
About UNOSAT
Operated by the United Nations Office for Project Services (UNOPS), UNOSAT is a non-profit consortium funded by ESA's Earth Observation Market Development Programme, together with the Centre National d'Etudes Spatiales of France (CNES) and the French Ministry of Foreign Affairs.
UNOSAT procures geographical information products for UN agencies and the international humanitarian and development communities, having struck deals with leading data providers such as Spot Image and Space Imaging Eurasia, as well as value adding companies such as Gamma Remote Sensing and Digitech who work to turn raw satellite data into usable products and maps.
UNOSAT also employs satellite data in ongoing development projects in locations including the Mauritania/Senegal border, the Horn of Africa and Nicaragua.
UNOSAT is a partner of the RESPOND Consortium - a GMES Services Element (GSE) activity working with the humanitarian community to improve their access to maps, satellite imagery and geographic information.