Applications
"Visiting the satellite design and test labs decided where I wanted to work": Andrew Murrell, Hylas-1 Payload Manager interview
Andrew Murrell's ESA career began by overseeing a research and development effort to design and build telecom satellite payloads in a different way. That R&D led in turn to the Hylas-1 broadband satellite, a public–private partnership with Avanti Communications. Andrew became one of a small team overseeing ESA's hi-tech contribution to this advanced broadband satellite mission.
What have you most enjoyed about working on Hylas-1?
Helping to resolve problems that involve such a diverse range of technologies across such a huge variation in scale. For example, at one point we were investigating the properties of a 50 micro-metre wire bond on a semiconductor microcircuit using an electron microscope, and a couple of years later, accurately fitting a 3-ton satellite onto a 50-m tall rocket.
What has been the greatest challenge?
To combine a state-of-the-art technology development programme with the sometimes divergent needs of a new commercial service provider when the 'time to market' is critical.
What has been the most interesting element?
I've previously worked on satellites programmes based in Europe and the US, but there aren't many opportunities for a European engineer to cooperate on a space programme with the Indian space agency. I've always wanted to visit India and Hylas-1 was a rare opportunity to experience a very different working culture in the space industry as well as see a little of the country.
This is surely one of Europe's most-travelled satellites – payload built in UK, platform built in India, being launched from South America – how much travelling have you had to do to keep up with it?
As soon as the project entered into its production phase it became important to be present where the satellite hardware was manufactured. The ESA team therefore maintained a near-constant presence in Astrium's facility in Portsmouth, UK, during the payload equipment build and test programmes. This meant almost weekly travel to and from the UK over an 18-month period.
Once the payload was completed and shipped to Bangalore, India, the project's centre of gravity shifted with it and I've made about a dozen trips and spent almost 20 weeks in Bangalore over the last year. Finally, I've spent about a month in Kourou supporting the launch programme.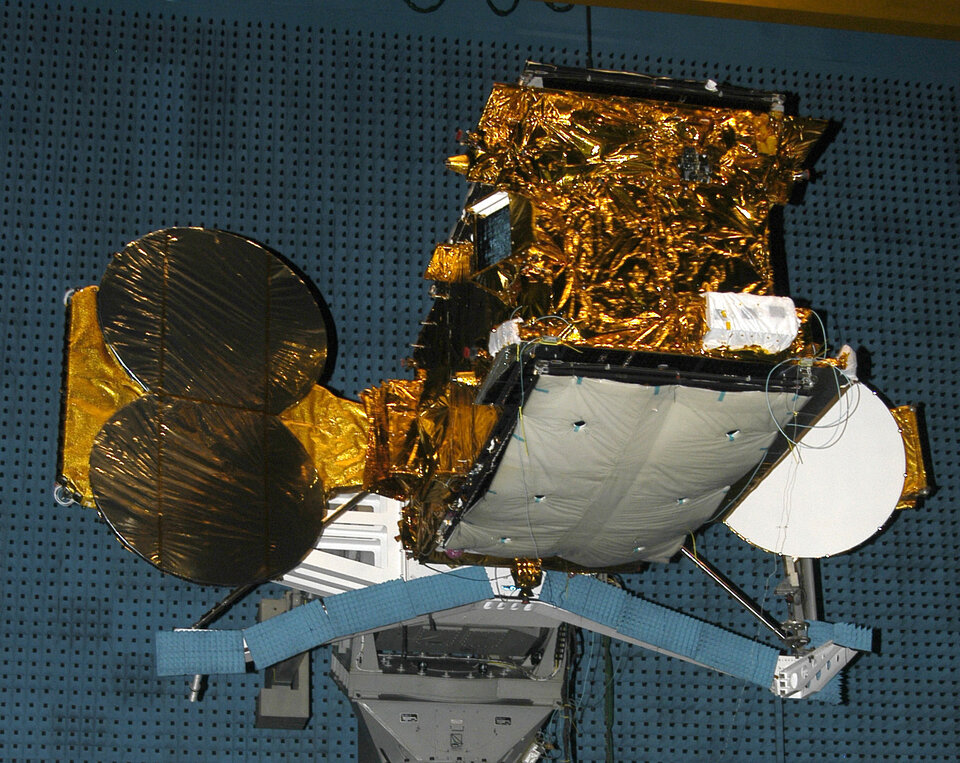 How did you come to work in the space industry?
Quite by chance: I was working for the UK government when EADS Astrium, one of Europe's major satellite manufacturers, contacted my university professor as they were trying to recruit new staff for their UK operations.
At the time I was looking to move to a more design-oriented engineering environment but wasn't aware there was such an active space sector in the UK. A visit to the satellite design and test laboratories was all I needed to decide where I wanted to work!
How long have you been with ESA?
I've been working at ESTEC in Noordwijk, the Netherlands, for five years now. Prior to joining ESA I worked for a satellite manufacturer and then a commercial satellite operator.
In my initial role at ESTEC I was responsible for managing the payload technology development contract that forms the heart of Hylas-1's flexible payload. After about a year, my role expanded and I became responsible for the entire Hylas-1 communications payload.
What comes next for you, after launch?
I should spend almost a month at the ESA ground station at Redu, Belgium, for the satellite's in-orbit acceptance tests. After that, a long holiday.
Any tips for anyone aspiring to a space career?
Be prepared to relocate your home and travel frequently, and if you're European, learn to speak and write well in both English and French.