Agency
Meet the team: AAUSAT5
The AAUSAT5 students team from Aalborg University have designed, built and tested a satellite which will be ESA's first student CubeSat to be deployed from the ISS. The technical objective of AAUSAT5 is to test, in orbit, an improved version of an Automatic Identification System (AIS), which aims to track and identify ships transiting away from coastal areas and in remote areas, thereby enabling potential for safe use of new shipping lanes.

Launch from the ISS – AAUSAT5 Tracking ships from space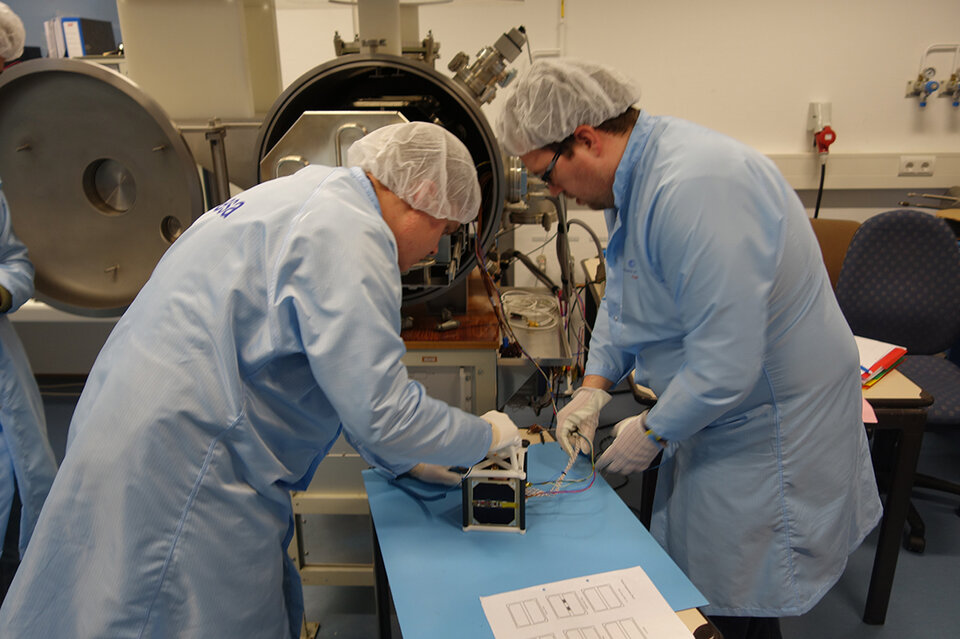 In addition to the educational value of the mission, the primary mission objective for AAUSAT5 is to conduct in-orbit testing of an improved version of the Automated Identification System (AIS) receiver - a system developed to track and identify ships and other vehicles carrying an AIS transponder, which are transiting away from coastal areas and in remote areas. Placing the AIS receiver on a satellite in space allows for vehicle tracking that cannot be done through terrestrial ground stations. Students worked in teams of two to four on each of the satellite's subsystems, fully designing, building, and testing their units before they were integrated during final assembly of the satellite.
AAUSAT5 was launched to the ISS in August 2015. Once aboard the ISS, it will be deployed from the Kibo module airlock by means of a robotic arm, controlled by an astronaut. The CubeSat will be ejected into an orbit, with about 51.6 degree of inclination, at an altitude between 370 and 460 km (depending on the altitude of the ISS at the moment of deployment over the Earth's surface). The low altitude gives a smaller foot-print and higher signal strength when receiving AIS signals from ships, which will broaden the opportunity for testing AIS in areas with high density shipping, such as Europe. AAUSAT5 is expected to be operational for approximately 3 to 8 months.