Agency
Apply now for the second edition of the ESA Academy's Introduction to Space Law Training Course!
From the smallest student CubeSat to the largest space endeavours such as the International Space Station, all space activities are regulated by space law.
The development of space law began with the launch of Sputnik 1 in 1957. Following initial discussions between the US and Russia, the United Nations created the Committee on the Peaceful Uses of Outer Space which contains a legal subcommittee. The Outer Space Treaty, which forms the basis of all space law, entered into force in October 1967, two years before NASA landed astronauts on the Moon.
Today's rich body of space law means that space scientists and engineers will likely encounter legal issues in their daily work – from licenses to liability, from insurance to environmental protection.
Following the success of the first edition, ESA's Education Office is organising again, in collaboration with ESA's Legal Services Department the five-day Introduction to Space Law Training Course. This second edition will take place between 17 and 21 June 2019 at the ESA Academy's Training and Learning Facility located at the ESEC-Galaxia in Belgium. The training course is open to university students of all levels with an engineering or scientific background.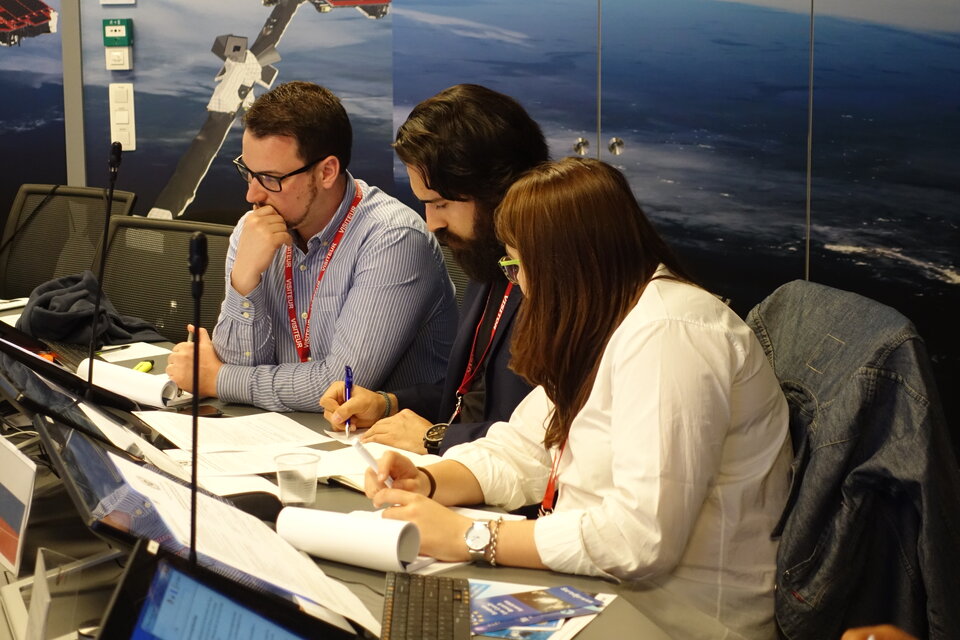 During this week-long course, students will be taught by world-class experts in space law. They will discover that:
a space mission is by its very nature an interdisciplinary endeavour involving science, technology but also policy, questions of administration and funding and, importantly, law;
An international legal framework governs space activities from the beginning of a mission to its very end;
National space laws play an important role in the development of space missions and, more broadly, in the development of the space sector in a country.
With these issues in mind, the students will come to appreciate that law is an integral part in the practical realisation of a space mission from the "cradle to the grave".
To complement the lectures, the students will take part in a group exercise throughout the week, to apply their newly gained knowledge.
Preliminary schedule:
Day 1
Space Law at a Glance
Introduction to the Core Principles and Concepts of International Law
Comparative Fields of International Law
UN Space Treaties and other Legal Instruments
Day 2
Overview of National Space Law
Anatomy of a National Space Law and Licensing
Introduction to Institutions
Introduction to the Exercise
Visit of ESEC-Redu
Day 3
Licensing, Mission Authorisation & Supervision Contracting Practices
Insurance, Launch & Early Orbit Phase
Contracting Practices and Procurement, IPR
Legal Aspects of Orbits
Space objects: from CubeSats to Mega-Constellations
Exercise Session
Day 4
Operations & In-Orbit Transfer of Ownership
Safety of Space Operations
Export Control
End-of-Life and Re-entry
Space Debris Mitigation
On-Orbit Servicing and Active Debris Removal
Navigation
Exercise Session
Day 5
Security of Space Assets
Safety of Space Operations
Final Exercise Session
At the end of the week, the students will be evaluated through the final exercise session and will receive a certificate of participation and a course transcript, allowing them to claim ECTS credit(s) from their respective universities.
Who can apply?
In order to participate, university students must fulfil the following criteria at the time of application:
be aged between 18 and 32;
be a citizen of an ESA Member States, Canada or Slovenia;
be enrolled as a full-time student in a university studying an engineering or a scientific subject.
The selected students will be sponsored by ESA. The sponsorship will cover accommodation and meals as well as up to 200 euros for travelling to Redu, Belgium.
How to apply?
Fill in the application form;
Upload a motivation letter (PDF, maximum 1 page, no images);
Upload a CV (Europass format, PDF, maximum 2 pages);
Upload a formal recommendation letter (PDF, maximum 1 page, including signature, no images) from a university professor or academic supervisor of current university;
Upload a copy of academic records (PDF, in English, with the university stamp).
All answers and documents should be in English (except academic records if not available).
The deadline for application is: 2 May 2019
For more information, please contact tlp@esa.int