Agency
First ever Spin Your Thesis! Human Edition Campaign concludes
16 University students from 7 different universities participated in the first ever Spin Your Thesis! Human Edition campaign in DLR's Short Arm Human Centrifuge facility in Cologne last week.
The portfolio of ESA Education's hands-on programmes for graduate students was increased last year after ESA Education released a call for opportunity specifically targeted at students with medical backgrounds and interests. The platform selected for this pilot edition of the programme was DLR's Short Arm Human Centrifuge in the recently built envihab facilities next the the European Astronaut Centre in Cologne. This world class facility was built primarily to investigate the effects of artificial gravity on the human body as a counter measure to long term exposure to microgravity. Space travel causes a plethora of medical and neurobehavioural problems, including the loss of as much as 25 percent of muscle mass, a loss of bone mass of between 1 and 2 percent per month, weakening of the immune system, impairments of cognitive performance, and other effects related to the highly stressful environment of a space vehicle.
Late last year, ESA Education announced the opportunity to access the centrifuge and by January 2018, the Selection Board comprised of ESA Education, DLR, ESA Human Spaceflight and Robotic Exploration directorate experts selected three teams. The team from King's College London in the UK called Spin Kings were interested in investigating intervertebral distances before, during and after exposure to artificial gravity in the centrifuge. Lower back pain is a debilitating phenomenon in human space flight and this data will be extremely useful for investigating counter-measures. Another team, the Spin Drs was a collaboration between University of Graz and Simon Fraser University in Canada, this team of students investigated the role of calf muscle activity in regulation of blood pressure and distribution. The team also looked at how artificial gravity as provided by the centrifuge affects the vestibular system.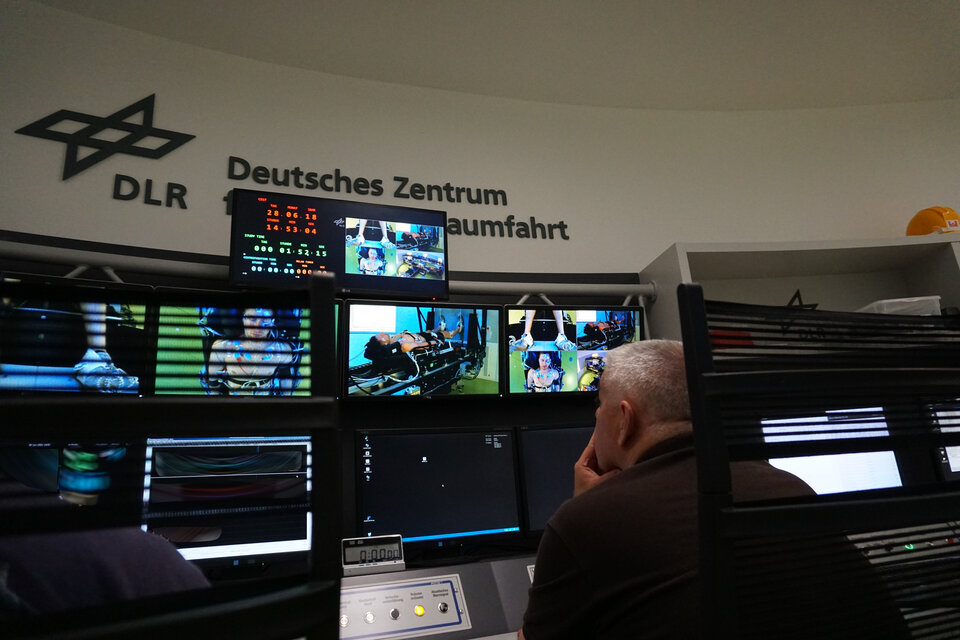 Finally, the Music For Space team from Hungarian and French universities used scientific methods to find the perfect tailored music for astronauts which should help psychophysiologically during long spaceflights, thus merging science and art to help reduce stress.
The teams now have 4 months to analyse all their data before submitting a first draft of a manuscript to ESA Education.