King Christer's royal homecoming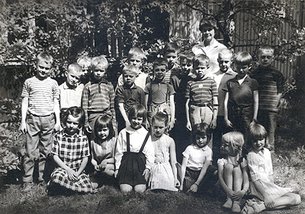 1 February 2007
Christer Fuglesang's triumphal march continued on Friday and Saturday with a visit to his old primary school, a chat with the Royal family, a crammed Central Station, the space operations in Uppsala, and, of course, numerous interviews.
Christer Fuglesang's schedule during the Celsius Mission was packed. The schedule for the space hero's first visit to his Swedish home country after the mission wasn't less packed.
The second day, Friday 26 January, started at 07.00 on a sofa at TV4, one of three major TV channels. From then on, the interviews followed one another until it was time for an hour's visit with the King and Queen at 11.00.
There was time for a few more interviews after lunch until a visit to Christer's old primary school Smedsslättsskolan in Bromma, a Stockholm suburb, something Christer had insisted on including in his schedule.
"He was an ingenious little guy, and the class mathematician," the school principal, Birgitta Solheim Ekwall said. "No one could figure out his puzzles, despite him being a year younger than his classmates.
Giant bag of raspberry drops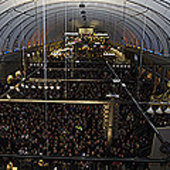 Christer arrived at the schoolyard, where children and teachers could be seen with their noses pressed to the windows. When he exited the car, he was greeted by pre-school youngsters who took both his hands and led him to the gymnasium, where the remaining 304 pupils were gathered, together with the teachers.
There he was presented with a giant bag of raspberry drops – maybe to compensate for all he ate onboard the ISS. The children sang a song composed for the occasion, and Birgitta Solheim Ekwall welcomed Christer Fuglesang back to his school.
The children were then given plenty of time to ask questions to the intrepid space explorer. The questions mostly dealt with Christer's personal reflections during the mission, such as the feeling of being weightless, how he brushed his teeth, how it felt like to be out in space working for six hours on end, and how the Earth looked like from space.
"It's round! Now I know that for a fact. It was amazing to see oceans, deserts, clouds ... But we travelled so fast! We went around the Earth once every 90 minutes, so it could be hard to recognise where we were before we already had swooshed past. It's almost easier at night, with the cities glowing. Then it's almost like floating over a map."