Safety & Security
Clean Space Training Course 2020 sees students explore the environmental impact of spacecraft
The pilot edition of ESA Academy's Clean Space Training Course has been successfully completed! Hosted at ESA Academy's Training and Learning Facility, ESA-ESEC, Belgium, from 11 – 14 February 2020, this new course was a collaboration between ESA's Education and Clean Space Offices. The goal was to offer future engineers' valuable insight into approaches for considering the environmental impact of the entire life cycle of a space mission; and how to design satellites in a more environmentally friendly manner. In attendance were university students from 10 different ESA Member States, who enjoyed lectures delivered by ESA specialists, and an expert from the European Commission.
The Clean Space Training Course 2020 was modelled on the three pillars of ESA's Clean Space Office:
EcoDesign: addressing environmental impacts of space missions on Earth and fostering green technologies;
CleanSat: minimising the production of space debris;
In-Orbit Servicing/Debris Removal: removing spacecraft from orbit and demonstrating in-orbit servicing.
The students began their adventure on Monday evening by playing the EcoDesign game, which has proven itself to be an excellent introduction to the concept of environmental impact and the main issues associated with space missions across their different phases. This allowed students to become familiar with new terminology, as well as developing a foundation of knowledge about sustainability and environmental performance that would be built upon during the rest of the week. "The topic that intrigued me the most was ecodesign,"commented an Italian student from Delft University of Technology. "Indeed, it is easy to forget that cleaning space is not only about removing space debris. Through tools such as the Life Cycle Assessment, it is possible to gain consciousness about the environmental impact of the missions on Earth and act accordingly. By investing resources in ecodesign, ESA is hopefully setting a trend that all industries should follow."
Tuesday saw the students learn about the current environmental framework at a worldwide level, and how, at ESA, the Life Cycle Assessment is implemented to quantify and reduce environmental impact across all stages of space missions. Attendees then moved on to lessons about Space Debris Mitigation Requirements and the implications they have for spacecraft design.
Wednesday featured a fascinating series of lectures on an important branch of the Clean Space Office: CleanSat. Students were presented with an overview of the main satellite end-of-life strategies and technologies, covering topics such as re-entry techniques, design for demise, and passivation of spacecraft energy sources, focussing on propulsion and power systems. Inspired by the day, a German Student from Technische Universität Braunschweig explained, "the design of spacecraft hardware is a challenge itself. But the topic of 'Design for Demise' revealed that it gets even harder to create a demisable design. Since demisable hardware will be an issue for future spacecraft design, it opens many new research opportunities."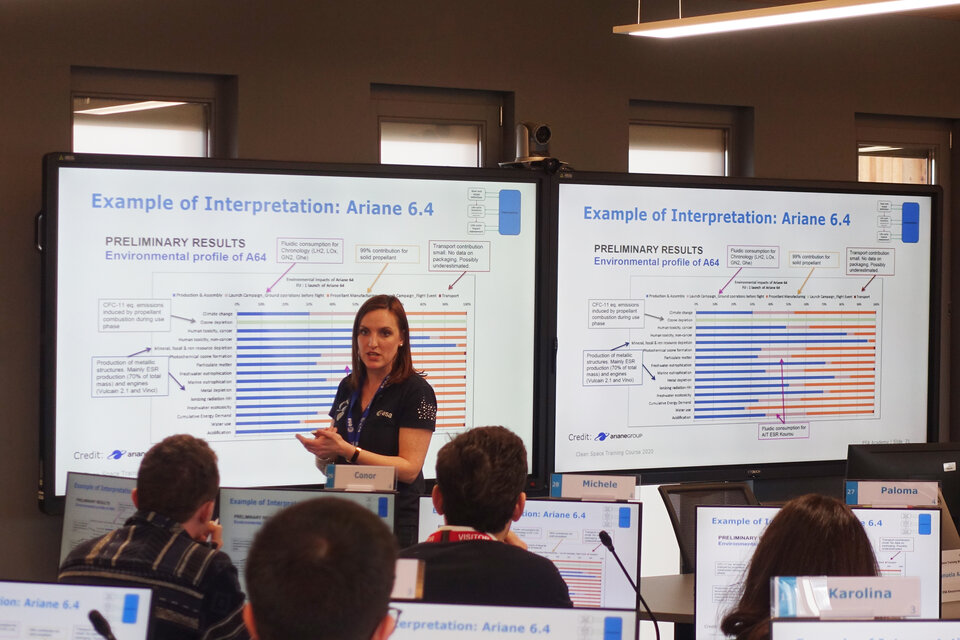 Thursday was dedicated to investigating in-orbit servicing, covering past and potential future missions from the perspectives of both systems and technology. Particular emphasis was given to strategies for removing old and defunct spacecraft from orbit to ensure a sustainable environment. It was highlighted that further development of technical and safety standards is still required. Students then learned that, in the near future, some servicing missions will be carried out without the need for humans to be directly in the loop! Throughout the day different techniques for Active Debris Removal were presented, themed on robotic methods of capture. Background information was also given on topics including Guidance, Navigation, and Control for Close Proximity operations.
At the end of each day during the week, the students, in small groups, were challenged to apply the knowledge they had acquired in a practical group project.
On the last day, after a visit to ESEC-Redu, the students got their final assignment: Clean a Mega Constellation! Each group of attendees was tasked with investigating how to design and operate a huge formation of satellites in an environmentally-friendly way. They needed to maximise the chances of complying with space debris mitigation guidelines; remove failed spacecraft; and take into account the environmental impact on Earth. It took all of the students' newfound knowledge and skills to complete the challenge! Each group presented their findings to the expert tutors, who were very impressed with the solutions proposed.
After the final presentations, the students received their certificate of participation. Combining this with the transcript of the training course will allow them to claim ECTS credit(s) from their universities.
"I think it's our due as future engineers to try to embrace the ecological transition and adapt those concerns to our designs and innovations," concluded a Belgian student from Université Libre de Bruxelles."This course has been very inspiring and has given us the tools to face those problems like the rise of satellite mega-constellations. It's very satisfying to see that ESA and other passionate European students worry about ecology. Sharing this course with such a diversity of students with different backgrounds and projects has definitely made the experience more incredible! I hope to see CleanSpace becoming a must-have in the aerospace industry in the years to come."