Science & Exploration
ESA's Swedish astronaut Christer Fuglesang reaches orbit
ESA-PR 44-2006. Christer Fuglesang was launched last night onboard NASA's Space Shuttle Discovery on a mission to proceed with the assembly of the International Space Station (ISS) and to bring back to Earth another ESA astronaut, Thomas Reiter, who has been working in the orbital outpost for five months.
Flight STS-116 started in the night of 9 December , when Discovery lifted off from NASA's Kennedy Space Center in Cape Canaveral, Florida at 20:47 local time, 02:47 Central European Time (CET) on 10 December. This was the first night launch of a space shuttle since its return to flight. Discovery successfully entered low Earth orbit after about 8 minutes of powered flight. Onboard the orbiter is a crew of seven, including one ESA astronaut, Christer Fuglesang.
The first five hours of the mission are devoted to configuring Discovery for on-orbit activities before the first sleep period. On its first full-day in space, the crew will conduct a series of in-flight inspections to ensure that Discovery has not suffered any damage during launch. Then the orbiter will manoeuvre to rendezvous with the space station. Docking is planned in the night of Monday 11 December at 23:05 CET.
Onboard the ISS, Fuglesang will be welcomed by fellow ESA astronaut Thomas Reiter from Germany, who has been serving as flight engineer on the ISS permanent crew since his arrival - also onboard Discovery - on July 6.
The STS-116 mission is the fourth Shuttle flight since the shuttle returned to flight last year and the second ISS assembly mission. It is due to deliver a new segment of the ISS truss as well as space station supplies, equipment and research payloads such as additional shield panels to protect the Russian Zvezda Service Module from micrometeorites and space debris. The crew will also perform a major reconfiguration of the ISS power supply and thermal control, patching in the new set of solar arrays and radiators delivered by Space Shuttle Atlantis in September.
First Swede in space
A Swedish physicist specialized in particle physics, Christer Fuglesang was selected in May 1992 to join ESA's Astronaut Corps at the European Astronaut Centre in Cologne, Germany, and STS-116 is his first flight in space.
In 1995, he served as back-up to Thomas Reiter on the 179-day Euromir 95 mission. Training both in the US and Russia, Fuglesang qualified for flight assignment as a NASA Mission Specialist in April 1998 and was awarded the Russian "Soyuz Return Commander" certificate in October 1998, also qualifying him to command a three-person Soyuz capsule on its return from space.
Fuglesang's current 12-day mission in space was named "Celsius" in reference to famous Swedish scientist and astronomer Anders Celsius, who not only invented the international temperature scale that bears his name but also collected observations of aurorae borealis and ventured into northern Scandinavia to take measurements that helped confirm Newton's belief that the Earth was flattened at the poles.
Mechanic, electrician, heating engineer…
Christer Fuglesang will spend one week onboard the ISS and will participate in two out of the three Extravehicular Activities (EVAs) planned as part of the ISS assembly mission.
On Tuesday 12 December he will leave the station with NASA astronaut Robert Curbeam for a 6-hour spacewalk to install a new truss segment that will enable the relocation next summer of the initial solar arrays from the top of the Destiny module to the port end of the ISS truss. Fuglesang and Curbeam will conduct another 6-hour EVA on Thursday 14 December to undertake the complex task of connecting the new solar arrays and radiators mounted on a truss segment delivered in September to the station's power supply and thermal control systems.
"Christer is participating in an important mission for the development of the station's capabilities," said Daniel Sacotte, ESA's Director for Human Spaceflight. "ISS assembly is now proceeding and the upcoming reconfguration and increase in power supply will be a critical step towards preparing the ISS for the flight of Europe's two key contributions to this international effort: the ATV resupply ship and the Columbus laboratory , both scheduled for next year".
… But also scientist and sportsman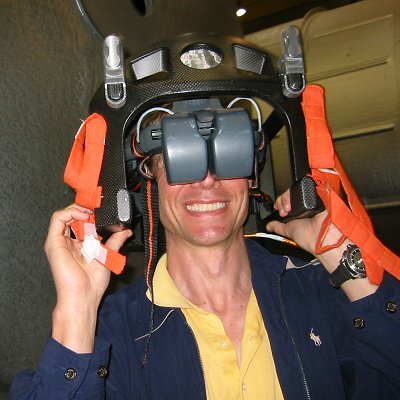 In addition to these "outdoor" activities, Fuglesang will conduct a series of experiments developed by European scientists to assess the effects of cosmic radiation on human physiology, a topic of tremendous importance for the preparation of future long-duration missions beyond Earth orbit.
The ALTEA experiment will investigate the effects of such radiation on brain function, tracking its passage through the astronaut's brain while monitoring his cerebral activity. Another experiment, Chromosome 2, will study the impact of this radiation on human genes. Like Thomas Reiter has done since boarding the ISS in July, Christer Fuglesang will also wear European Crew Personal Dosimeters (EuPCD) to measure the cumulated dose of radiation received through the flight.
In addition, Fuglesang will perform some educational demonstrations dealing with radiation in space and, as a former Swedish national frisbee champion, he will try to break the current record for maximum time aloft for a frisbee, obviously an easy task in a microgravity environment.
Discovery will undock from the ISS on Monday 18 December with both Christer Fuglesang and Thomas Reiter onboard. Before returning back to Earth, Christer Fuglesang will be in charge of deploying three US nanosatellites from the orbiter's payload bay.
Touchdown on Cape Canaveral's Shuttle Landing Strip is due on Thursday 21 in late evening at 21:36 CET.
For further information, please contact:
ESA Media Relations Office
Tel: +33(0)1.53.69.7155
Fax: +33(0)1.53.69.7690