Science & Exploration
ESA presents new human spaceflight education DVD at 'Science on Stage'
How fast do we need to travel to stay in orbit around the Earth? Why it is necessary to push up the International Space Station every now and then? How does portable satellite navigation work when I am riding my bike?
Although we use space technology on a daily basis and we have permanently inhabited Earth's orbit for almost a decade, we rarely know how it actually works. The new education DVD from ESA's Directorate of Human Spaceflight (D/HSF) 'Space Transportation: an ATV perspective' sheds some light on exactly these topics.
The team from the D/HSF Erasmus Centre, who produced this DVD, picked one of ESA's latest success stories – the mission of Jules Verne, the first Automated Transfer Vehicle (ATV) that was docked to the International Space Station (ISS) for 6 months - to highlight the complex physical laws behind handy space applications and driving current and future human exploration undertakings.
ATV as an example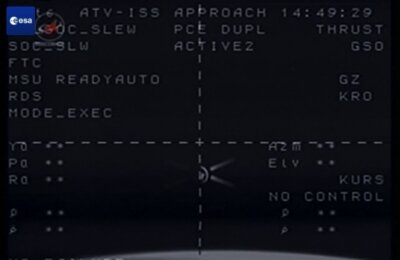 "Jules Verne ATV exceeded all expectations thanks to its sophisticated navigation and propulsion system. Using this outstanding spacecraft as an example to explain orbital mechanics, propulsion, and satellite navigation makes these topics fun and easy to understand, which is exactly the purpose of this DVD," said Massimo Sabbatini, Head of the Erasmus Centre.
During the 'Science on Stage' event in Berlin last week, Sabbatini and his team put the new production to test. It had to undergo a reality check done by participating teachers. Like its protagonist, the Jules Verne spacecraft, the DVD 'Space Transportation: an ATV Perspective' was also awarded the highest marks.
The teachers found the idea of using an external presenter quite clever and stated that the DVD displayed the right mix of science and fun. The DVD showed that even abstract physical and scientific concepts can be explained in a language that everyone can understand.
Education material
Like another recent ESA release, the DVD 'The Ingredients for life: On Earth and in Space', this DVD forms part of a wide range of education material for students and teachers at primary, secondary and university level. ESA's Human Spaceflight Education Programme takes the inspiration of human spaceflight and the ISS to capture the attention and the interest of students and to attract them to study, in particular, scientific and technical disciplines.
The Science on Stage Festival represents a platform for teachers and education experts to discuss concepts and methods of teaching science and technology subjects. Some 300 participants from across Europe attended and presented scientific experiments, lectures and workshops on current education topics. ESA participated with its own stand: representatives of the Human Spaceflight Education Programme were available to meet teachers and discuss with them about the benefit and importance of space for Europe, to illustrate ESA educational projects and to distribute the newest ESA teaching tools.
For a complete list of available material visit:
For more information and comments contact:
isseducationteam @ esa.int