Science & Exploration
"Newton in Space" – youngsters from Germany, Ireland and Spain star with ESA astronaut in a film for schools
INFO 06-2004. On Friday 10 September some 50 pupils from three countries will join ESA astronauts and ISS Education Fund Board members for the launch of the 'Newton in Space' DVD, in the Erasmus User Centre at ESTEC in Noordwijk, The Netherlands.
On this occasion Spanish ESA astronaut Pedro Duque will explain why he wanted to be involved in the education exercises and how he hopes his contribution will make a difference for young people. The audience at the premiere of the 17-minute programme on the DVD will include the young people who play leading roles in the film. After the showing the three classes from Germany, Ireland and Spain will explain how they found clever ways of demonstrating Newton's laws in everyday situations.
'Newton in Space' is the first in a series of educational DVDs ESA is releasing to demonstrate basic scientific principles in ways children can relate to. The lessons on Newton's laws were filmed both in space on board the International Space Station and on Earth. ESA astronaut Pedro Duque worked with his Russian colleague Alexander Kaleri to perform related experiments in space, while 48 pupils used skating rinks, swimming pools and snooker halls as their 'test laboratories'.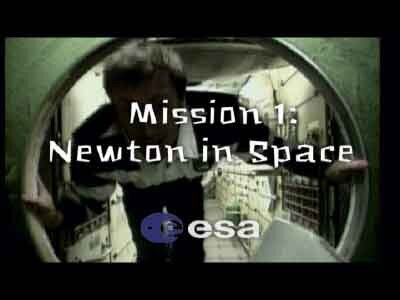 The DVD has been designed for use in the classroom and to encourage group exercises for students of twelve to eighteen years of age. The lessons on Newton's laws are available in eleven European languages*. The edition comes in a handy case also containing a Teacher's Guide, a brief introduction to the International Space Station (ISS), interdisciplinary classroom activities, and web and reading references. Exercises from the Teacher's Guide can of course also be distributed to youngsters as copied material.
"In offering this entertaining resource we want to help teachers motivate their classes," says Elena Grifoni, Head of the ISS Education Office, "and one of the ways we can do this is by using human spaceflight examples. We hope the pupils will find the DVD fun to watch while learning the essentials of science". Over 10,000 copies will be distributed to secondary schools in ESA Member States.
Joining the DVD 'stars' on Friday 10 September will be the board members of the ISS Education Fund, who are coming to ESTEC for their annual meeting. This Fund has been set up by ESA for external organisations and individuals to contribute to and aims to encourage more young people in Europe to study scientific subjects. Fund members include Nobel prizewinners, planetariums, space-sector companies and the entire ESA astronaut corps.
The 'launch event' in the Erasmus User Centre at ESTEC, Noordwijk, The Netherlands, takes place from 13:00 hrs. to 17:00 hrs.
For more information on the event please contact:
Mrs Elena Grifoni
ESA, ISS Education Office
Tel.: + 31 71 565 55 39
Fax : + 31 71 565 44 99
e-mail: Elena.Grifoni@esa.int
* Danish, Dutch, English, French, German, Italian, Norwegian, Portuguese, Spanish, Swedish and Finnish
To receive a copy
If you are a teacher of pupils aged 12-18, and you would like a copy of the ISS DVD Lessons to use in your school, please complete the request form linked below.