News
ESA astronaut Paolo Nespoli now onboard the International Space Station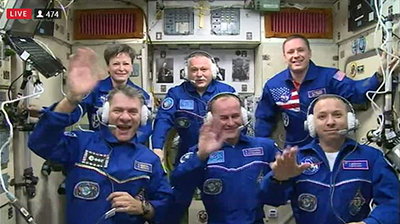 The new crew have now joined those that were already onboard



31 July 2017

ESA astronaut Paolo Nespoli has begun his five-month mission onboard the International Space Station! Paolo's journey began from the Baikonur cosmodrome in Kazakhstan. Together with NASA astronaut Randy Bresnik and Roscosmos commander Sergei Ryazansky, Paolo boarded a Soyuz spacecraft on top of a powerful rocket. They then blasted off the launch pad and into space! Six hours later they had successfully docked with the International Space Station.




| | |
| --- | --- |
| | |
| | The crew of Expedition 52 wave to well-wishers on the launch pad |
Paolo is a very experienced space explorer. He has spent 174 days in space before this mission, including a flight on the Space Shuttle in 2007. He has even been to the International Space Station twice before. The last time was six years ago. The Station has changed a lot since then! Modules have been moved and systems have been upgraded. New types of spacecraft now deliver supplies to the Station. One of Paolo's jobs will be to use a large robotic arm to grab onto these supply ships and help them dock.



| | |
| --- | --- |
| | |
| Fun facts about ESA astronaut Paulo Nespoli | |
Paolo's mission name is 'Vita', which stands for Vitality, Innovation, Technology and Ability. Paolo is Italian, and his mission name was chosen by ASI, Italy's space agency. The Vita mission will certainly keep Paolo busy. He has a full schedule of science experiments planned for his five-month stay!


Paolo's first two weeks onboard will be spent getting used to living and working in weightless conditions. His spine will grow longer; fluids in his body will move toward his head; and his bones will weaken. Understanding these changes will help us to safely send astronauts further into space, such as on future missions to the planet Mars. This research by astronauts could also help people on Earth who suffer from conditions like osteoporosis, where bones are weaker than they should be.

You can follow Paolo and his Vita mission on a special website: paolonespoli.esa.int.

Cool fact: Astronauts in space undergo a form of rapid aging that can be reversed when they return to Earth!