Space and Energy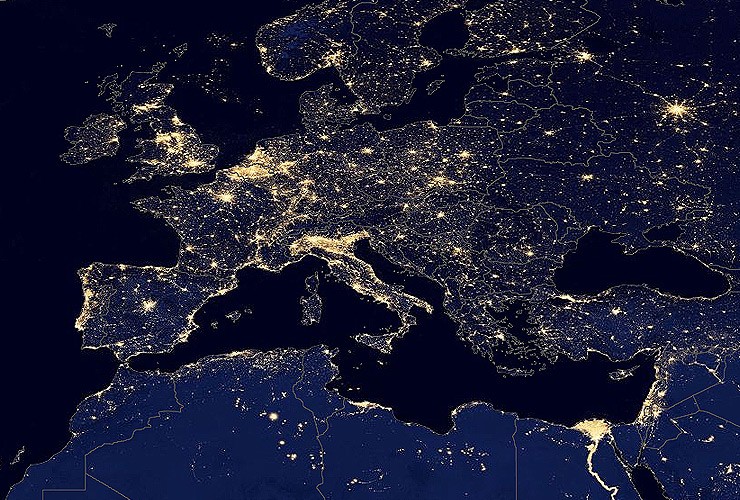 The earth at night. The light regions show where the most energy is needed.
Due to the challenging nature of many space missions, the requirements for any type of space system are the latest, state-of-the-art technology. Novel technologies developed for space could also see many applications on the ground, either via technology applications or new services. Previous ESA projects have explored sophisticated models using real-time information from earth observation platforms to plan and operate large-scale renewable resources like solar or wind farms.
Overview of ACT Research
Besides research on the development of advanced space power systems, the work at the Advanced Concepts Team is also aimed at exploring synergies in space and terrestrial energy applications. One of the main questions here is how current and future space platforms could contribute in the development of a sustainable world energy grid. Possible scenario's could include:
Space Power Station (SPS)
Earth observation and monitoring (forecasting, planning, grid inspection)
Space-based data and communication networks (grid synchronisation, metering)
Distribution network (engagement, wireless power transfer)
Both the terrestrial energy industry as well as the space sector are undergoing rapid transformations towards the future. Motivated by changes in the Earth's climate, distributed renewable energy sources are rapidly expanding. This expansion requires a fundamental rethinking of our current, ageing infrastructure. At the same time, the capabilities of space platforms is ever increasing and the number of assets in orbit is increasing. Multiple Low Earth Orbit platforms are proposed to offer new services regarding communication, data and earth observation. An analysis by the ACT on the synergies between these two emerging developments has recently been presented at the IAC 2015 conference in Jerusalem.
Space & Energy (S&E) is one of ESA's Space and Earth cross-cutting initiatives. For more information on this and other initiatives, please look at how ESA is preparing for the future.
---
Outcome
Summerer, L., T.W. Versloot, A. Lecuyot, I. Duvaux-Bechon, and C. Signorini. 2014. "Space for Earth at ESA to Support Solving Global Societal Issues - the Case of Space and Energy." In Toronto, Canada: The 65th International Astronautical Congress, Toronto, Canada. [link]
---