Space Webs: Laying The Foundation for Future Large Space Structures

Space Webs
Space webs are lightweight structures made up by a series of threads waived together with a given pattern. They can cover large surfaces without eccessive mass and volume penalties.
---
Research Milestones:
The centrifugal deployment of a net cannot be controlled by tethers tension alone.
It is possible to aid the net deployment using the interaction with an external magnetic field.(see fundamental physics related page)
The movement of spiders on a rotating net brings forth instability issues that need to be accounted for not to compromise the entire concept.
Project overview:
What are the dynamics of a net deployed in microgravity like? Is it possible at all to stabilise a web-like structure in space? We are currently looking into this intriguing possibility considering it as a multidimensional extension of the Tether concept. The applications enabled by the ability of controlling the dynamics of a net deployed in space are essentially related to the deployment of a number of "spiders" able to move on the net surface thus performing useful of tasks.
One of such could be that of reaching an optimal configuration to perform interferometric measurements, or to use the net as a substrate to build a larger space structure such as a Solar Power Satellites or a large reflector or antenna. The development of this concept is just at its beginning, but already preliminary results have been obtained by the Advanced Concepts Team in cooperation with Glasgow University and Stockholm KTH on what we like to name "Space Webs".
The studies were carried out under the Ariadna initiative and the final reports and other relevant publication are available at the ACT publication page.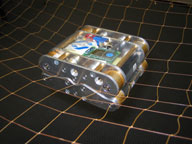 The pioneering ACT studies on the dynamic of the Space-Webs are related to the other activities that are already being carried out in cooperation with Vienna University of Technology (see their web page on this subject) and in particular with the Institute of Handling Devices and Robotics where some "spiders" prototypes are already being developed and built. The ACT is also cooperating intensively with japanese universities who have already proved in space the possibility to deploy a large net (see furoshiki experiment pages) during a sounding rocket experiment.
---
Outcome
---