Near-field Wireless Power Transmission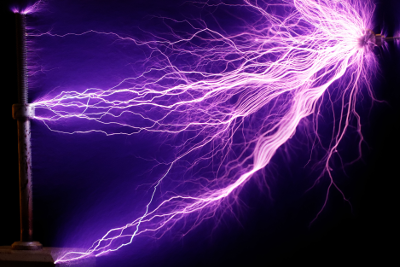 Wireless power transmission using near fields could be a revolutionary idea both for terrestrial and space based electric systems.
Near fields are a type of field emitted from an electrically oscillating element whose characteristic size is smaller than a wavelength. In near fields the electric and magnetic fields are out of phase which means they do not propagate in space and result in zero energy flow according to the Poynting vector. To transmit power using near fields, resonators which are strongly coupled, and emit mostly near fields, must be used. As they do not radiate energy like a normal antenna, near fields show potential for efficient wireless power transmission.
---
Why is Near Field Wireless Power Important?
The wires which power an escalating number of home devices such as laptops, PC's, smart phones and GPS systems results in cluttered work spaces. Cluttered spaces within space systems such as satellites, shuttles and the space station must be avoided. Near field wireless power transfer offers a safe and efficient solution to this problem. The potential reduction of the need for wires and energy storage in space systems could reduce payloads for missions. Wireless power transfer could also allow for the powering of otherwise inaccessible sub-systems of space craft reducing engineering complexity. Wireless power can, in general, improve space systems where power distribution is obstructed or impractical, such as fractionated space craft or wirelessly powered rovers.
---
Outcome
Barker, D.J., and L. Summerer. 2011. "Analysis of near-Field Wireless Power Transmission for Fractionated Spacecraft Applications." In Cape Town, South Africa: Proceedings, 62nd International Astronautical Congress IAC11, IAC-11.C3.2.7. [link]
---