Enabling & Support
Mechanical Systems Laboratory
What is its role?
ESA's Mechanical Systems Laboratory performs thermal and mechanical testing for small-scale space equipment and payloads: satellite equipment and instruments must be thermally controlled to withstand the very harsh environment of space. They must also survive the tough ride to orbit. The test methods are thermal cycling and thermal balance in vacuum or at ambient pressure and vibration testing in sine and random.
Key thermal and mechanical properties of space components need to be measured, such as thermal conductivity, thermal efficiency of multilayer insulation (MLI) and coefficient of thermal expansion. These measurements are essential to analyse and predict the overall thermo-mechanical performance of a space system in flight conditions. Lab expertise also provides significant support for the investigation of in-orbit anomalies.
Continue reading below
What services does it offer?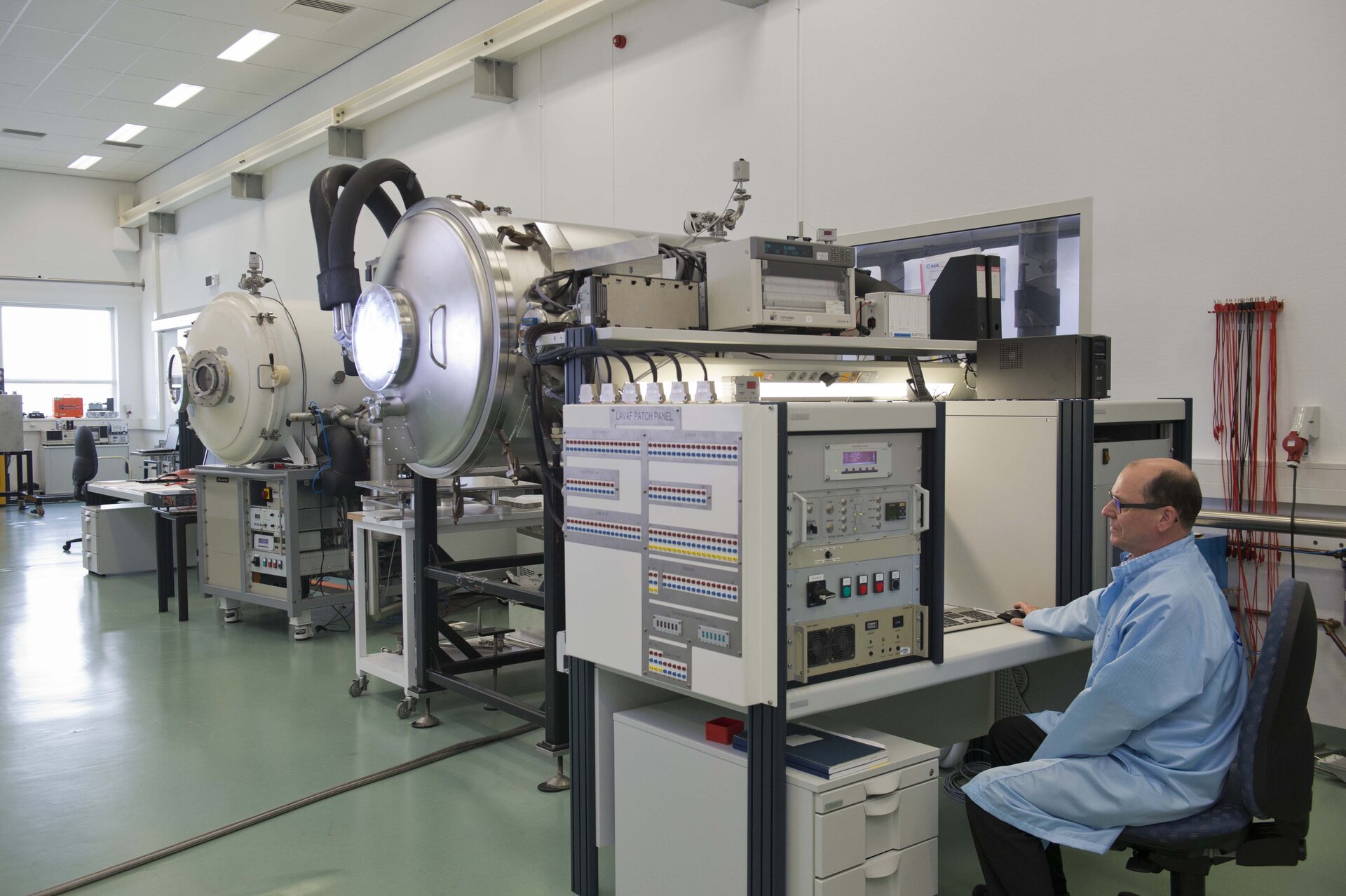 The Laboratory can subject space hardware to hot and cold environmental conditions in vacuum, including solar simulation. Climatic chambers at ambient pressure (with air or other gases) are also used to simulate a pressurised environment or a planetary environment such as Mars.
Two main types of thermal tests are carried out. Thermal cycling is executed to verify the performance of the test article when while it is subjected to maximum and minimum temperatures and the transitions between. Thermal balance is executed to validate the thermal design and the thermal model that is used for flight performance predictions.
The Laboratory measures material properties such as thermal conductivity and coefficient of thermal expansion and has developed a dedicated method and facility to measure the thermal efficiency of MLI blankets. The Laboratory also performs vibration testing.
Typical test articles undergoing both thermal and mechanical tests include solar cell sample panels, equipment, instruments and CubeSats.
How is it equipped?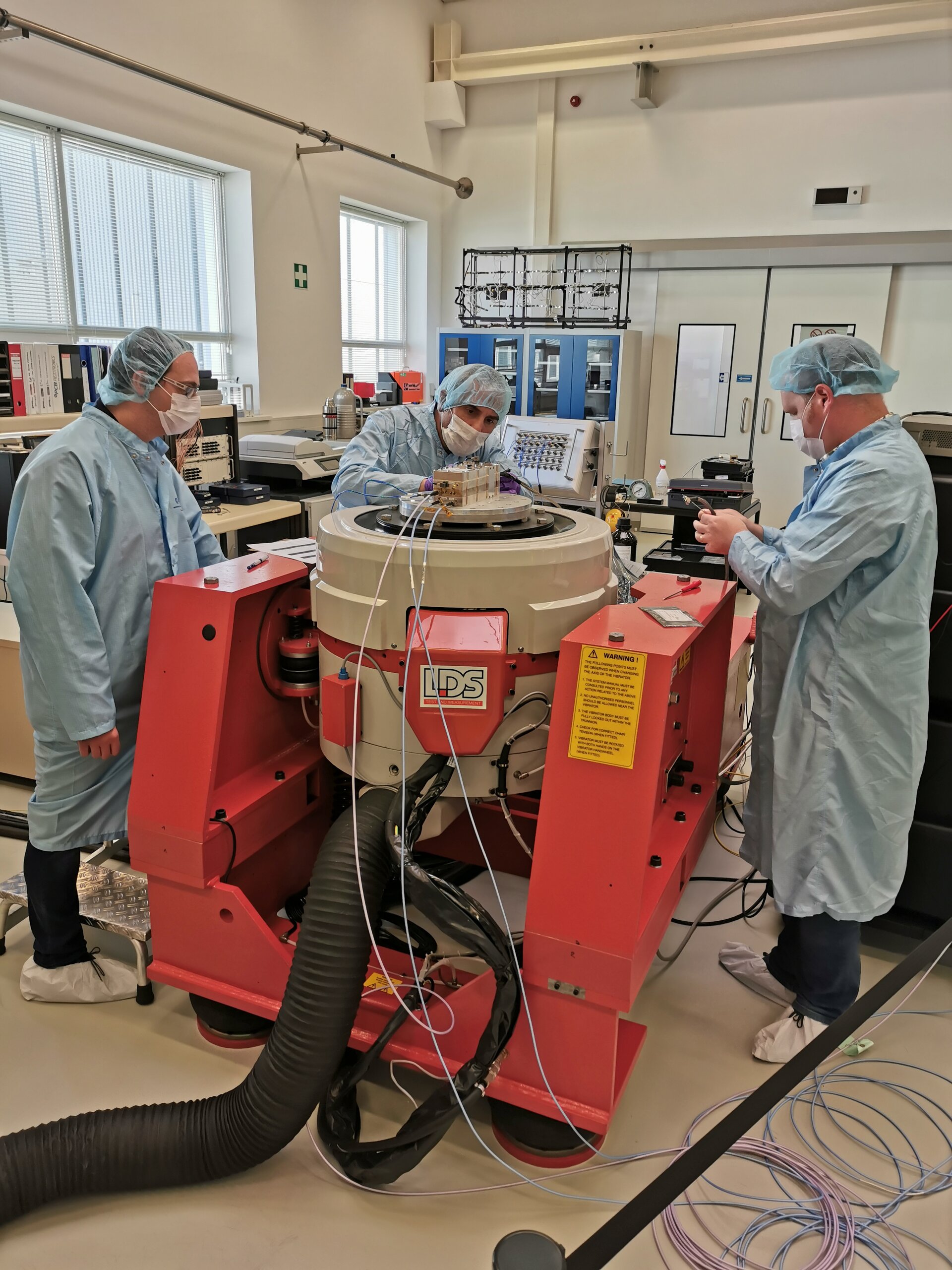 For thermal testing, the most important facilities are two medium-sized vacuum chambers (usable volume: 850 mm diameter by 1.5 m long and 1.9 m long), either of which can be used with a 350 mm-diameter beam solar simulator. There are several smaller thermal vacuum chambers equipped with a shroud and/or cold plate system. Depending on the selected facilities and the type of test, the attainable temperatures range from 10K to 390K. An infrared camera can be used for non-intrusive temperature measurements. Dedicated facilities are available for the measurement of thermal efficiency of MLI, coefficient of thermal and moisture expansion.
A special thermal vacuum cycling facility was developed to allow quick cycling between a hot compartment (up to 600ºC), and a cold compartment (down to –240ºC). This facility automatically moves the test specimen between the two compartments to achieve fast thermal cycling. The usable volume is of 650 X 500 x 350 mm.
For mechanical testing, an electrodynamic vibration system with 22 kN force is used to generate sine and random excitation. Active accelerometers and force sensors are connected to a 40-channel data acquisition system. In addition, a laser vibrometer can be connected to the system for non-intrusive measurements. Test adapters can be designed for dedicated tests.
The Laboratory also has access to powerful thermal computing facilities and associated software tools for designing test set-ups, modelling, conducting post-test thermal correlation and performing the general analysis of test results.
The Mechanical Systems Laboratory has four full-time staff with more than 85 years of cumulated experience in testing of space equipment. Young graduate trainees and stagiaires get the opportunity to work on test related developments in the laboratory.
Who are its customers?
"The ISIS team at ESTEC just confirmed that the test was successfully performed. Thank you very much for your kind support and help on it. I think it has been a very good experience. Keep in touch for the upcoming tests." Cesar Bernal from ISIS BV, managing the development of ISISPODs
The tasks of the laboratory are primarily linked to support to all ESA projects. External customers including national space agencies, prime contractors and equipment/instrument providers are also supported in response to specific test requests.
The expertise can also be harnessed to rapid investigation of thermal or mechanical anomalies affecting in-orbit missions, replicating problems on the ground as a basis for understanding and solving them.
The Laboratory participates in broadening the ESA working knowledge of extreme temperature operations, supporting current missions including ExoMars, BepiColombo and Juice. Among the large number of external customers, the Laboratory has a long cooperation with RUAG Space for MLI performance measurements and supported Qinetiq for qualification and acceptance of several Proba-2 and Proba-V instruments. Together with the ESA Education Office, the laboratory provided support to test CubeSats.