Solar Rectennas - Nanosized rectennas for solar cells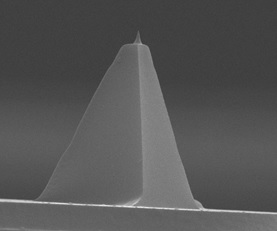 Plasmonic tip
Current space missions mostly rely on semiconductor solar cells which perform energy conversion of electromagnetic radiation into electricity by means of the photovoltaic effect.
A considerably different approach for energy conversion passes through the use of a rectenna (rectifying antenna) consisting of an antenna coupled to a rectifying element, which is typically a diode. Its working is such that electromagnetic radiation is coupled to the antenna inducing an oscillating (AC) electric signal that is rectified by a diode into DC current, producing power in a connected load. This approach has been demonstrated and used with great success in some parts of the electromagnetic spectrum, in particular in the microwave range. Visible light rectifying devices were first proposed as a solar energy conversion method alternative to semiconductor solar cells in the 1970s, the main advantage being that they can in principle exceed the Schockley-Queisser conversion efficiency to which semiconductor solar cells are tied to.
Furthermore, the possibility of having solar cells that are not only more efficient but also based on a different physical process other than photovoltaics (PV) opens new ranges of applicability in space missions.
The attractiveness of the rectenna conversion approach has recently been researched in the infrared (IR) spectrum, and strong evidence for extension to visible range has been shown with limited conversion efficiencies attributed to fabrication challenges. In fact, rectennas in the higher energy parts of the spectrum pose unique challenges for both the antenna and the diode. Particularly in the visible range, one of the major challenges is that the diode has to be able to work at hundreds of THz/PHz frequencies. Diodes working at such high frequencies are not known.
Project outline
The work is conducted in the framework of the Ariadna Project: "Solar Rectennas - Nanosized Rectennas for Solar Cells" - Study Reference Number: 15-2101. For more information please see the study description.
---
Outcome
Mupparapu, R., J. Cunha, A. Jacassi, F. Tantussi, R. Proietti Zaccaria, and L. Summerer. 2017. "Solar Rectennas - Nanosized Rectenna for Solar Cells." 15-2101 European Space Agency, the Advanced Concepts Team. [link]
---