Near field wireless power antennas design using evolutionary techniques
One of the methods to transmit power wirelessly is via resonant inductive coupling. The method works by producing an oscillating magnetic field with an oscillating current in a coil. This coil acts as the transmitting coil. A second coil, which functions as a receiver, can then pick up these fluctuating electromagnetic fields and, via the reverse process, induce a current in the coil. The aim of this study is to design strongly coupled resonators, which can offer greater efficiency and flexibility for power transfer in certain scenarios.
In many cases, with a single objective in mind, analytical expressions can be used to design the optimal shape of the transmitting and receiving coils. However by using evolutionary design techniques, antenna shapes can be designed with enhanced capabilities that best fit one or multi objectives at the same time. Analytical studies of resonator shape and modes have been investigated using genetic and evolutionary algorithms and finite element antenna analysis.
Applications
Near-field wireless power transfer is an interesting alternative for powering devices in close proximity. This has several applications for space, including: *Fractional spacecraft
Controlled formation of spacecraft
Wirelessly powered rovers or sub-systems *Alternative to wired space systems in e.g the ISS
The following figure shows an example of the antenna shape resulting from the optimization process.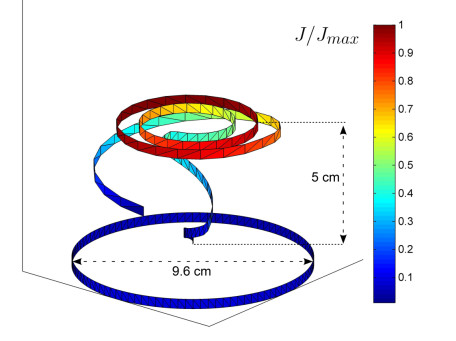 Outcome
Energy Systems
Conference paper
Optimisation of Near-Field Wireless Power Transfer Using Evolutionary Strategies
Versloot, T.W. and Barker, D.J. and Otero One, X.
The 8th European Conference on Antennas and Propagation - EUCAP 14, The Hague, NL
(2014)