Agency
Sigmund Jähn: the first German in space
Forty years ago this week, Sigmund Jähn became the first German in space. On 26 August 1978, the then East German citizen flew as part of the Soviet Union's Interkosmos programme on Soyuz 31 to the Russian Salyut 6 space station.
Jähn was launched as a research cosmonaut aboard Soyuz 31 with his commander, veteran cosmonaut Valeri Bykovsky. Together they flew to Salyut 6, where Jähn conducted 25 experiments in the fields of remote sensing, medicine, biology, materials science and geophysics.
Jähn and Bykovsky returned to Earth in Soyuz 29 on 3 September 1978, after 124 orbits and seven days, 20 hours and 49 minutes in space, whereupon Jähn was awarded the title Hero of the Soviet Union.
Early life and experience
Sigmund Jähn was born on 13 February 1937 in Morgenröthe-Rautenkranz, in the Saxon Vogtland area of Germany. He attended school in his hometown until 1951, then trained as a book printer in Klingenthal until 1954. He then worked for a short time as a pioneer youth leader at a school in Hammerbrücke.
In 1955, Jähn joined the East German air force (Luftstreitkräfte der Nationalen Volksarmee, LSK). He completed his basic training and in 1956 became an officer student at the air force's flying school at Kamenz, and from May 1957 at Bautzen. In 1958, after two years of training, Jähn began service as a pilot in an LSK fighter squadron. From 1961 to 1963, he was deputy commander for political work, and from 1965 head of air tactics and aerial combat.
In 1966, the LSK assigned him to study at the Yuri Gagarin Air Force Academy at Monino near Moscow. He graduated in 1970 in military science. From 1970 to 1976, he worked in the administration of the East German air force, responsible for pilot education and flight safety.
On 13 July 1976, the Soviet Union offered cosmonaut flights to countries participating in the Interkosmos programme. These would be Soyuz missions to the Salyut 6 space station. On 10 November 1976, the former German Democratic Republic (GDR) sent four candidates to the Cosmonaut Training Center at Star City near Moscow, including Jähn.
On 25 November 1976, Jähn was selected along with his future backup Eberhard Köllner for cosmonaut training. From 4 December, both candidates took the basic training and then, from January 1977, continued training with their assigned Russian commanders. Mission-specific training took place from 22 August 1997 to 9 August 1978.
Return to Earth and ESA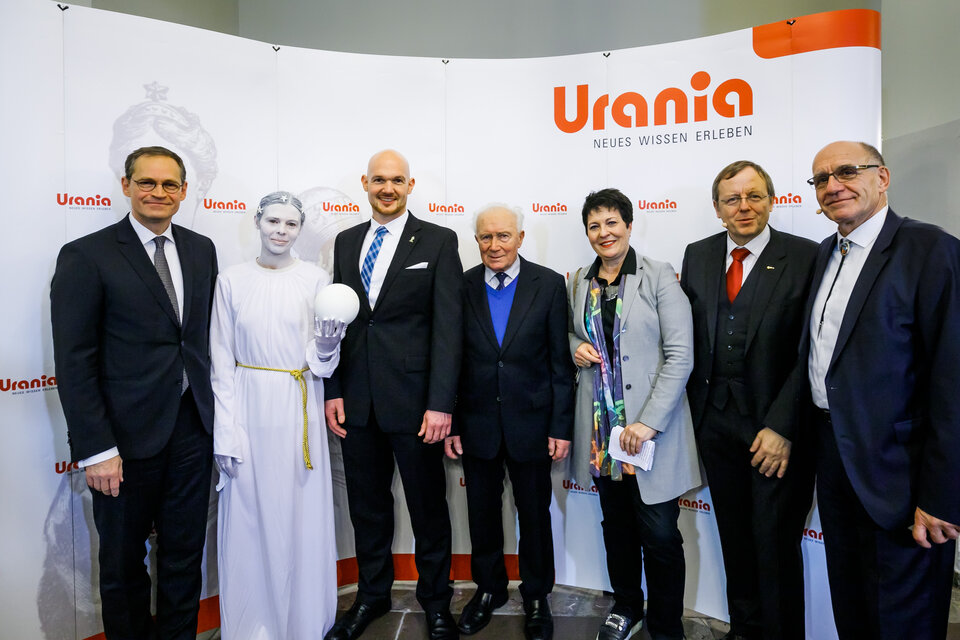 After his spaceflight, Jähn became head of the newly created air force Space Training Centre at Eggersdorf near Strausberg, holding this position until the reunification of Germany. On 2 October 1990, the East German air force was dissolved and Jähn was discharged with the rank of major general.
He then worked as a freelance consultant for the German Aerospace Center (DLR) at the Gagarin Cosmonaut Training Center near Moscow, and from 1993 also for ESA on behalf of the European Astronaut Centre in Cologne. Here he supervised the German and European astronauts during the preparations for the missions Mir-92 (Klaus-Dietrich Flade and Reinhold Ewald), Euromir-94 (Ulf Merbold and Pedro Duque), Euromir-96 (Thomas Reiter and Christer Fuglesang) and Mir-97 (Reinhold Ewald and Hans Schlegel).
Jähn served an ESA consultant at Star City until his retirement in 2002. Since then, he has remained a tireless supporter of space, attending events and taking part in lectures and forums around Europe. He also played a key role in the creation of the international Association of Space Explorers (ASE). As a founding member in 1985, he was a member of its executive committee for several years. Asteroid 17737 was named in his honour in 2001.