Agency
ESOC Boosts Girls' Day
ESOC's 2006 Girls' Day activities include briefings from experienced staff, a workshop on Space and the Internet, and a challenge activity designed to see if would-be scientists and engineers can construct a workable satellite control system.
Girls' Day on 27 April will see a group of 43 female students gather at ESA's Space Operations Centre in Darmstadt to learn about space science and the art and engineering behind satellite operations.
The day will start with a welcome session led by senior operations and human resources managers, followed by tours of the satellite control facilities, including the Main Control Room and computing centres. Participants will then be split into teams to attend workshops on "Space in the Internet" and "ESA Express to Greenhouse Hades" conducted by female ESOC engineers working in these areas.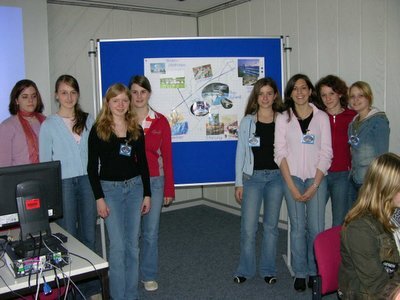 The day's main challenge activity will be to design and map out a workable spacecraft ground control system taking into account real-life factors such as communication networks, ground stations, computer systems and resource allocation.
The aim is to stimulate the imagination and creativity of female students and encourage them to pursue studies in science and engineering, particularly with a space focus. Success in the activity will require the girls to think not only technically but also critically and imaginatively.
This is the fourth year that ESOC will host the event and it underlines ESA's strong commitment to promoting space activity in Europe and the full participation of women in technical, engineering and management positions throughout the agency.
International Girls' Day ('Mädchen-Zukunftstag' in German) is based on over 20 years of pilot projects and campaigns. In Germany alone, over 113,660 places for female participants have been made available by participating organisations, according to the Mädchen-Zukunftstag website.
Mädchen-Zukunftstag has evolved into a national event aimed at promoting work and professional opportunities for girls particularly in areas traditionally under-represented by women such as engineering, technology and management. Girls' Day events are conducted at hundreds of companies, schools, institutions and economic and labour organizations and Girls' Day activities will also take place elsewhere in Holland, Switzerland, Luxembourg and Austria.
ESA is at the forefront of European organisations helping expand the concept to other countries. The ESOC Girls' Day event started several years ago as a human resources activity but has since grown to include support and input from the ESA Education Department.
Girl's Day is supported by the EU, Germany's education and family ministries and by numerous national agencies including the Federation of German Industries (BDI) and the Association of German Chambers of Industry and Commerce (DIHK).