Agency
ESOC childcare centre fosters family support
Staff at the European Space Operations Centre (ESOC) in Darmstadt, Germany, usually deal with challenges far overhead. But on 29 September, the focus was much nearer to Earth as the new Childcare Centre opened with an all-new staff and a fresh-faced clientele.
The new Childcare Centre, located a five-minute drive from ESOC in the quiet town of Griesheim, was formally inaugurated as a multilingual, multinational care facility specifically tailored for the unique needs of ESOC's pan-European staff.
It is the first such purpose-built and owned facility established by the European Space Agency (ESA) and is expected to significantly boost the quality of life for working parents at ESOC; the centre will also serve parents at other international organisations in the area.
Childcare services will be provided under contract by the AWO (Bundesverband der Arbeiterwohlfahrt), a nationwide non-profit provider of specialised child and senior citizen care and one of Germany's largest workers' welfare organisations.
Services will be provided to 6-month- to 12-year-old children, between 8:00 and 18:00. There will also be an after-school care programme (including homework supervision) and vacation programmes.
Significantly, the centre offers all services in English, German and French making the facility unique in the region and particularly well suited to parents assigned to ESOC from outside Germany. Few child-care facilities in the Darmstadt area have staff that can communicate to parents in any language other than German.
Local culture integration for international children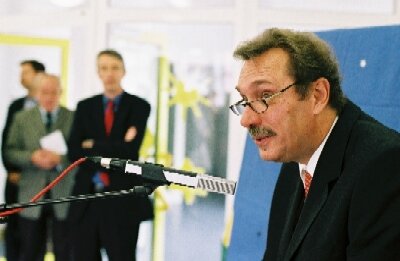 The aim, nonetheless, will be to foster the children's understanding of German while developing their maternal language skills. "For the children of our non-German colleagues, German is critical for making their integration into the local community possible," said Dr. Frank Danesy, Head of Personnel at ESOC.
Mr. Danesy spoke at the Childcare Centre's opening ceremony on 29 September, which was also attended by Gaele Winters, Head of ESOC and Director of Operations, Pascale Depré, ESA's Senior Advisor for Diversity and Gender Equality, Norbert Leber, Mayor of Griesheim, and several representatives of local and regional governments.
"The centre will help make ESOC more family friendly," said Jocelyne Landeau-Constantin, Head of Communications at ESOC. "ESA has realised that to continue encouraging more top-quality staff, we must offer a proper environment to support families."
The ESOC Childcare Centre will open with an initial staff of three full- and one part-time staff members serving nine children. While targeted specifically at ESA employees from ESOC, placements are also available to ESA contracting companies and staff at EUMETSAT, the European Meteorology Satellite facility, also based in Darmstadt.
Parents from other international organizations and companies in the Darmstadt area may be accepted on a space-available basis.