Agency
European students visit ESOC for expert EO mission advice
Students involved in building a student Earth-orbiting satellite visited ESA's Spacecraft Operations Centre in Germany today to learn more about ground operations. The Ground Segment and Operations Workshop is part of a larger workshop underway for ESA's Europe-wide student-led initiative, SSETI.
The Student Space Exploration and Technology Initiative (SSETI) was created by the ESA Education Department in 2000 in order to actively involve European students in real space missions. The aim is to give students practical experience and enhance their motivation to work in the fields of space technology and science, thus helping ensure the availability of a talented workforce for the future.
ESOC workshop connects students with operations experts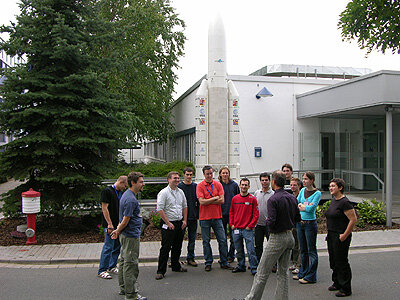 The ESEO (European Student Earth Orbiter) mission is the second ESA student satellite, following 2005's SSETI Express. ESEO will take pictures of the Earth and other celestial bodies for educational outreach purposes from Geostationary Transfer Orbit. It will also measure radiation levels through the Van Allen belt and will act as a test bed for advanced technologies.
Bi-annual SSETI ESEO workshops are held at ESA's Space Research and Technology Centre in the Netherlands. During the workshops, students benefit from the advice of ESA experts and have an opportunity to meet and work with their colleagues from other countries.
Students receive guided tour of ESA's control centre
Today's special ESOC workshop was organised by the Future Studies Section of ESA's Spacecraft Operations Directorate and was hosted by ESA ground segment and mission operations experts.
The European student group learned how ESOC prepares the ground segment and operations portions of ESA missions, and visited several of the centre's Dedicated Control Rooms (DCRs) which control specific missions in their routine phases. They also saw the planning and operations facilities for ESA's ESTRACK network of ground stations, located worldwide but operated remotely from ESOC.
ESA experts were further available to discuss the students' ESEO work and to provide advice on the next phases of the mission.
"The workshop was a success and the students benefited a lot from learning how ESOC gets ready for complex space missions. The students left ESOC enthusiastic about the next phases of their ESEO mission," said Workshop Coordinator Angela Birtwhistle.
ESEO mission now in development
The ESEO mission is now in development; integration and testing of the subsystems and payloads will take place throughout 2006-07, with a view to launching ESEO in 2008; the preferred launch vehicle is Ariane 5 or the Soyuz launch vehicle.
All the results from the mission will be made widely available to the public and used for educational outreach purposes.