Agency
Long Night of the Stars: ESA open doors in Darmstadt
On Friday, 8 September, ESA's Space Operations Centre in Darmstadt will open its doors for only the third time in its 50-year history. This time, we're celebrating with a very special event: the Long Night of the Stars.
The 8th day of September is a special date in the history of ESOC: it's the day in 1967 when the centre was inaugurated to serve as 'mission control' for what later became the European Space Agency. All tickets for site access during the 'Long Night of the Stars' event are now sold out, and if you are one of the lucky ticket holders, you'll have a unique opportunity to enter ESOC and get a close-up view of the Centre's work.
No tickets? No worries
In partnership with Hessischer Rundfunk (HR) radio and the Darmstädter Echo newspaper, even those without tickets can join us to enjoy a space-themed stage programme to be held in front of ESOC. There will also be kids' play and craft activities and hands-on experiments hosted by DLR SchoolLab, and the public can browse our Space Shop, refuel at food and drink stalls and enjoy the Rosetta video dome - and there will be some other surprises for space fans.
Note that most activities will be conducted basically in German, but visitors are welcome in any language.
Long Night of the Stars: what's on
Ticket-holding visitors will be admitted to the ESOC site in groups according to the entry time stated on the ticket − please arrive 15 minutes early to assemble for entry.
Upon entering the ESOC site, groups will tour through the control centre, including the Main Control Room and other operational facilities. ESA experts will give short presentations and answer questions on current missions, including those to far-off planets or observing Earth, as well as topics such as space debris and the future of spaceflight.
Two ESA astronauts will also give talks: Reinhold Ewald and Thomas Reiter, who is now Interagency Coordinator and Advisor to the Director General, will share their experiences in the realm of human spaceflight.
The Astronomy and Space Technology Club of Darmstadt (AAW) will offer visitors an opportunity to observe the night sky through telescopes. There will also be a robot demonstration by the German Research Centre for Artificial Intelligence (DFKI) and information kiosks hosted by the Berlin-based Part-Time Scientists and the School of Design of Politecnico Milano.
The visit also includes numerous info stands operated by ESA, the cesah business incubation centre and other space-related partner organisations. Visitors can also view detailed models of some of ESA's most famous satellites.
Upon completion of the tour and exiting the ESOC site, visitors are welcome to stay and take part in the ESA/Hessischer Rundfunk/Darmstädter Echo public event, which will be held outside the gates on Robert Bosch str. and in the ESOC parking lot on the south side of the street.
Opening times, access, information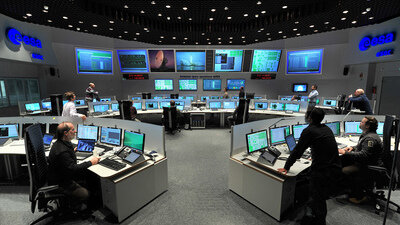 ESOC will be open to registered ticket-holding visitors on Friday, 8 September from 16:00-01:00; all other members of the public are welcome to join public event outside the site.
Tickets (which are now sold out) are valid for a specific entry time for a 90-minute visit. Please read and comply with instructions printed on the ticket.
All visitors aged 16 years and above must carry valid photo ID.
During the Long Night of the Stars, photo and video recordings will be made by media and for the publicity/PR purposes of ESA and its partners. As a visitor, it is possible that your image will appear in these recordings. By attending Long Night of the Stars, you give your consent in this respect.
Bonus ticket value
Please note that each ticket includes a food or drink value of 2 Euro. Prior to visiting any of the food/drink kiosks, ticket holders should go to the "Wertmarkenstand" located in front of ESOC (opposite the gate where the public will enter), and show your ticket to obtain a coupon.
Security and parking
Our security concept involves a number of procedures that we have developed, agreed with and implemented with the help of German police and other security agencies.
The following items may not be brought onto the ESOC site during the Long Night of the Stars:
In light of the dangers inherent in public gatherings, and for their own safety, we ask all visitors not to bring large bags or rucksacks onto the ESOC site. Only handbags, bum bags and belt bags may be brought onto the site. This will help us increase security and speed up entry checks.
Smoking is not allowed on the ESOC site
Animals are not allowed on the site
Parents must supervise their children at all times
Alcoholic beverages are not to be brought on site
There will be no car parking at ESOC, nor on streets around the site. Please plan to travel to ESOC by public transport or use the public parking garages nearby.