Agency
Planetary missions, ground systems engineering on show at SpaceOps 2006
The 9th International Conference on Space Operations ("SpaceOps") opened yesterday in Rome, Italy, with a strong ESA presence highlighting, in part, planetary mission operations and developments in ground control systems since the last conference two years ago.
The biennial SpaceOps event is one of the premiere forums for sharing information, developments and hands-on experiences among space mission operators worldwide. Engineers and scientists from ESOC, ESA's Space Operations Centre in Darmstadt, Germany, as well as other ESA organisations, are participating in this week's SpaceOps 2006 conference, which opened yesterday and is set to run until Friday.
SpaceOps is the conference
"For ESA and ESOC, SpaceOps is the conference, since it covers topics which are very close to our mandate and portfolio, including mission operations and ground systems engineering. Consequently, we are more than happy to use this forum to exchange our experiences and views with our European and international partners," said Dr Manfred Warhaut, Head of the Mission Operations Department within ESA's Operations directorate.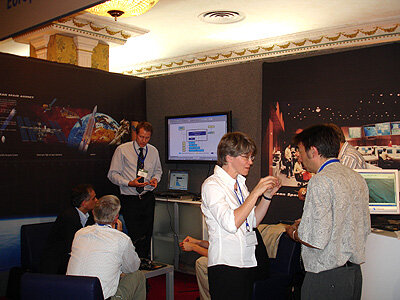 SpaceOps 2006 brings together space operators from around the world, including the Italian, Canadian, French, German, Indian, Japanese, Korean, American and Russian space organisations, as well as ESA and EUMETSAT (European Organisation for the Exploitation of Meteorological Satellites).
This year's theme is focussed on "Earth, Moon, Mars, and Beyond," and presentations will cover a wide range of future-oriented space activities, including Earth observation, Solar System exploration, planetary surface exploration, deep-space communications and the integration of human and robotic missions.
ESA science, deep-space missions on display
In the conference showroom, ESA is exhibiting the full spectrum of the agency's activities, ranging from deep-space mission preparation and operations to scientific and Earth observation satellites.
Exhibition materials will also highlight recent ground system engineering activities and their related software and hardware developments, and the creation and utilisation of new technologies for mission control. The ESA booths also present general information about ESA, ESOC and ESRIN, ESA's Centre for Earth Observation.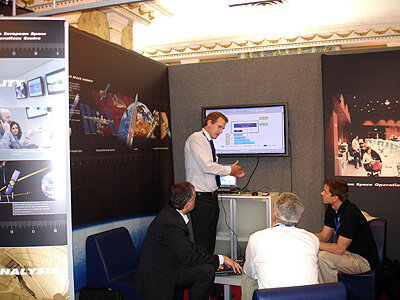 The Agency's services that are available to external customers are also on show.
ESA participants aim to share with the space community hands-on experience gained in the past two years, and in particular focus on planetary missions including Cassini-Huygens, Mars Express, Rosetta, SMART-1 and Venus Express.
"This mission set demonstrates very well Europe's presence in our solar system. But we are also highlighting major achievements in the ground system engineering area, for example the successful completion of the second 35m deep space ground station in Cebreros, Spain, and our technical and managerial visions for the future," said Warhaut.
In addition to chairing conference sessions, specialists from ESOC will also present results from a wide range of recent development activities, including flight operations, ground systems architecture development, mission management, advanced technologies for mission design, space communications and flight software.
Additionally, several presentations will highlight cutting-edge ground control software developed at ESOC, including EGOS (ESA Ground Operation Software) and SCOS-2000 (Spacecraft Operating System). SCOS-2000 is ESA's generic mission control system software. Originally developed to support ESA missions, the software is now being promoted as a product and licenses are being granted in the fields of space research and technology.
About SpaceOps
The International Committee on Technical Interchange for Space Mission Operations and Ground Data Systems (the 'SpaceOps Organization,' also known as the SpaceOps Committee) is an international spacecraft operations-oriented association consisting of representatives from most space-faring nations. The 9th International Conference on Space Operations (SpaceOps) is being held 19-23 June, 2006, in Rome, Italy. The event is hosted by the Italian Space Agency (ASI) and organised by The American Institute of Aeronautics and Astronautics (AIAA). SpaceOps was founded in 1990 to foster continuous technical interchange on all aspects of space mission operations and ground data systems, and to promote and maintain an international community of space operations experts.