Agency
Earth observation multimedia centre
ESRIN hosts the Earth observation multimedia centre, comprising a Control Room for Earth Observation Payloads (CREOP), an Earth data visualisation experience (Φ Experience), and a long-term data preservation exhibit area (Heritage Missions Walkthrough).
CREOP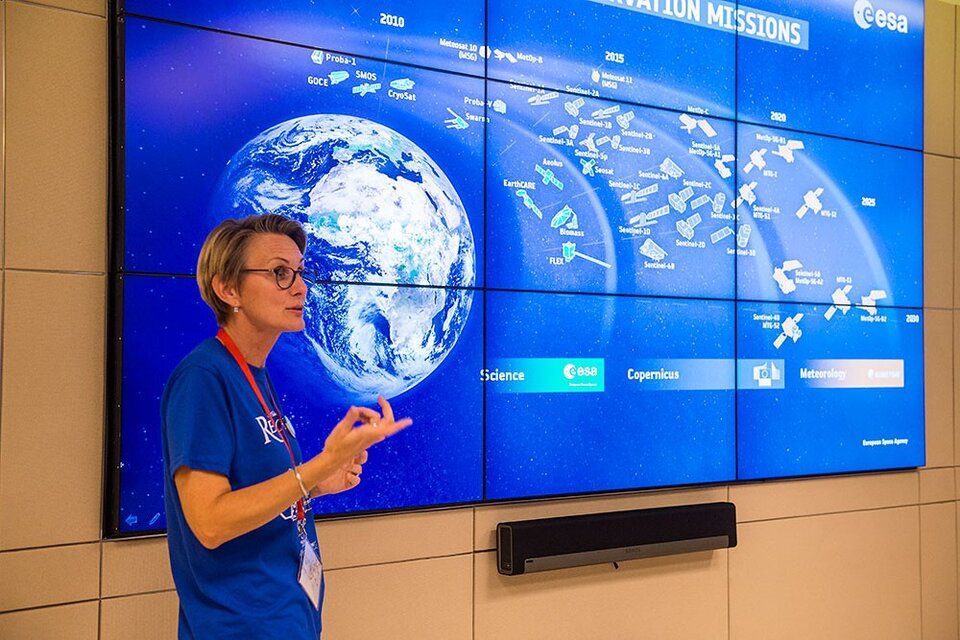 The Control Room for Earth Observation Payloads (CREOP) is a working area and demonstration facility at ESA's Centre for Earth Observation in Frascati, Italy.
In CREOP, operators working for ESA monitor the ground segment and operations of the Earth observation satellites, including the ground receiving stations located in various ESA member states. They support mission management activities and relay the users' requirements to both the planning and operations of satellites.
The Hyperwall installed in the CREOP allows to display the current status and position of all ESA Earth observation satellites, and those of partner agencies in orbit on a very high-resolution display. As part of the same system, it is also possible to show a wide-range of Earth observation applications and scientific results in an interactive system at almost 6000 x 3000 pixels resolution.
The data provided by ESA related to climate change are displayed using the specifically developed Climate Change Initiative visualisation tool.
CREOP also includes the display of the operation ESA function of secretariat of the "International Charter on space and major disasters" - a network of space agencies from around the world to provide information on humanitarian aid and disaster management situations.
Φ-Experience
The objective of the "Φ-Experience" is to use interactive display technologies to increase awareness and visibility of ESA's Earth observation programmes and applications. Through this, it is expected to improve the understanding of the benefits of Earth observation for monitoring global change for visitors. As many guests at ESRIN are Earth observation professionals, another aim is to motivate scientists, industry and other European and worldwide ESA partners to contribute to the displays in the Φ-Experience with their data, information and experience.
ESA is also planning to demonstrate the relevance and value of Earth observation regarding environmental and socioeconomic benefits – for this the Φ-Experience will be aiming at decision makers and politicians.
Heritage Missions Walkthrough (HMW)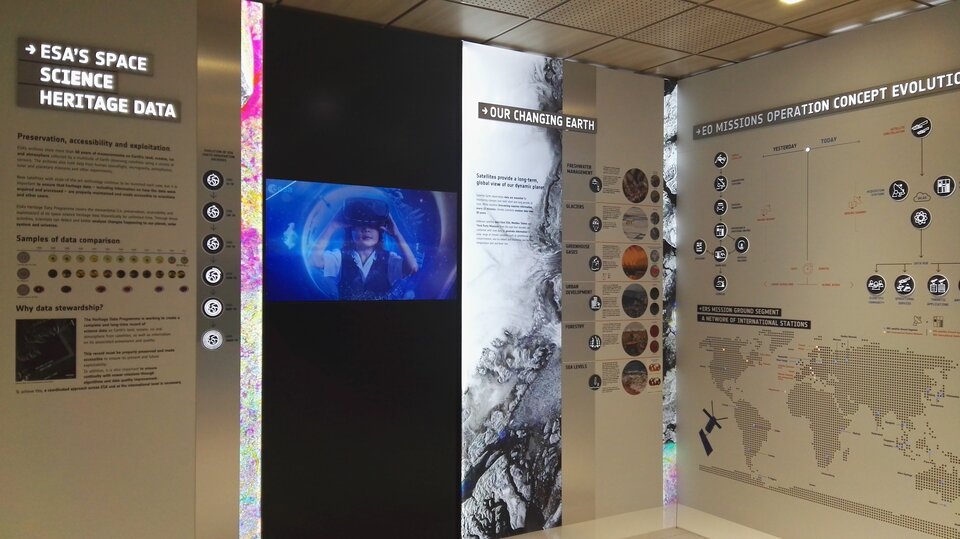 ESA archives store today more than 40 years of heritage satellite data on our Earth system that are crucial for many applications like climate change monitoring and are maintained accessible and exploitable by users through a dedicated ESA Programme.
Memories and samples of the technologies, media and techniques used in the initial phases of Earth observation activities at ESA and of their evolution with time are today conserved and accessible to the public at the Heritage Missions Walk-through (HMW) visitor area located at ESRIN.