Applications
GIOVE-A on the launch pad; launch rehearsal completed
GIOVE-A, now mated with the Soyuz launcher that will carry it into orbit, is in position on launch pad six at the Baikonur Cosmodrome. A successful launch rehearsal for Soyuz, GIOVE and the ground station network has been completed. Lift-off is set for 05:19:08 UTC (06:19:08 CET, 11:19:08 Baikonur local time) on 28 December.
GIOVE-A launched at 06:19 CET this morning
GIOVE-A and the Fregat launcher upper stage, encapsulated in the rocket nose cone, travelled by rail to the launcher integration facility where they were mated with the third stage of the Soyuz launch vehicle. After installation of a thermal cover over the fairing, or nose cone, GIOVE-A, Fregat and the Soyuz third stage were mated with the first and second stages of the launcher.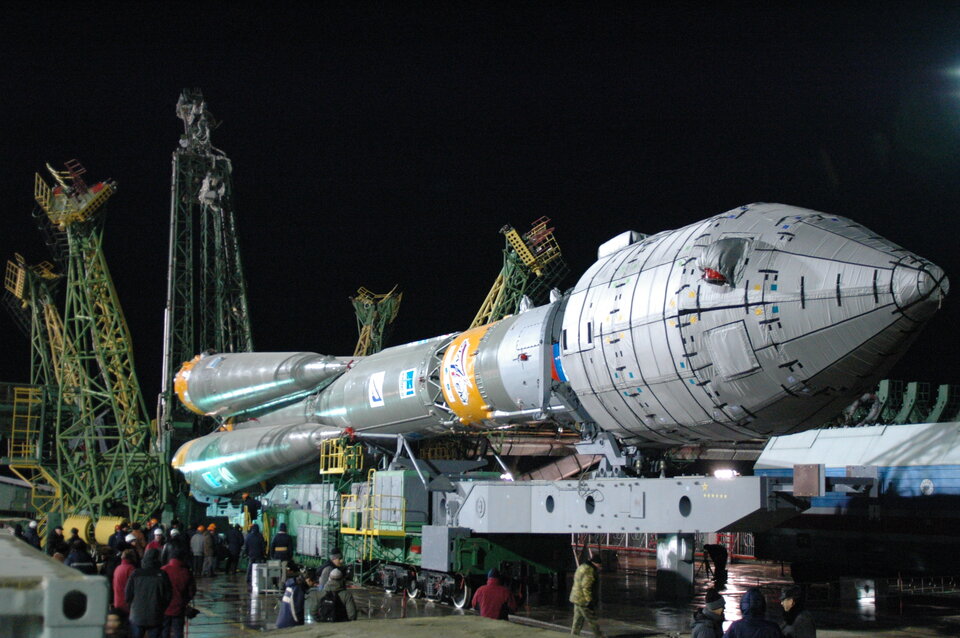 Late on 24 December, launcher and satellite travelled from the integration facility to launch pad six on a specially designed railway train. The launcher was raised into the vertical position on 25 December at 01:30 UTC (02:30 CET, 07:30 Baikonur local time).
On 26 December, a full launch rehearsal was conducted, involving the Soyuz launch team, the ESA and Surrey Satellite Technology (SSTL) teams at Baikonur, the ground controllers at SSTL's facility in Guildford, UK and the ground station network that will track the launch.
The launch rehearsal was a success and the final countdown will begin at 17:00 UTC (18:00 CET, 23:00 Baikonur local time) today, 27 December.
Lift-off is scheduled for 05:19:08 UTC (06:19:08 CET, 11:19:08 Baikonur local time) tomorrow, 28 December.
Separation of GIOVE-A and Fregat from the Soyuz launcher is scheduled to occur 8m:49s after lift-off. GIOVE-A and Fregat will part company 3h:42m:31s after lift-off, injecting GIOVE into its final, circular orbit 23 222 km above the Earth. Early on-orbit operations such as solar array deployment are expected to be completed 7h:32m:31s after launch at 12:51:39 UTC (13:51:39 CET, 18:51:39 Baikonur local time). Satellite commissioning will commence soon thereafter.
GIOVE A is the first of two Galileo In-Orbit Validation Elements which, with its sister spacecraft GIOVE B and their associated ground segment, make up the first stage of the in-orbit validation (IOV) of the Galileo system.
Experience gained from the GIOVE missions will support the development of the Galileo IOV system. The next phase of Galileo IOV will be the deployment of the first four of 30 Galileo satellites that will be required for full system operation.