Applications
How each Galileo satellite is tested ahead of launch
Each Galileo satellite must go through a rigorous test campaign to assure its readiness for the violence of launch, airlessness and temperature extremes of Earth orbit.
Each one is despatched to a unique location in Europe to ensure its readiness prior to launch: a 3000 sq m cleanroom complex nestled in sandy dunes along the Dutch coast, filled with test equipment to simulate all aspects of spaceflight.
The test centre in Noordwijk – Europe's largest satellite test site – is part of ESA's main technical centre, but it is maintained and operated on a commercial basis on behalf of the Agency by a private company created for the purpose: European Test Services (ETS) B.V.
"Our company was founded 2000 as a joint venture between two of Europe's leading satellite environmental test companies, Intespace in France and IABG in Germany," explains Pierre Destaing, ETS test programme support manager for Galileo.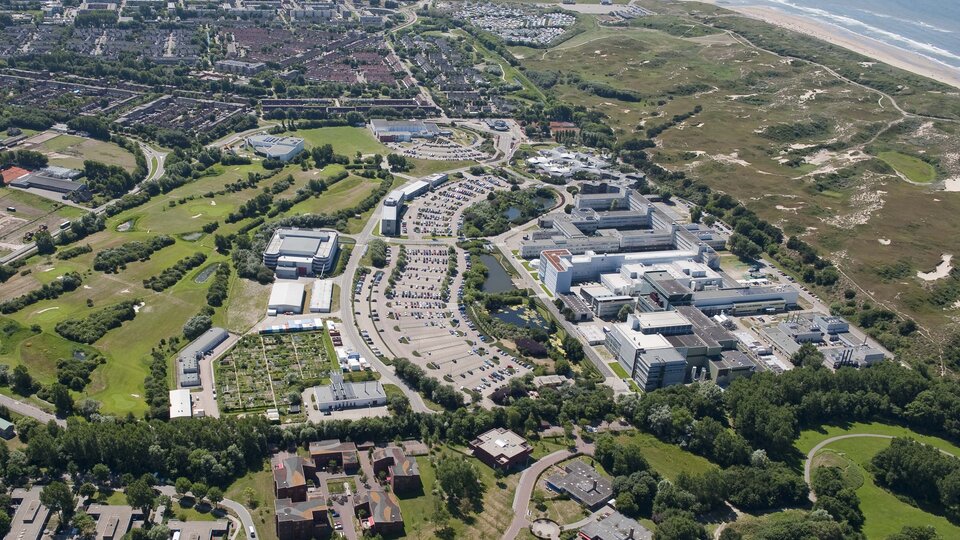 "That business setup is a source of flexibility: there are 30–35 people working here throughout the year, but if extra specialists are needed for a given campaign we can call on our parent companies."
ETS has been responsible for supporting many historic test campaigns – including space-certifying Europe's 20-tonne ATV space truck and Envisat, the world's largest civilian Earth-observing mission. But in terms of scale alone, its work with Galileo is the company's greatest challenge.
ETS is about to complete its contracts with OHB System AG, covering the environmental test of 22 'Full Operational Capability' Galileo satellites, preceded by the testing of the very first of the first--generation 'In-Orbit Validation' Galileo satellites on a previous, separate contract.
The pressure has been steady to ensure satellites are available in time to meet Galileo's launch schedule.
"Traffic management is a big part of the job – it's like a game of Tetris." Pierre comments. "We have a steady stream of Galileo satellites to accommodate, along with other missions such as the BepiColombo Mercury orbiter, Solar Orbiter, the Cheops exoplanet detector and currently the latest MetOp weather satellite, with a fixed set of test facilities.
"The biggest challenge is definitely ensuring that every project can have the access to the facility they need at the right time, which demands complicated logistics and security adherence."
Task list for testing
ETS has built up to a steady rhythm with the OHB System team, typically accommodating multiple satellites in storage on site, at the same time as others undergo further active testing.
"When each new satellite arrives, it is first unpacked within the carefully filtered and air conditioned Test Centre environment," explains Pierre.
"Its next stop is the Phenix thermal vacuum chamber within which the satellite undergoes 'bake out' – heated up to ensure a suitably pristine vacuum ahead of the turning on of sensitive instruments.
"This is followed by a prolonged, fortnight-long 'hot and cold soak' in vacuum to prove the spacecraft performance and workmanship. Next is radio-frequency testing in the Maxwell chamber – shielded against all external radio signals and coated in radio-absorbing foam, to simulate the infinite surroundings of space – to assess the performance of the satellite antennas as well as their compatibility with onboard systems."
Also on the task list are mechanical properties measurements – pinpointing each individual satellite's precise centre of mass and gravity. This is a requirement for compatibility with Galileo's two types of launch vehicle types – Soyuz and Ariane 5 – as well as helping with controlling their orientation in a fuel-efficient way, elongating their working lifetimes in orbit.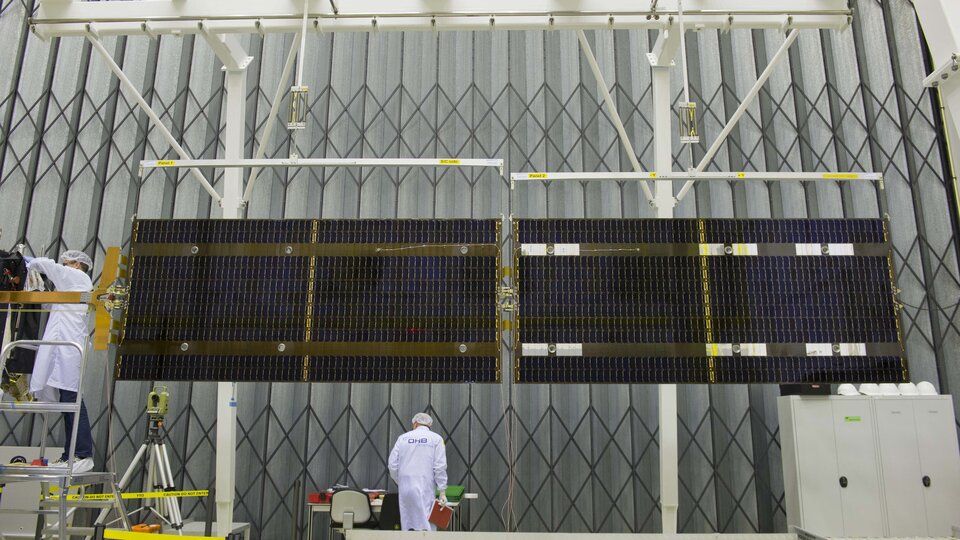 And each satellite also needs to be plugged into the larger Galileo system for testing, to check its end-to-end compatibility as if already serving in space.
Each Galileo has its dedicated solar wings mounted – they come from Airbus Defence and Space in nearby Leiden – for performance testing. They are then brought into launch configuration, making the satellite ready for acoustic testing in the Large European Acoustic Facility where it is blasted with the equivalent noise of the various types of rocket at take-off.
"After further performance tests by OHB, the satellite is at its final stages of verification before shipment to Kourou: the alignment of its antennas and thrusters. Then the propulsion system is filled with neutral gas to check for any leaks – preparing for the actual fuelling of the satellite with hydrazine at the launch site."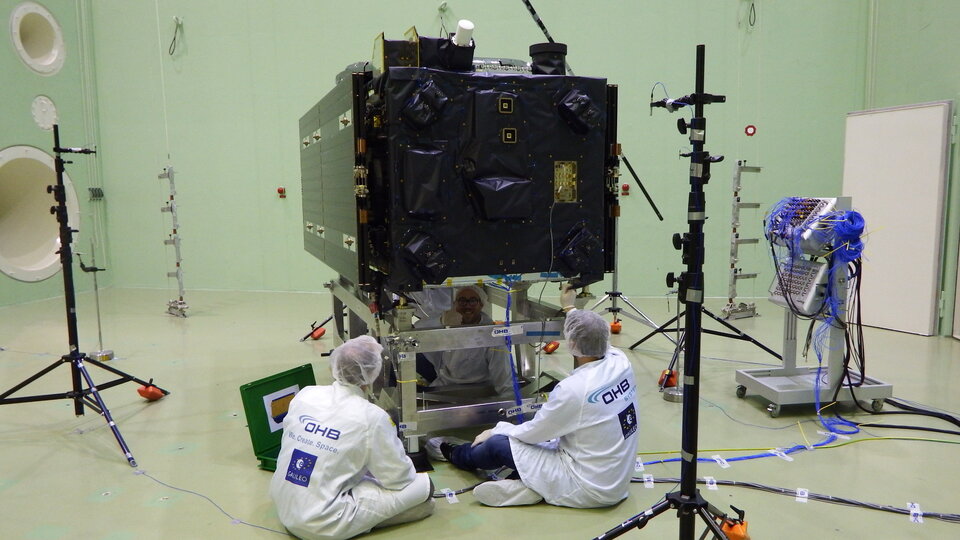 Ahead of the majority of tests, ETS works closely with the OHB environmental test team to supply them with supporting information such as thermal and accelerometer data monitoring (typically adding up to dozens of different channels) as well as radio-frequency measurements: "It is ETS' job to ensure that our customer, OHB , receives all the data they need from our infrastructure, operated in a suitably secure and clean mode."
The company also needs to anticipate the sometimes formidable logistical needs of each test campaign – thermal vacuum testing for instance requires two liquid nitrogen trucks daily to top up on-site supplies, requiring 50 000 litres of superchilled nitrogen per day of each 14-day test.
Their future link with Galileo is not yet assured; ETS will put in a bid to test Europe's next set of Galileo satellites – 'Batch 3' – for OHB along with other European competitors.
OHB Galileo Environmental test campaign Manager Stephen Bury comments, "OHB and ETS have had a long and successful collaborative relationship during Galileo testing, completing 20 out of the 22 satellites at Noordwijk to date, with the final two progressing well.
"All OHB and ETS employees are proud of their role in readying the current constellation for space, and we look forward to possibly returning to work with ETS in the future, for the next set of Galileo satellites awarded to OHB in Batch 3."
Pierre concludes: "There's something very special about working directly with the satellites, ahead of their trip to orbit."