MSG launches have been timed to maintain a two-satellite operational system at any time, based around the designed seven-year lifetime of each MSG.
MSG-2 and MSG-3 were integrated and to a large extent tested at the same time in order to optimise work at an industry level, then placed in storage.
After MSG-1 was launched in 2002 and MSG-2 in 2005, it was time for MSG-3, which lifted off on 5 July 2012.
MSG-4 was launched on 15 July 2015 and is currently the prime operational geostationary satellite, providing full disc imagery every 15 minutes. It also provides search and rescue monitoring and data collection platform relay service.
The launch of the first in a new series of European meteorology satellites designed to complement MSG coverage took place in 2006. MetOp-A is Europe's first polar-orbiting satellite dedicated to operational meteorology, providing coverage of high-latitude regions unavailable to the geostationary MSGs. Its follow-on, MetOp-B, was launched on 17 September 2012, while the third and final satellite, MetOp-C, was launched in 2018.
MetOp is a series of three satellites designed to be launched sequentially, forming the space segment of Eumetsat's Polar System, EPS. It represents the European contribution to a new co-operative venture with the United States providing data to monitor climate and improve weather forecasting.
MetOp carries a set of 'heritage' instruments provided by the United States and a new generation of European instruments that offer improved remote sensing capabilities to both meteorologists and climatologists.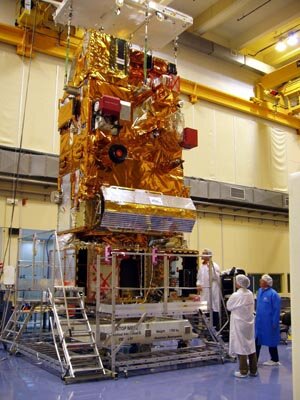 The new instruments augment the accuracy of temperature humidity measurements, readings of wind speed and direction over the ocean surface, and atmospheric ozone profiles. Each satellite will fly in a polar orbit corresponding to local 'morning' while the US is responsible for 'afternoon' coverage.
The series is designed to provide data for both operational meteorology and climate studies. The combination of instruments on board MetOp has remote sensing capabilities to observe the Earth by day and night as well as under cloudy conditions.
ESA developed the MetOp space segment as part of a joint undertaking with Eumetsat, which is responsible for the ground segment and plans to provide operational weather data to users for an initial period of 14 years.