Applications
Earth from Space: Uluru/Ayers Rock, Australia
The vast rock formation Uluru (formerly known as Ayers Rock) emerging from the flat desert landscape of central Australia, as seen by ESA's Proba microsatellite.
Uluru is the second largest monolith – or single stone block - in the world after Mount Augustus (also known as Burringurrah), also in Australia. By comparison however Mount Augustus is heavily eroded and has plants growing across its lower slopes.
Uluru's hard coating of feldspar-infused sandstone has enabled it to better withstand the ravages of time. Even so, there are many grooves, holes and caves on the surface of the rock due to wind and rain run-off, plus flaking off of 'plates' of rock from alternate heating and cooling. Gradual rust occurring within Uluru's coating is responsible for its reddish colour, which is famous for seeming to shift with the time of day.
The monolith is located within Uluru-Kata Tjuta National Park, a UNESCO World Heritage Site located 350 kilometres southwest of Alice Springs. Explorer Ernest Giles was the first European to discover Uluru but it has been a sacred site to local Aborigines for thousands of years: there are many ancient paintings on its slopes. In 1985 ownership of Uluru was returned to the local Aboriginal people, the Anangu, who leased it back to the Australian government as a National Park.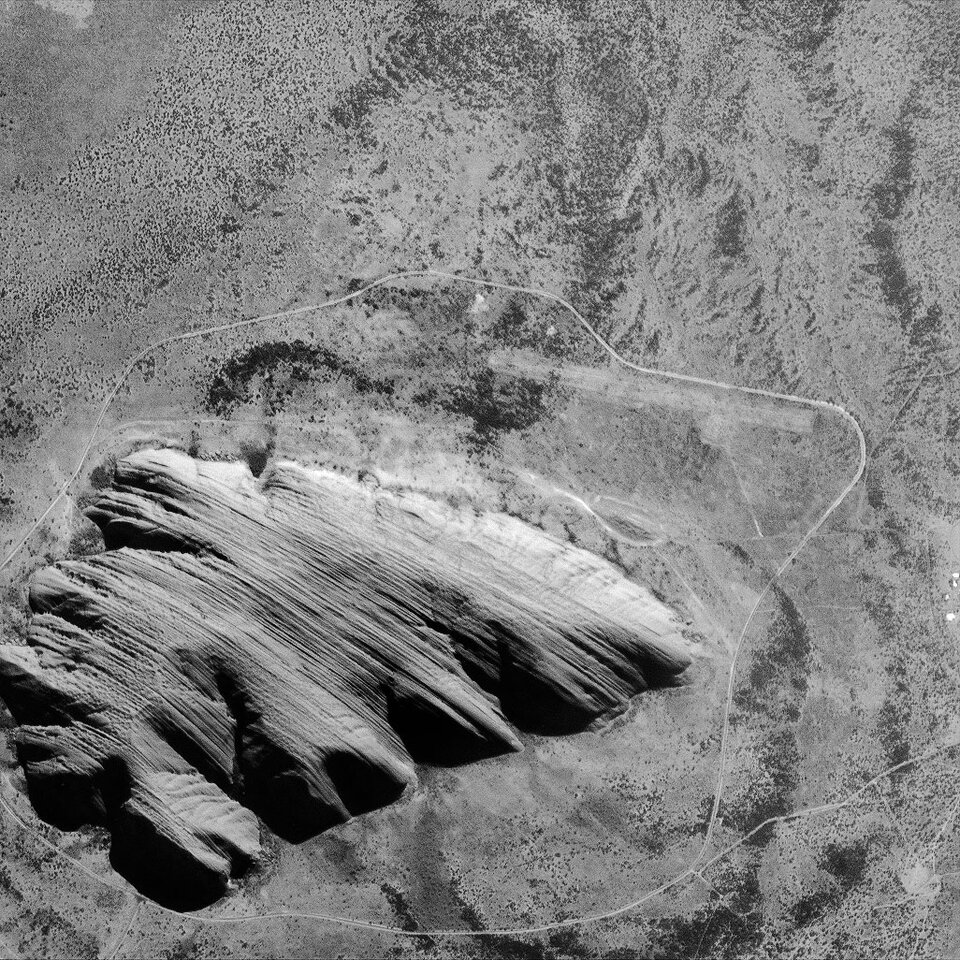 Uluru stands 318 metres above the surrounding desert and measures eight kilometres around. The monolith also extends at least 2.5 kilometres down into the ground. From around 900 million years ago this part of Australia was a shallow sea and multiple layers of mineral-rich sandstone were laid down on the ocean floor. About 550 million years ago these hardened sandstone layers were uplifted to form mountains, which then gradually eroded and washed away into number of large sediment-rich alluvial fans – one of which formed the basis of Uluru.
Some 500 million years ago the area was again inundated by a shallow ocean, compressing and cementing Uluru's sandstone. The sea receded between 400 and 300 million years ago and the rocks folded and fractured once more. The horizontal layers of Uluru's hardened sandstone were tilted almost 90 degrees upward to their present position, eroding more slowly than surrounding softer deposits until the monolith stood high above an otherwise flat surface. A comparable formation in the National Park called Kata Tjuta (formerly known as the Olgas) formed in much the same way.
This image was acquired on 20 August 2005 by the Compact High Resolution Imaging Spectrometer (CHRIS). Built by UK-based Sira Technology, CHRIS is the main payload on ESA's Proba microsatellite, designed to acquire hyperspectral images with a spatial resolution of 18 metres across an area of 14 kilometres.
The size of a washing machine, Proba was originally launched in 2001 as a technology demonstrator, but is now operated as an ESA Earth Observation Third Party Mission.