Applications
The Richat structure, Mauritania
The ever-shifting sands of the Sahara desert cover a large section of Mauritania. They all but obscure the remarkable Guelb Richat or Richat structure, although its heart remains clear like a bulls-eye in the middle of this Envisat image.
The 50-km-diameter circular Richat structure is one of those geological features that are more clearly observed from space than from down on the ground, with this 'eye of Africa' a familiar landmark to astronauts since the earliest manned missions.
Once thought to be the result of a meteor impact, today researchers believe the Richat structure was caused by process of geological uplift followed by erosion from wind and water. The onion-like formation is formed by concentric bands of resistant quartzite rocks form ridges, and between with valleys of less-resistant rock between them.
The dark area forms a plateau of sedimentary rock standing some 200 metres above the surrounding desert sands, with the peak of the outer rim of the structure some 485 metres above sea level.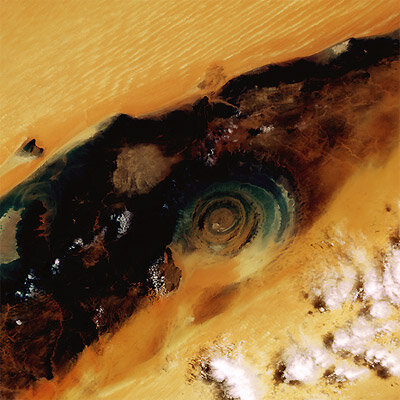 The dunes around the Richat structure are part of the Ouarne (Erg Oudane), an immense body of sand stretching hundreds of kilometres to Mali, within which still stand some ancient Ksours.
A Ksour is a medieval settlement made up of towers, houses and surrounding walls, placed along trade centres of caravanning routes across the Sahara. The Ksours found in this vicinity were inscribed on the UNESCO World Heritage List in 1996.
Envisat's Medium Resolution Imaging Spectrometer (MERIS) acquired this 21 June 2003 image in full resolution mode, meaning a spatial resolution of 300 metres.