Applications
Small Geostationary Satellite (SGEO)
SmallGEO is a telecommunications satellite platform capable of accommodating a wide range of commercial payloads and missions, from TV broadcasting to multimedia applications, internet access and mobile or fixed services in a wide range of frequency bands.
SmallGEO's new, modular and flexible design boosts European industry's ability to play a significant role in commercial satcoms by easing entry into the lower mass class telecom satellite market.
The platform is developed by OHB System (DE) under ESA's Advanced Research in Telecommunication Systems (ARTES) programme. The SmallGEO platform's first mission will be the Hispasat 36W-1 satellite under a public–private partnership with operator Hispasat (ES).
The SmallGEO programme is composed of three subelements.
Subelement 1 concerns the development and first flight model manufacturing of the generic SmallGEO platform.
Subelement 2 is the development, manufacturing and launch of the platform's first satellite mission, Hispasat 36W-1, providing flight heritage and in orbit demonstration.
Subelement 3 aims to increase the competitiveness of the SmallGEO product by speeding up the production and testing process, reducing costs and broadening the range of design options, like offering a fully chemical propulsion system option instead of a hybrid chemical and electric model.
First flight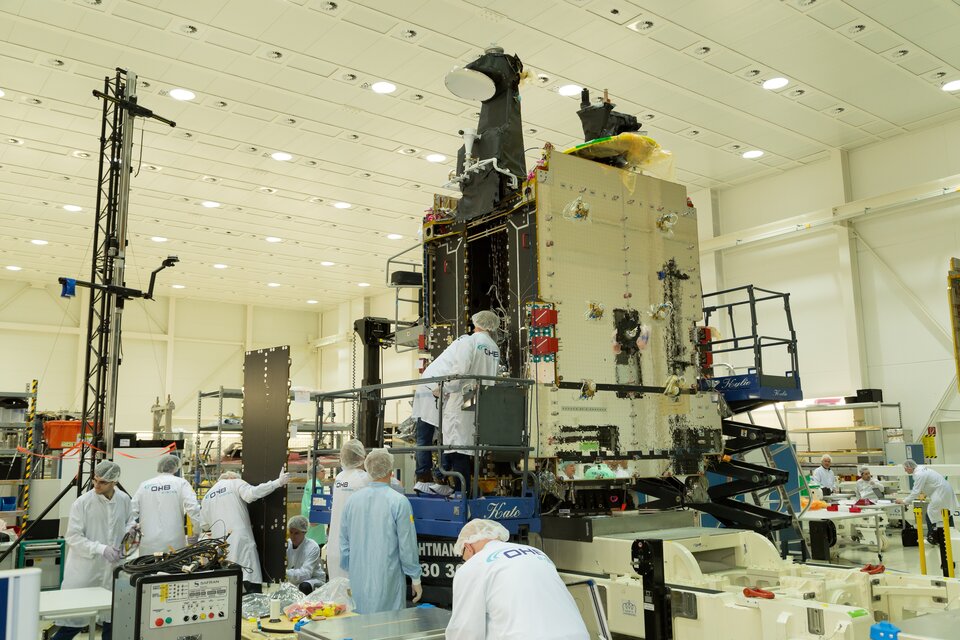 Hispasat 36W-1 will be the first telecommunications satellite to use the SmallGEO platform.
H36W-1 will provide Europe, the Canary Islands and South America with faster multimedia services through its Redsat payload, which offers better signal quality and flexible land coverage. This, together with a traditional commercial payload that uses advanced Ka- and Ku-band transmitters, means H36W-1 can operate at higher transmission speeds compared to previous generations.
Hispasat will integrate 36W-1 into its existing fleet of geostationary communications satellites. OHB System (DE) will be responsible for integrating the satellite, testing it in orbit and kickstarting the satellite into early operations.