Agency
Fly Your Satellite! programme
Programme description
Programme history
Programme in the ESA Educational Context
Objective
ESA's Fly Your Satellite! (FYS) programme is a recurring, hands-on programme designed and managed by the ESA Education Office in close collaboration with Universities from ESA Member States*, with the objective to complement academic education and inspire, engage, and better prepare university students for a more effective introduction to their future professions in the space sector.
How the programme is conducted
During the course of the programme, the university student teams are supported in the development of their own satellite, whose mission is conceived at their own universities, and whose development is funded by the universities themselves and/or other national contributors.
Coordinated and guided by their university professors, the student teams are supported and mentored by ESA specialists through different programme phases, all aiming at ensuring the satellites undergo accurate verification before being offered a chance to fly to space.
To this end, ESA offers the CubeSat student teams professional expert support, access to state of the art test facilities; financial support to participate in workshops, training and test sessions organised in the frame of the programme; sponsors their participation in the launch campaign; and offers them a launch opportunity.
Learning goals
By participating in a real satellite programme, the students gain significant practical experience in the full lifecycle of an actual space project, from designing, to manufacturing, assembling, integrating, testing, preparing the project documentation, learning the logic of conduct of formal reviews, participating in a launch campaign, operating their own small satellite, and preparing for its disposal in compliance with the space debris mitigation requirements.
Under close ESA supervision, students are introduced to the working methods adopted in professional space programmes, fundamental to facilitating a transfer of competences, and to allow the students to build their professional skills.
The programme phases
The current edition of the Fly Your Satellite! programme consists of five programme phases, where the CubeSat student teams have to achieve pre-defined objectives and must undergo reviews conducted by ESA specialists. The successful completion of the former phase is a pre-condition to gain access to the next phase:
Design Your Satellite!: detailed design of the CubeSat and ground segment
Build Your Satellite!: satellite integration and functional tests in laboratory conditions;
Test Your Satellite!: environmental tests, conducted in conditions similar to those of the space mission;
Launch Your Satellite!: launch campaign preparation, installation in the CubeSat orbital deployer, installation of deployer and CubeSats onboard the launcher and launch;
Operate Your Satellite!: deployment of the CubeSat to orbit, early operations phase, in-orbit operations, data collection, and sharing of results.
More details can be found on the Current Programme Phases page.
Complementary to the hands-on programme, the ESA Education Office offers 5-day training weeks dedicated to CubeSats in collaboration with the ESA Academy Training and Learning Programme. The training weeks particularly aim at university students and teams in early phases of CubeSat projects, and include a CubeSats Concurrent Engineering Workshop, and a CubeSat Hands-On Training Week. In the future a CubeSats Testing Training Week will be included in the portfolio.
Programme history

To date, ESA's Education Office has supported 26 student CubeSat teams from ESA Member and Cooperating and Cooperating States, including:
Programme in the educational context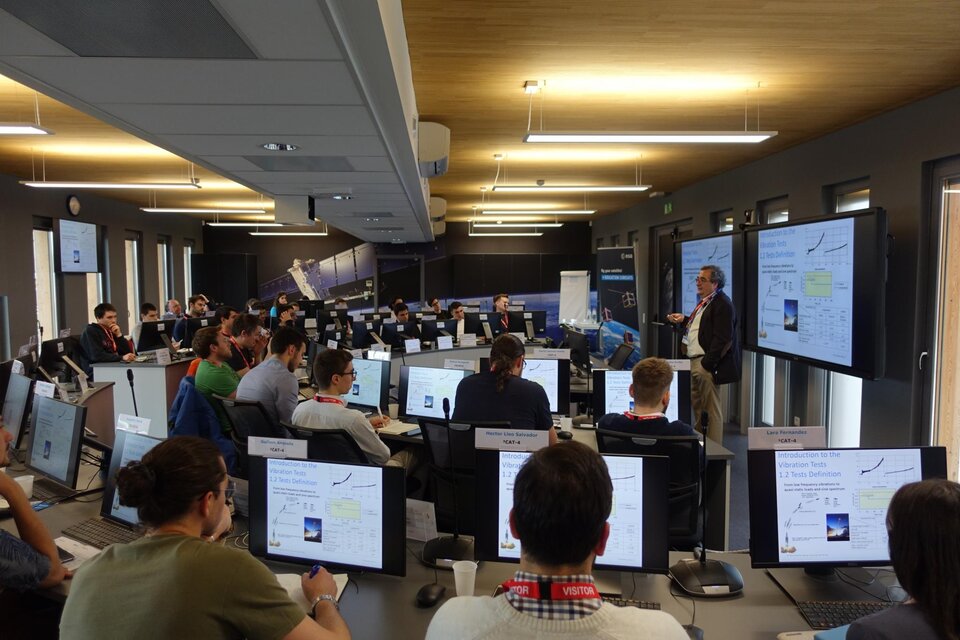 Fly Your Satellite! is one of the several hands-on programmes for university students offered by the ESA Education Office. These activities are all incorporated in the ESA Academy programme, which brings together two interconnected pillars of activity that ESA Education offers to university students.
Hands-on Space Projects, a set of projects that enables students to gain first-hand experience of real space-related projects. They include satellite projects, such as Fly Your Satellite! and ESEO (European Student Earth Orbiter), as well as a number of other opportunities for student experiments projects to be conducted on a wide variety of platforms, such as sounding rockets, stratospheric balloons, a drop tower, a hypergravity centrifuge (experiment and human), and parabolic flights.
Training and Learning Programme, a programme offering a varied portfolio of courses given by space experts and professionals coming from all fields of ESA's expertise, as well as from space industry and academia.

In addition to providing access to existing ESA establishments and partners' infrastructures, the ESA Academy makes use of dedicated facilities located at the European space Security and Education Centre (ESEC) in Belgium, such as the Training and Learning Facility and the CubeSat Support Facility.