Agency
ECB president Trichet visits ESOC
Mr Jean-Claude Trichet, president of the European Central Bank, together with members of the ECB Executive Board, visited ESOC to tour spacecraft control facilities and receive a briefing on ESA activities and funding.
Mr. Trichet and members of the ECB board were met by Gaele Winters, ESA's Director of Operations and ESOC Head of Establishment.
The delegation were briefed on ESA's structure, role and organisation and on key ESA programmes related to space activities, industrial policy, and European space policy as a basis for cooperation with the European Union.
Mr Trichet was joined by ECB Executive Board members Mr Lucas Papademos, Ms Gertrude Tumpel-Gugerell, Mr Otmar Issing, and Mr José Manuel González-Páramo.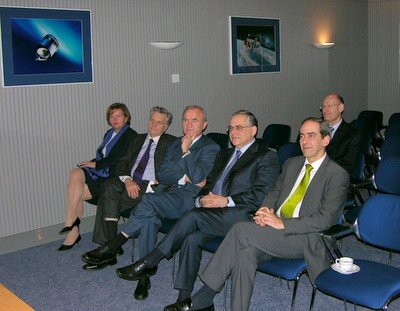 The briefing also included an overview of activities including Europe's Galileo satellite navigation system and on GMES (Global Monitoring for Environment and Security), the joint initiative by ESA and the European Union to develop an independent environmental monitoring capability for Europe.
Mr Trichet and the board members were also provided information on current missions controlled from ESOC, including Envisat, Venus Express, Mars Express and Rosetta, Europe's comet chaser, as well as on the recently announced Hessen Galileo Centre, a unique industrial incubator to be established in coordination between ESA/ESOC and the Hessen state government.