Applications
Reef Support wins Copernicus Masters top prize
Reef Support won this year's Copernicus Masters competition, and were honoured during the online Space Awards on 8 December as part of the European Space Week 2020. The innovative idea uses Copernicus Sentinel data and artificial intelligence to detect coral bleaching, algal blooms, sediment plumes and human debris.
The vast amount of data produced by the Copernicus programme hold great potential for companies, entrepreneurs and start-ups to create sustainable solutions. Celebrating its 10th iteration in 2020, the Copernicus Masters competition awarded prizes in 22 categories to outstanding products and services based on Earth observation data.
This year's overall winner, Reef Support, utilises satellite imagery with artificial intelligence to track coastal reef health and provide guidelines for crowd and pollution control, debris management, and coral restoration.
Coral reefs around the world are not only crucial to maritime biodiversity, as they provide a home to many species of fish, algae, and other marine life, but they also have great economic significance as rich fishing grounds, attractive tourist destinations, and natural coastal protection barriers.
Reef Support's platform addresses both the environmental and economic aspects at hand with state-of-the art technology. Its user-friendly online monitoring and maintenance tool combines different types of data to form a picture of reef ecology across a wide range of spatial and temporal scales.
The platform can also be used for strategic planning and resource management in aquaculture farming. Its deep learning algorithm adapts to user applications and regional tendencies.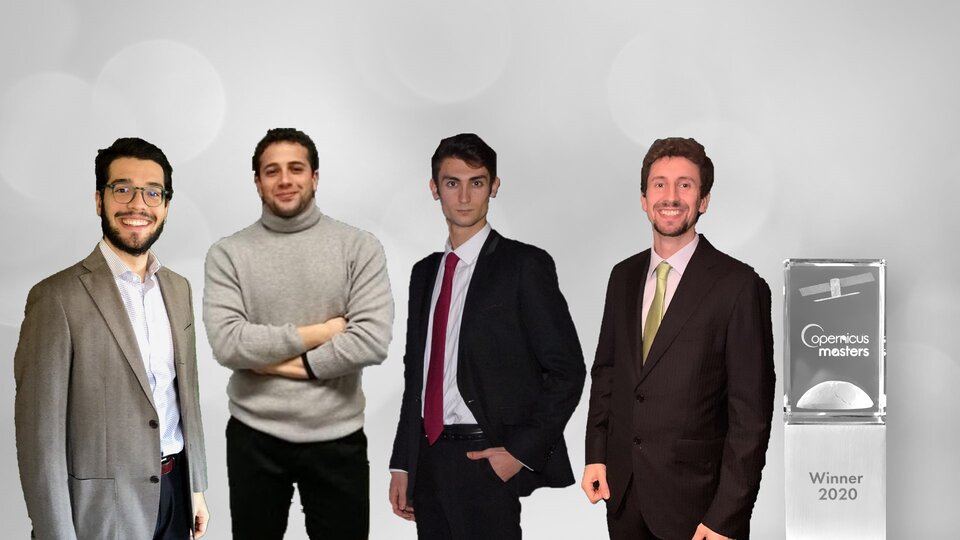 The Copernicus Masters 2020 competition saw 591 participants from 47 countries submit 220 new Earth observation business cases and application ideas. It included several different challenges, including the ESA Digital Twin Earth Challenge – looking for solutions that use artificial intelligence and big data to provide solutions to key societal challenges such as smart cities, food security, health issues, tourism and leisure, as well as coastal monitoring.
The winning idea was Urban Green from Earth observation (U-GEO). U-GEO is an algorithm, based on machine learning, that combines Copernicus Sentinel data with urban planning, resource management, and green infrastructure. It is designed to help create efficient green infrastructure and continuously monitor vegetation health conditions and performance.
The winners of the various challenges were congratulated at the ceremony by industry and institutional representatives from ESA, the European Commission, the German Aerospace Center (DLR), Planet, BayWa AG, Airbus and sobloo, the German Federal Ministry of Transport and Digital Infrastructure (BMVI), and AZO Anwendungszentrum GmbH Oberpfaffenhofen, the organiser of the Copernicus Masters on behalf of ESA.
Next year's Copernicus Masters submission phase will start on 1 April 2021.