Enabling & Support
Redu station
Redu station provides tracking capabilities in S- and Ka-band, and supports in-orbit testing (IOT) of telecommunication satellites. Redu supports ESA's Integral mission as well as the Proba-series of cubesats. The site hosts multiple tracking antennas operating in a variety of frequency bands, and is located in the Ardennes region of Belgium. Redu station is sited about 1 km from the village of Redu.
Location
The coordinates of the REDU-1 antenna are +50° 00' 01.64", +5° 08' 43.24". This reference point is 386.6 metres above sea level with respect to the WGS-84 reference ellipsoid, a mathematically-defined reference surface that approximates the Earth's geoid surface.
Facilities & technology
Redu hosts the following antennas:
REDU-1: 15m-diameter dish antenna with reception and transmission in S-band
REDU-2: 13.5m-diameter dish antenna with reception and transmission in Ka-band
REDU-3: 2.4m-diameter dish antenna with reception and transmission in S-band
The terminals provide facilities for tracking, telemetry, telecommand and radiometric measurements (ranging, Doppler, meteo - except REDU-3). The station has a frequency and timing system, a monitoring and control system and communications are enabled via the ESA Operations Network (OPSNET).
Redu station is equipped with its own emergency electrical power generator system and is connected to the Belgian communication network via fully redundant fibre-optic cables. The station is manned 24 hours a day.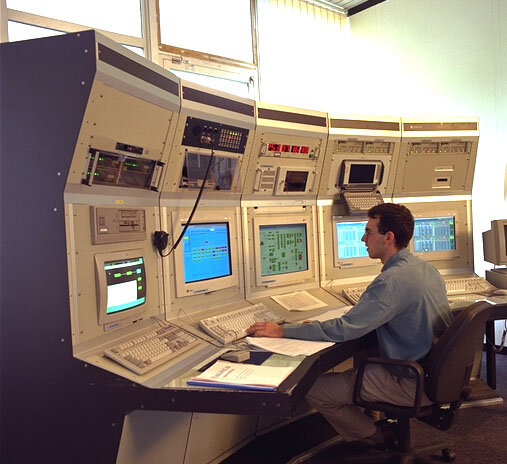 The REDU-3 2.5-m S-band antenna is dedicated to the Proba (Project for On-Board Autonomy) missions; Proba-1 was launched in October 2001. During the periods when there is no visibility, the antenna can be used to support other satellites.
Additionally, a 9-m S-band antenna and six 3.8-m Ku-band antennas were installed in 2001-02 on behalf of Eutelsat Communications. These terminals are used for TTC purposes for the Eutelsat fleet of satellites. They are linked to the Eutelsat Spacecraft Control Centre in Paris via satellite.
A 9.3-m C-Band antenna was installed in 2003 to support G2-SAT.
Pastel
The Pastel Mission Control System (PMCS) installed at Redu monitors and controls Pastel, an optical (laser) communications terminal mounted on France's SPOT-4 EO satellite and which communicates optically with a similar terminal, Opale, fitted on ESA's Artemis satellite. Control is achieved via the SPOT 4 control centre, in Toulouse, France.
Integral
Integral was launched on 17 October 2002. Routine communications for Integral are provided by the station at Redu.
Proba
Engineers also control and monitor ESA's Proba satellite from Redu using the SCOS-II mission control system.
Planetary missions
The Flight Operations Control Centre for XMM-Newton is at ESOC, but back-up control facilities are installed at Redu. The mission is based on different versions of the SCOS system. Under a contract with Newskies Satellites, Redu hosts hot back-up control centres for their satellites and on-board communication payloads; these are the Alternate Satellite Operations Centre (ASOC) and Alternate Payload Operations Centre(APOC).
GPS-TDAF
A GPS-TDAF (GPS Tracking and Data Analysis Facility) dual-frequency receiver system with geodetic accuracy is installed on the site, which delivers continuous measurements to the ESOC Navigation Facility.
Access & contact
The station is about 4 kms from the autoroute E411 between Brussels and Luxembourg. Leave the autoroute at Transinne (exit 24). Continue straight over the crossroads, following the signs to Redu. After about 1.5 kms, the station is signposted to the left. In the centre of Redu village take the Daverdisse road, then turn left following the ESA signs. The distance from ESOC is approximately 360 kms. The nearest railway station is at Libramont, about 25 kms away, and the nearest airports are at Luxembourg (110 kms), and Brussels (115 kms). Rental cars are available at all the airports, but reservation arrival is recommended.
The ESOC point of contact is:
Head of Ground Facilities Operations Div. (OPS-ON)
ESOC, Darmstadt
Tel: +49-6151-90-0
The local station contact is:
Martin Ditter, Head of ESEC (European Space Security & Education Centre)
Tel: +32 61 22 95 11
The postal address of the station is:
ESA-ESEC
1, Place de l'ESA
6890 REDU
BELGIUM