Agency
Partners for Space Exploration
ESA's commercial partnership with European industry facilitates space exploration and promotes a broader utilisation of the International Space Station. It also fosters new technology that could boost future ESA missions to the Moon and Mars.
In 2015, ESA issued a permanent open Call to industry to participate in the Agency's Space Exploration Strategy via innovative partnerships.
To further stimulate demand, growth and long-term development in a new Low Earth Orbit and Lunar economy, ESA is setting up a Business in Space Growth Network. ESA is seeking input from organisations and thought leaders via a Request For Information to help shape this network.
Low Earth Orbit
ESA's Space 4.0 strategy aims to bring about the transition of Low Earth Orbit activities from being a government-run laboratory to being a commercially driven human and robotic spaceflight economy.
Under a call for Co-funded studies on platforms and facilities in low Earth orbit, new partners are encouraged to work on orbital infrastructures and transportation for affordable research and novel applications.
Four partnerships, the ICE Cubes service, Bartolomeo, Commercial Lunar Mission Support Services (CLMSS) and Bioreactor Express have been established under the permanent call for partnerships:
ICE Cubes
The ICE Cubes service is the first European commercial opportunity to conduct research in space. This pioneering agreement signed between ESA and Space Applications Services NV/SA, Belgium, offers room to run experiments and conduct research in weightlessness inside ESA's Columbus laboratory on the International Space Station.
Launched in May 2018, the service provides rapid and simplified access to the station on a commercial basis. For the first time, ICE Cubes users will be able to interact with their experiment directly from their home.
Bartolomeo: An all-in-one service for the space station
Airbus Defence and Space partnered with ESA on 7 February 2018 to start developing a new commercial service for the International Space Station called Bartolomeo.
From 2019, the versatile Bartolomeo All-in-one Mission Service will provide end-to-end access for external payloads on the Station for many mission types at competitive prices. It offers an unobstructed view of Earth, direct control of the experiments from the ground via a high-speed data feed, and the possibility of retrieving samples.
These services strengthen the competitiveness of the space and non-space industrial base, stimulates R&D, and integrates innovative solutions with ESA space exploration missions.
Developing commercial capacity for future missions beyond LEO
ESA and the County of Cornwall in the UK have partnered up to redevelop part of Goonhilly Earth Station, an existing commercial station in Cornwall, UK, to enable it to provide Europe's first deep-space tracking services on a commercial basis.
The Goonhilly project will be initially funded through a €9.5 million investment from the UK's Cornwall & Isles of Scilly Local Enterprise Partnership, a public­–private regional economic development body, and will later include a smaller investment from ESA.
Under the project, a 32 m-diameter dish built in 1985 will be upgraded to provide fast data links for missions far beyond Earth – typically exceeding 2 million km.
"Once the station upgrade work is complete, in about 24 months, Goonhilly will be able to complement ESA's own stations, and provide deep-space tracking for the Agency's missions as well as those of other space agencies or from private space start-ups aiming to exploit the Moon or mine asteroids," notes Klaus-Jürgen Schulz, responsible for ESA ground station engineering.
Bioreactor Express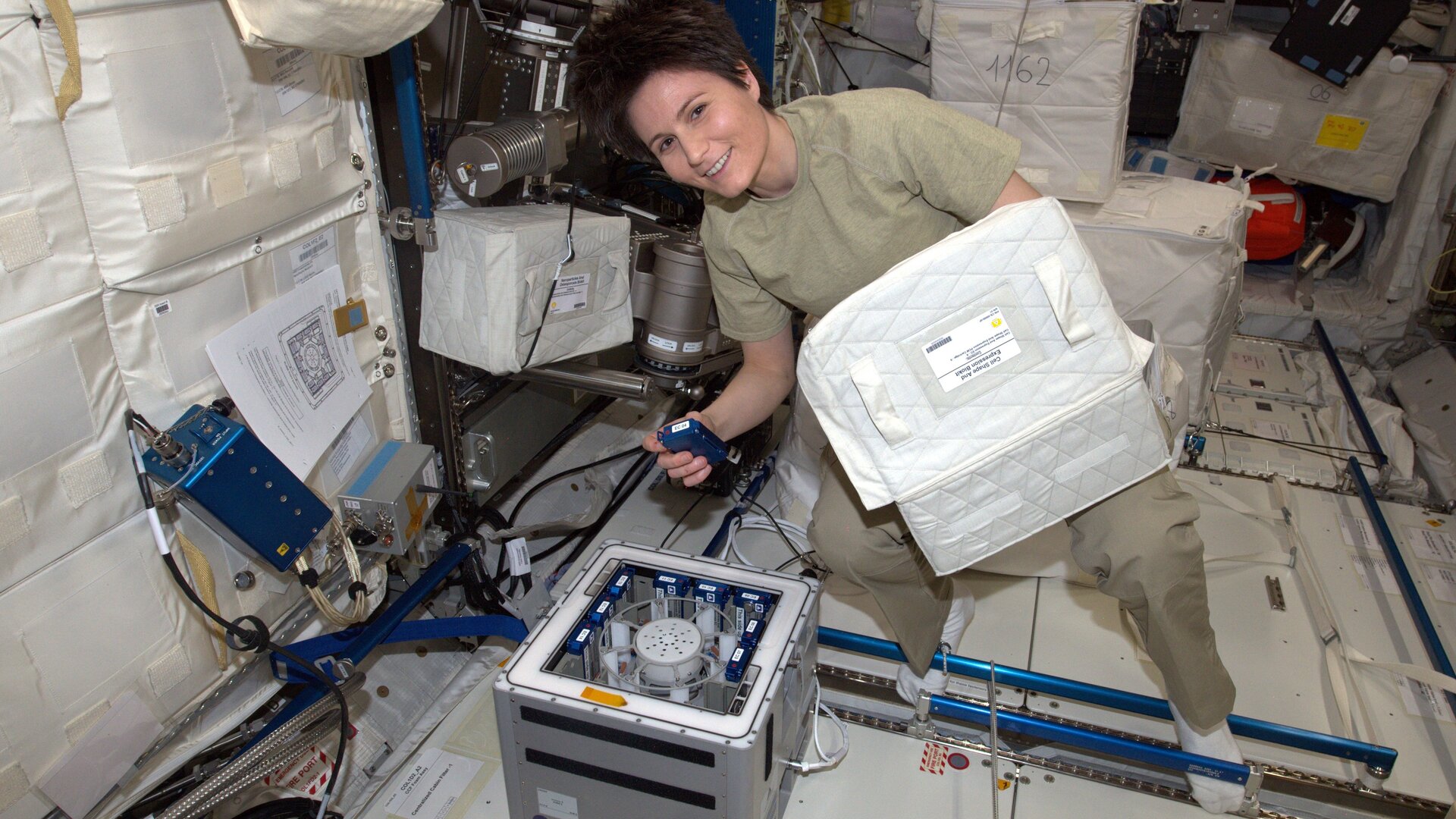 With the aim to commercialise the KUBIK Incubator facility on ISS Columbus, ESA and Kayser Italia signed the Bioreactor Express commercial partnership in July 2019. The KUBIK facility is suitable for a range of experiments in biology, biotech, human research, fluid physics, and materials science. It is equipped with a centrifuge and thermal control capability. The use of existing hardware such as experiment containers enable a competitive pricing and shorter lead times for commercial customers.
Space Exploration strategy
"Commercial partnership plays a growing role in the exciting ESA vision for space exploration," commented David Parker, ESA Director of Human and Robotic Exploration.
"ESA intends to stimulate private sector engagement in space exploration and foster innovative and inspiring approaches for ISS services and utilisation and future ESA missions."
Call for proposals
ISS exploitation

Announcement of Opportunity: Commercial Exploitation of ETC (European Transport Carrier) Replacement on ISS Columbus

ESA is preparing an upgrade of the passive Columbus D4 rack position currently occupied by the European Transport Carrier (ETC). Based on extended accommodation needs for further Class 2 payloads in Columbus, this location will be upgraded to an active rack location/platform.

This new Columbus infrastructure item is named ETC Replacement aimed to provide basic resources such as power, thermal control, and physical accommodation to current and future experiment and technology demonstration devices. Data routing will be achieved via MPCC.

In parallel to the ITT ('Invitation to Tender') procurement of the ETC Replacement, published on EMITS under reference AO10019 with a deadline for submissions no later than 28 February 2020 (extended), ESA may be interested in the exploitation of the ETC location as a commercial service (development and operations). This commercial offer is based on the required capabilities outlined in the related ITT.

Announcement of Opportunity (AO)

If you are interested in this commercial AO, you may submit a Commercial Partnership proposal to ESA's permanent Call for Partnerships (CFP): Opportunities for the Private Sector, no later than 28 February 2020 (extended).

Your Partnership proposal shall include a credible business plan, demonstrating that the intended commercial service will fulfil an identified market demand and be operational in a sufficient timeframe.

ESA will evaluate both the offers under this commercial AO as well as those from the institutional ITT and make a final selection based on the best value for the Agency. ESA therefore reserves the right not to award an industrial contract as a result of this ITT, and to enter into a pilot phase for a Commercial Partnership with a Private Entity as an outcome of the AO commercial selection process, in order to achieve the best combination of technical, financial and commercial return from the utilisation of the ETC Facility. Tenderers are invited to make their proposals for commercial exploitation through this commercial AO, but attention of Tenderers is drawn to the fact that this condition does not constitute an exclusion from bidding solely for the related ITT.

ISS and beyond

Call for Partnerships (CFP)

A unique opportunity for the private sector to shape and engage as a strategic partner in the future global space exploration undertaking. ESA is looking into novel ways to partner with the private sector and facilitate the realisation of European exploration ambitions.

Closing date: Always open

Business in Space Growth Network

ESA is setting up a Business in Space Growth Network (BSGN) to stimulate demand, growth and long-term development in a new Low Earth Orbit and Lunar economy. A white paper provides background information on this, and further information is available here.

ESA is seeking input from organisations and thought leaders to help shape the Business in Space Growth Network via a Request for Information.

Closing date: 10 May 2019.

Lunar missions

Wanted for Heracles EL3: Sample Container for Lunar Sample Return Mission

ESA is seeking an industrial partner to design and develop a breadboard of a lunar Sample Container. The Sample Container is intended for use as part of one of the HERACLES EL3 missions: the robotic sample return mission, which will return up to 15 kg of sample. Other missions are: ISRU Pilot Plant and logistic support for international partners' human missions.

During the course of the mission, a variety of geological samples will be collected by a rover, including regolith and small rocklets up to larger 500 gram rocks. The sample container must be able to store all of the samples with limited cross-contamination, and maintaining the appropriate physical parameters, which presents interesting engineering challenges. ESA anticipates innovative solutions to these problems in forthcoming proposals for this study.

This breadboard should demonstrate compatibility with a number of requirements identified by ESA, with tests performed to bring the system to TRL 4. For the purpose of testing interface compatibility, the Sample Container breadboard will be integrated with the other elements of the mission.

The 'Open Invitation to Tender' is published on EMITS reference AO9902, and the deadline for submissions is 31 October, 2019.

Post-ISS

Co-funded studies on platforms and facilities in low Earth orbit

As the operational life of the International Space Station comes to an end in the next decade, new partners are welcome to work on orbital infrastructures and transportation for affordable research and novel applications.

The invitation to tender (Ref:AO9038) is published on ESA EMITS (http://emits.sso.esa.int). The deadline for submissions is 31 December 2019.
Upcoming events
Research in Space - New Business Cases

Workshop

ESA invites commercial, industrial, academic, and international partners to this workshop on 3–4 April 2019 at ESA ESTEC, in the Netherlands.

The workshop provides an opportunity to bring together the community's knowledge on how market-driven research and applications can be served in low Earth orbit in the future.
Useful Information
Exploration Partnerships:
Documents:
Past events: