Science & Exploration
Terrae Novae: Europe's exploration vision
In brief
ESA's Terrae Novae exploration programme is leading Europe's human journey into the Solar system using robots as precursors and scouts. Exploring space is about travelling farther and coming back with new experiences and knowledge to help us on Earth. Humankind will benefit from the new discoveries, ambitions, science, inspiration, and challenges.
Looking further ahead the Terrae Novae 2030+ strategy roadmap is an ambitious exploration vision for Europe. Its objectives are threefold: to create new opportunities in low Earth Orbit for a sustained European presence after the International Space Station, to enable the first European to explore the Moon's surface by 2030 as a step towards sustainable lunar exploration in the 2030's, and to prepare the horizon goal of Europe being part of the first human mission to Mars.
In-depth
ESA's Human and Robotic Exploration programme is known by the name Terrae Novae, referring to the new worlds from our three exploration destinations: Low Earth Orbit, Moon and Mars.
Terrae Novae symbolises the constant quest for technological and process innovations resulting in new and improved ways to deliver the exploration programme.
Terrae Novae naturally reflects the aspiration of ESA's 22 participating states to reach out to new partners from beyond the space sector and enlarge the space ecosystem to the commercial sphere, along with our international partners.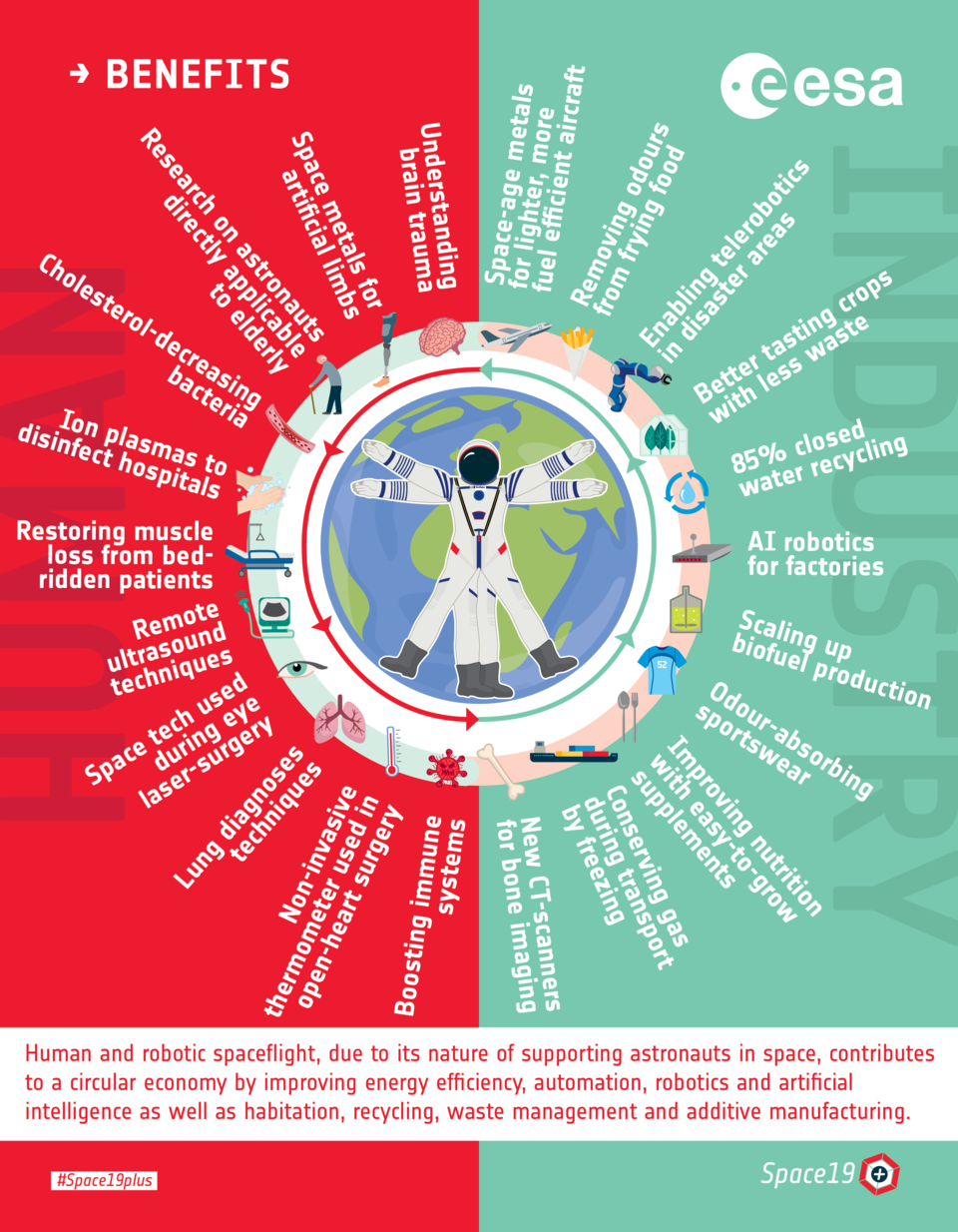 Four strategic objectives steer Europe's exploration strategy, agreed by ESA's council at ministerial level in 2014. These fall into the spheres of science, economics, global cooperation, and public inspiration. The goals represent the European value of making space exploration an activity for the benefit of all.
Space exploration is unquestionably an investment for future prosperity. It demonstrably generates high quality jobs and immediate economic return. Exploration science and technologies are an accelerator of sustainable development which are already generating solutions that make life on Earth more productive, cleaner, and sustainable. Space exploration is also inherently exciting, inspiring, and motivating - especially for the next generation.
In 2019 European ministers decided to implement ambitious European exploration campaigns with new capabilities and hardware to be deployed for humans in deep space and Moon orbit, and for Mars robotic exploration.
The exploration campaigns to low-Earth orbit, Moon and Mars are in full swing and will position Europeans at the forefront of exploration. By delivering essential capabilities ESA is now a key international partner in both Moon and Mars exploration.
What we are doing this decade
Build two out of the three habitation modules of the lunar Gateway, humankind's most remote research outpost and provide refuelling and critical communication functions to the lunar surface.
Assign the first three ESA astronauts on missions to the Gateway supporting its assembly and operation, venturing farther from Earth than any European in history.
Land multiple scientific payloads on the surface of the Moon, prospecting for the presence of water and other volatile materials that will both reveal its history and help prepare sustainable exploration by locally sourced space resources.
Begin the design and development of Europe's large lunar lander, Argonaut, a multi-mission delivery truck for scientific payloads, rovers and infrastructure that will support sustained human exploration throughout the 2030s and ensure the first European steps onto the Moon's surface before 2030.
Land and operate Rosalind Franklin, the first dedicated life-searching rover on Mars while continuing to probe the Red Planet's atmosphere with our Trace Gas Orbiter.
Advance the development of our contributions to Mars Sample Return, the most ambitious robotic exploration campaign ever attempted which is destined to return invaluable scientific material from another planet for the first time in history.
Prepare exciting new possibilities for the exploration of Moon and Mars for decision at future Council meetings at ministerial level.
Planning for the next decade
Decisions are required to ensure long-term European capabilities for example in low-Earth orbit and to prepare the next steps in deep space for lunar surface exploration and intermediate steps towards sending humans to Mars. The Terrae Novae 2030+ strategic roadmap was developed to steer the long-term vision for Europe's decision makers on the robotic and human exploration of the Solar System.
The overarching vison of Terrae Novae is for Europe to step-up further and enter the top tier in selected exploration areas with a sustained lunar exploration campaign building on the first European astronaut to the Moon surface before 2030, and Europeans on their way to Mars by 2040 while keeping European presence and use of low-Earth orbit.
The common thread for all three destinations is that autonomous logistics capabilities will allow ESA to take up strategic roles in terms of:
• European autonomy – from launch to landing – to define and implement Europe's own science and technology roadmaps,
• resilience of capabilities, providing options to choose between European-led activities or interdependent projects with international partners depending on the context, resources and benefits,
• evolved partnerships as a means to offset Europe's needs for low Earth-orbit utilisation, and to participate in international Lunar surface activities and Mars human transit and surface missions,
• opening options for leadership in terms of capacity-building and inviting other partners into specific European activities.
Science, the ultimate destination
While curiosity is the engine of space exploration, knowledge is the ultimate destination. As science and its applications will make space exploration a greater reality, the knowledge acquired will reveal our history, inform our future, and give us a mirror – like the Pale Blue Dot – for an enhanced understanding of ourselves and our environment.