Applications
NAVISP Industry Days: navigation solutions beyond satellites
More than 120 representatives of companies and research institutions across Europe met at ESA's NAVISP Industry Days, discussing dozens of projects being supported by the Agency's newest programme, fostering innovation and competitiveness across the European positioning, navigation and timing sector.
The second annual Industry Days of ESA's Navigation and Innovation Support Programme took place on 22-23 January at ESA's ESTEC technical centre in the Netherlands. NAVISP is dedicated to 'positioning, navigation and timing' (PNT), supporting Europe's near-term competitiveness as well as longer term research and development.
Making PNT provision less vulnerable
Satellite navigation is ubiquitous, with more than five billion satnav receivers in use today, so that is easy to forget it is only a means, not an end in itself. Its actual purpose is PNT provision, which has become essential to today's society.
The PNT sector is estimated to underpin 10% of the European economy, serving many more sectors than just transport: The system synchronisation delivered by satellite-derived PNT underpins global communications, banking and power systems.
Satellite navigation has made all this possible, with constellations such as GPS and Galileo able to transmit navigation signals to every corner of our planet.But the very proliferation of services enableded by satellite navigation requires the probing of possibilities to render PNT provision more resistant and less vulnerable.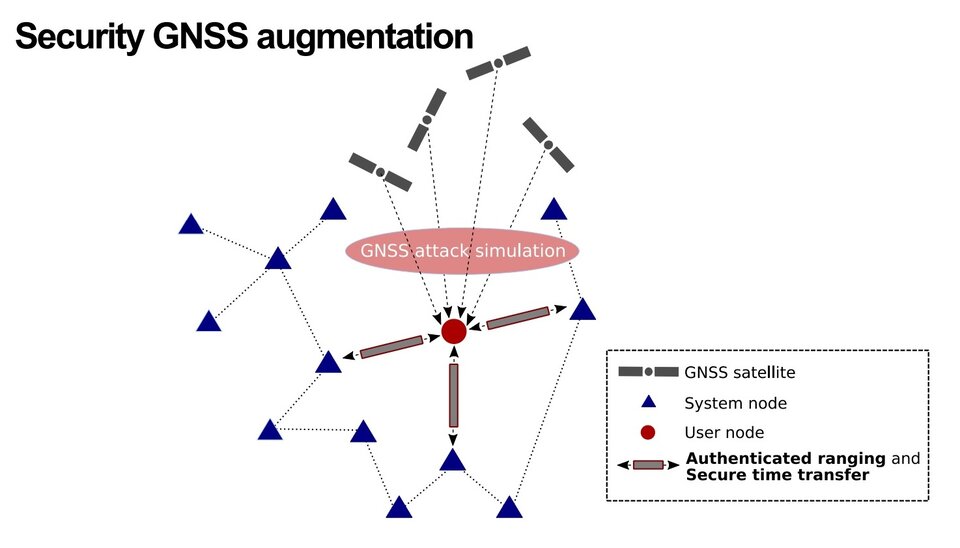 With the satellites orbiting thousands of kilometre away in space, the signals they transmit are vanishingly weak, equivalent to a car headlight shone from one side of Europe to the other, and are correspondingly vulnerable to interference, jamming or spoofing.
"There is an imbalance," comments Pierluigi Mancini, heading the NAVISP Programme Office. "Billions of euros of investment in global navigation satellite systems (GNSS) can be impacted by a single jamming device costing a few hundred euros."
So NAVISP is addressing complementary methods of providing PNT to assure its continuing availability and reliability, along with the fostering of novel PNT-based products and services, and supporting Member States in their PNT research.
An example was presented by Finland's SSF : a based onatrusted radionavigation system via two-way ranging, offering enhanced robustness against vulnerabilities typically suffered by passive one-way ranging systems such as GNSS.
Belgium's Sonaca company has investigated the use of High Altitude Pseudo-Satellites (HAPS) to bolster traditional satnav [LINK: https://www.esa.int/Enabling_Support/Space_Engineering_Technology/HAPS_missions_to_the_edge_of_space_to_watch_over_Earth ]. These high-altitude platforms would be deployed over regions of interest to locally enhance navigation precision, to improve signal availability into indoors or dense urban environments.
Action against interference
Combating signal interference was a major focus of the event, with participants recounting 'handshakes' or other authentication techniques, as well as ways to find where interference is coming from. The Italian company Intecs Solution showed a demonstration of their G-PASSION - Galileo Public Authenticated Server-based Snapshot positioning – project. They have designed and developed a system for a GNSS server-based position authentication service using the Galileo signal.
Swedish company Integrated UAV presented a NAVISP project with the Swedish Space Corporation and engineering company Afry, looking into special problems of drone control in the Arctic.. Several drone manufacturers do not recommend flying their products there at all.
The consortium is currently identifying key disturbance sources, including space weather, magnetic fluctuations and low temperatures, as a first step to developing a dedicated correction unit to add to polar-operating drones.
Driving forward
PNT for autonomous vehicles was a major topic of interest. Irish company Taoglas presented the results of their MISSATO NAVISP project, resulting in five distinct GNSS antennas receiving multiple GPS and Galileo frequency bands for vehicular tracking and device management, requiring cm-level positioning. Nottingham Scientific Ltd in the UK is working on its IMPACARS project, aiming at developing and proving the practical feasibility of integrity risk monitoring and prediction for autonomous vehicles.
The event included a round table on driverless vehicles. Michael Baus of Bosch GmbH presented his company's research into the combination of satnav-based positioning with additional landmark-based visualisation using onboard cameras and radar, and the thousands of driving hours so far invested into testing hundreds of different test cases.
Irma Rodriguez of GMV explained her company's application of 'precise point positioning' (PPP) satnav techniques to driverless cars – extracting additional precision from the signal phase of satnav messages – down to a matter of centimetres. At the same time, unlike traditional PPP applications such as precision agriculture, coverage has to be available within less than 30 seconds of the vehicle starting or recovering from any signal drop-off due to bridges, tunnels or high buildings, with dead reckoning based on inertial sensors employed to fill the gaps.
Industry Days participants also had a chance to ride ESTEC's own autonomous vehicle. The 'Orbiter' shuttle calculates its position using a fusion of satnav plus lidar 'laser radar', visible cameras and motion sensors. It is being used on a trial basis to transport employees and visitors around the complex, to test the technology's use as a 'first and last mile' transport option.
Joop Veenis of Dutch Automated Mobility explained the test campaign will begin using a second, more advanced 'Hawking' shuttle during this year: "While our current shuttle has a steward aboard at all times, our new vehicle will have passengers riding by themselves, with human oversight provided instead by a remote control room via a secure satellite link."
Advancing NAVISP
More than 100 activities have been initiated in NAVISP's three-year history, tackling subjects as varied as applying PNT to crowd management, power grid infrastructure, reducing satnav signals' susceptibility to interference and jamming and time measurement based on pulsars in deep space. Visit navisp.esa.int for a full overview of the projects developed under NAVISP.
NAVISP received strong support from ESA Member States during last November's Space19+ Ministerial Conference, receiving close to double the previous level of investment for the programme's second phase.