Luca Parmitano
Born: 27 September 1976 Nationality: Italian
Family: married and has two daughters
Hobbies: scuba diving, snowboarding, skydiving, weight training and swimming. Other interests include reading and music.
Luca has a bachelor's degree in political sciences, and in 2000 graduated from the Italian Air Force Academy in Italy. In 2009, he completed a master's degree in experimental flight test engineering at the Institute Superieure de l'Aeronautique et de l'Espace (ISAE), in France.
In 2007, Luca was selected by the Italian Air Force to become a test pilot. He trained as an Experimental Test Pilot at the French test pilot school.
Parmitano is a captain in the Italian Air Force. He has logged more than 2000 hours flying time, is qualified on more than 20 types of military airplanes and helicopters, and has flown over 40 types of aircraft.
Luca was selected as an ESA astronaut in May 2009. In February 2011, he was the first member of his class to be assigned as a flight engineer to a long-duration mission to the International Space Station (ISS).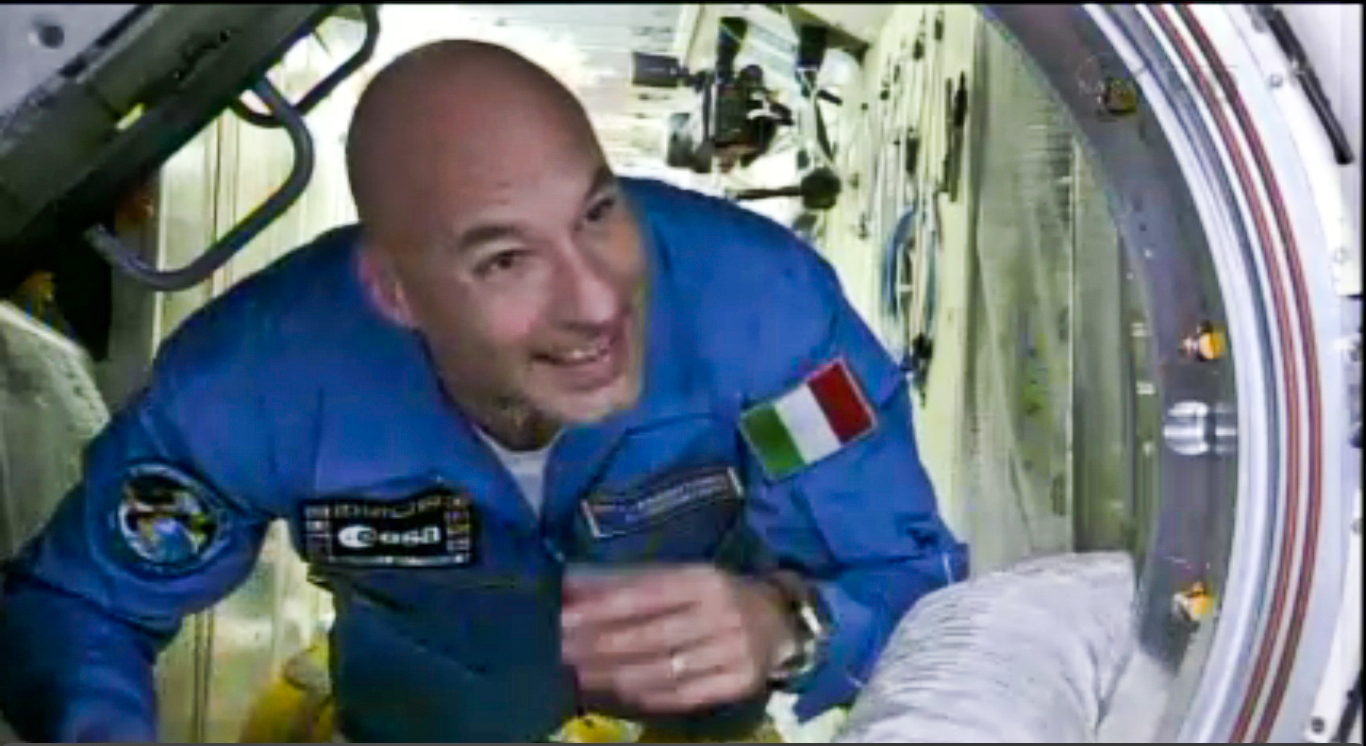 He was launched on a Soyuz rocket from Baikonur, Kazakhstan on 28 May 2013, alongside Karen Nyberg of NASA and Fyodor Yurchikhin of the Russian Space Agency. Their Soyuz TMA-09M spacecraft docked with the Station after four orbits of Earth, only five hours and 39 minutes after liftoff. They were greeted by the resident crew - Russians Pavel Vinogradov and Alexander Misurkin, plus Chris Cassidy from NASA.
During Luca's 'Volare' mission – Volare means 'to fly' in Italian – he orbited Earth 2,656 times and travelled more than 110 million km. As a flight engineer, he took part in docking ESA's fourth Automated Transfer Vehicle, Albert Einstein, and was in charge of unloading over 1400 items delivered by the supply ship. He was also closely involved in berthing other supply vessels: Japan's HTV and SpaceX's Dragon.
Luca spent a lot of time on scientific research, repairs and educational activities. Many people enjoyed the beautiful pictures of Earth he posted on Twitter.
Other highlights of his mission were two spacewalks to replace a camera mounted on Japan's Kibo laboratory and retrieve science payloads. When he floated outside the ISS on 6 July, Luca became the first Italian to walk in space. A second spacewalk was cut short when his helmet filled with water and he had to find his way back inside, without communications. His calm nerves, training and help from fellow astronauts and ground control saved the situation.
He returned to Earth on 10 November, after spending 166 days in space.
Last modified 20 February 2014
Related articles