"Are we alone?"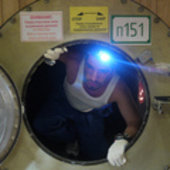 10 November 2010
In his latest diary update, Diego explains the daily routine with a European experiment they are conducting inside the Mars500 modules, and also shows his Halloween photos, prompting the question: "Are we alone?"
---
As the days get longer and more monotonous in the Mars500 modules, we get more time to think about the conditions that surround us. One of the questions that crosses our minds from time to time is: "are we alone?" I am not talking about tortured souls that haunt the storage module on Halloween, or about life beyond Earth (the latter being a fascinating topic by itself), but about other actual living beings that might share this space with us, without us noticing.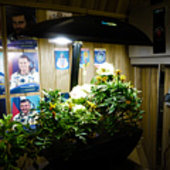 During the mission we grow plants for their ornamental value and for the food they can provide, so these are the more obvious life forms living beside us. In other isolation experiments, individuals reported having a growing appreciation of any living being they encounter, for instance, a spider or a fly can trigger profound emotions in people! The way the Mars500 modules are built, the chances are we will never encounter visible insects or similar, and believe me, every once in a while we used to try to look around for them, but with no success.
The reason is that the large cylinders that host us (by the way, they are shaped like this because they should be able to fit in a gigantic rocket) are pressurised at a level above that of the atmosphere outside. This is an old trick that is also used in the factories that make the chips in your computer, places that need to be free from contaminants (or for that matter bugs). In this way, if there is a small leak or a crack where little nasty elements could enter, the air flows outwards and not inwards, keeping the internal environment clean.
But being completely isolated from the outside does not guarantee that there are no other living beings with us. As always, where there is a human, there are tiny colonies of creatures that build up their 'societies' under our noses while we, unaware, mind our own business. They are born, reproduce and crawl, swim, tumble or simply stay attached to the wall in front of me as I write this diary.