Science & Exploration
Long trip without moving anywhere
Romain writes in his diary about this important milestone: "This unusual and extraordinary adventure begun on 3 June 2010. With my crewmates, Diego Urbina, Alexey Sitev, Sukhrob Kamolov, Alexander Smoleevskiy and Wang Yue, we embarked for a long duration motionless trip."
---
A lot of focus was put on this exceptional experiment before our entry and my family amongst a lot of other people was there to wish us a safe journey. They gave me a lot of energy and, for the first weeks of our isolation, I was quite excited discovering this new life. I walked back and forth in all our modules to understand better and own our new territory. It didn't take a lot of time for us to feel like at home.
Also, for a couple of months, we went through all our 100 experiments to make sure that we could realize them to the satisfaction of the hundreds of scientists behind them.
Soon enough we found a nice and smooth routine for our days' work and for our free time. The dark side of this routine is that every day for the past year we woke up at the same time to do the same medical controls with the same devices: no week-end or holiday breaks for a year!
To avoid to be drowning in an ocean of monotony we organized or we were surprised by some special events. You may have read about them in our previous diaries: Halloween, the power failure's simulation or New Year's Eve.
Today, as we reach our 365th day, I would like to talk about another kind of events which always gave us a lot of pleasure: visits. Since 25 July 2010, the (virtual) distance between our spaceship and the Earth makes it impossible to have any direct communication with other persons than the six of us.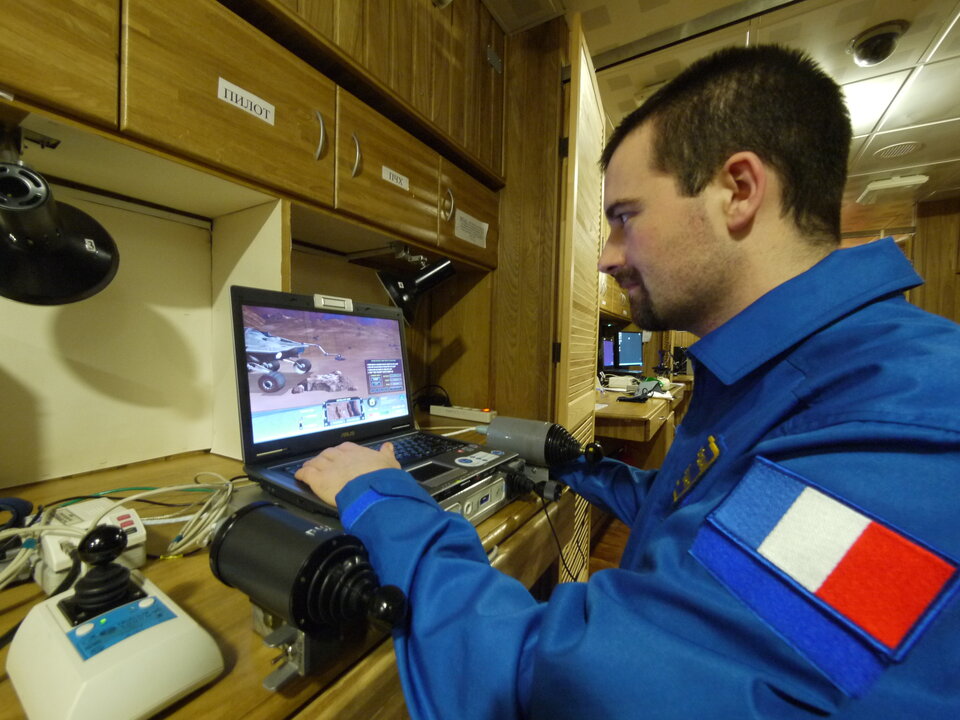 To have a good and efficient way of sharing information with Mission Control we use written messages - "Radiograms" - and video-messages. We are now used to receive videos from the duty teams who are monitoring our modules from the outside and it's always a good surprise when an unexpected face is shown on our computer screen. I would divide those special visits (i.e: video-messages) into 3 different categories: groups of students, family members & friends and groups of officials.
I remember that the first students who came here were from the Lycée Français of Moscow. It was totally unexpected for me and I smiled a lot watching them telling jokes together or struggling to find their words in front of an impersonal webcam. Later we received videos from Spanish, French and Russian teenagers visiting us during their school trips. The bravest ones are even singing to cheer us up and it works!
Even if Moscow is quite far from France, I had the chance to see some relatives and friends here. For these persons, the "conversation" that we can have is always frustrating and pleasant at the same time. Due to the delay in communications, the video messages take so much time to come and go that the waiting is really frustrating. However, the excitement to have them here and to see them with the usual mission control background is worth the waiting. it's a real pleasure almost feel their presence close by and to talk casually about their trip like we would do at home.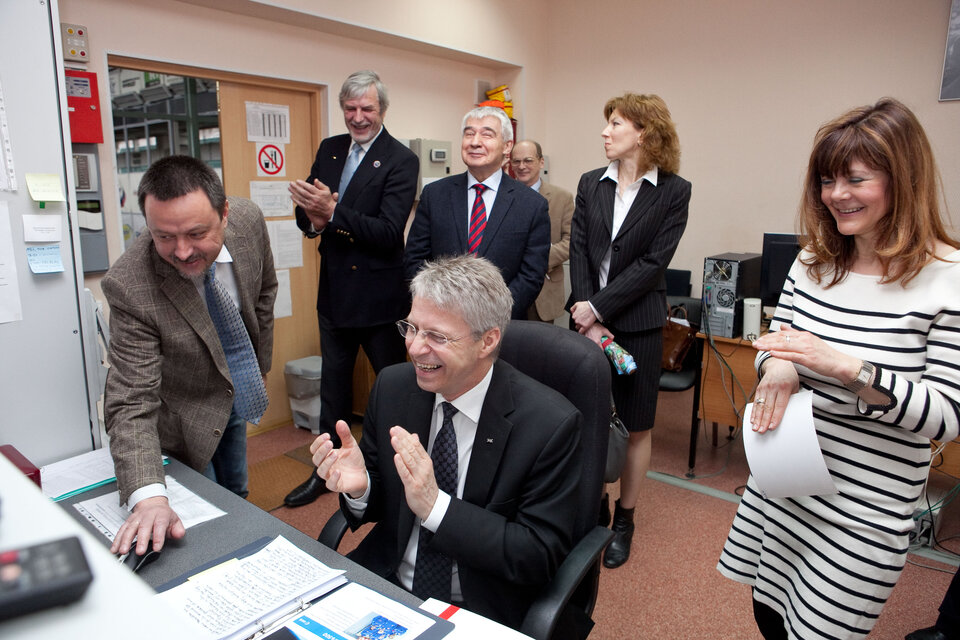 A lot of officials from the main Space Agencies were in Moscow for the 50th anniversary of Yuri Gagarin's first flight in space and some of them took this opportunity to visit us. For example, the new director of the "Human Spaceflight and Operations" at ESA, Thomas Reiter, came on 11 April. We also had the pleasure to see the president of the French Space Agency (CNES), Yannick d'Escatha, on this day.
With our crew mates we developed a protocol for the official visits. The main persons involved (for example Diego and me for the visit of ESA officials) prepare a message welcoming our visitors and explaining in more detail our situation here. Soon after, the whole crew gathers in the control room for a quick "welcome" video. Doing so, our official visitors will be able to watch our message as soon as they arrive. With their busy schedule and the delays in communications we were never able to exchange more than 2 videos with the outside but their kind words were always well perceived by the whole crew.
The highlight of our year of isolation weren't the special events that we had or all the visits that we received. The real highlight of our 365 days was definitively Mars. The Red Planet was our target from the start and reaching it was a great moment. Our month of February stands apart in my memories. The opening of the Martian lander, the three EVAs made by Diego, Wang Yue and Alexander and the reunification in the end were the greatest episode of our trip.
We are now in our way back with our usual monotonous routine. Looking back at all the moments that we shared together as a crew makes me a little bit nostalgic especially for the Mars period. However we still have five months ahead of us a lot of opportunities to make this trip to Mars even more special.
We have a great crew and although our backgrounds are significantly different, we never had any conflicts between us. That's why I'm full of optimism for our last days in the Mars 500 modules. We'll see you on 5 November when we'll land on Earth after our 520 day's journey to the Red Planet, not before!
- Romain