Enabling & Support
Aeolus teams ready for space
The teams responsible for flying the Aeolus satellite completed a pre-launch 'dress rehearsal' at ESA's ESOC operations centre in Darmstadt today, the last major step in getting ready for next Tuesday's liftoff.
Experts in mission operations, flight dynamics, ground stations and software systems worked together with counterparts in the Jupiter Control Room on the far side of the Atlantic at Europe's Spaceport in Kourou, French Guiana, to practise the pre-launch and liftoff sequence.
This full-scale dress rehearsal for launch came one day after the final simulation covering early operations in space — leaving ESA ready to fly Europe's wind satellite.
Aeolus is set to launch on a Vega rocket at 21:20 GMT (23:20 CEST) on Tuesday, 21 August 2018, carrying one of the most sensitive instruments ever put into orbit: a Doppler wind lidar known as Aladin.
Aladin will make Aeolus the first satellite to directly measure wind speeds on Earth from space, providing crucial data that is expected to greatly improve weather forecasting around the globe.
During today's dress rehearsal, controllers were connected to the satellite itself — currently nestled on top of its Vega rocket in Kourou — via an umbilical cable. This connection will be severed just a few minutes before liftoff (watch live on 21 August starting 22:45 CEST).
Final simulation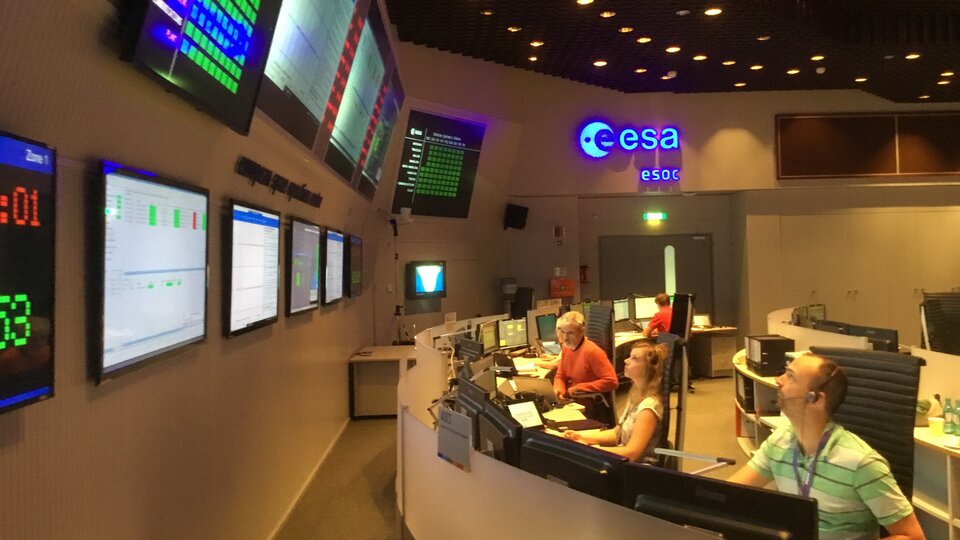 Yesterday's simulation capped off months of intensive training. It began at 8:30 CEST and saw teams in Darmstadt mimicking the first eight hours after liftoff — during which they will assume control of the satellite following its separation from the Vega rocket.
"Getting a spacecraft safely into orbit is a difficult process, and a tense but exciting time for mission teams on the ground," explains Aeolus flight director Pier-Paolo Emanuelli.
"Simulations provide an invaluable tool for the many engineers, operators and controllers working with the satellite, giving them the chance to rehearse all possible scenarios before the big day."
This final simulation was unlike the many that came before, as it was a run-through of 'normal' operations for the vital first hours in orbit.
"Whereas previous weeks took the teams through contingency plans for potential scenarios in which something goes wrong, this final simulation was to refresh in the teams' minds on what is to be done when everything is just right," says Spacecraft Operations Manager Juan Piñeiro.
Ground stations worldwide
The Vega rocket launcher will inject Aeolus into orbit at an altitude of 320 km.
"For one hour and ten minutes after liftoff, there is no possibility for us to command the satellite — it is purely in the 'hands' of the launcher itself," Juan adds.
Once the satellite separates from the rocket and begins free flight, the solar arrays have extended and Aeolus has turned toward Earth, a global network of ground stations will begin receiving signals from the satellite, marking the first data link between Aeolus and mission control.
The first signal from Aeolus is expected around 00:16 CEST (22:16 GMT) via ESA's 4.5 m-diameter dish at New Norcia, Australia.
Subsequently, stations located at Troll, Antarctica, Inuvik, Canada, Svalbard, Norway and Kiruna, Sweden will receive signals from the satellite and transmit commands from engineers at ESOC.
A critical period
After establishing contact, teams will begin three days of intense activity, working around the clock to chaperone the satellite through the 'LEOP' period — the 'launch and early orbit phase' — one of the most critical periods in the life of any satellite.
Working non-stop to verify the satellite's health, they will switch on and configure flight control systems and ensure that all critical steps – such as the deployment of solar arrays – take place as scheduled, and that all flight control systems and communications are functioning as planned.
"This period is risky," explains Rolf Densing, Director of Operations. "The satellite is not yet fully 'switched on' yet needs to be protected from the potentially dangerous scenarios that can arise in any complex space operation.
"But with ESOC's expertise on hand, this risk is reduced. Experts from flight dynamics, operations engineers and specialists in control systems and ground stations will be working together in unison to ensure this unique and important satellite is successfully placed into orbit."