Applications
Technology to boost high-speed satellite connectivity
British electronics specialist Filtronic is developing advanced technology that will enable next-generation satellite constellations to deliver high-speed broadband internet coverage.
Backed by ESA and the UK Space Agency, the company is working on spacefaring hardware that aims to provide fast, high-capacity links between low Earth orbiting communications satellites and receiving ground stations.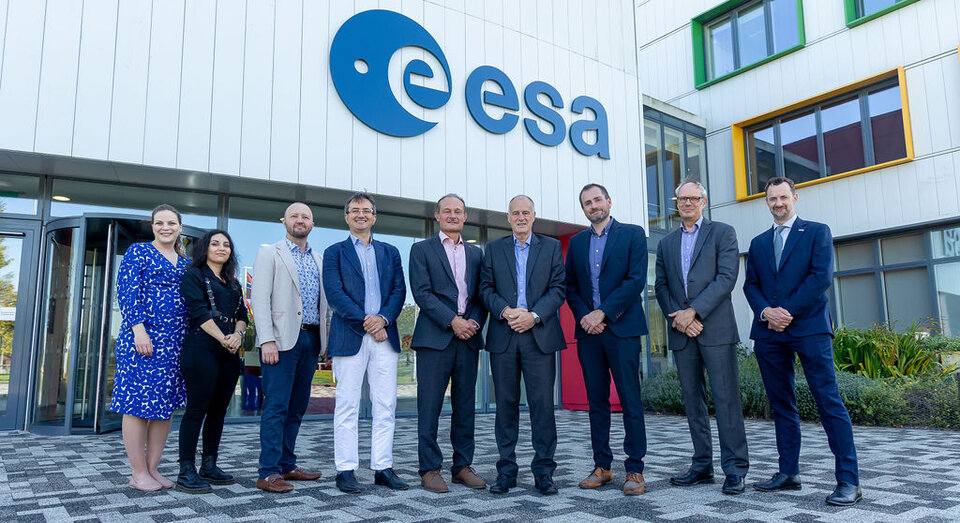 The contract forms part of ESA's efforts to advance the 5G digital transformation of society and industry.
Low Earth orbit constellations are a crucial element of next-generation 5G and 6G converged networks, augmenting communications infrastructure on the ground and ensuring the provision of continuous, instant and ubiquitous connectivity.
Telecommunications satellites provide connectivity by receiving and sending data via radio waves, with different parts of the radio spectrum having contrasting capabilities in terms of speed, data volumes, and bandwidth.
Filtronic's technology operates over extremely high frequency bands – or millimetre waves – that deliver wide bandwidths, high data rates, and low latencies over localised areas.
As the 5G digital transformation continues, the adoption of this frequency range is gaining significant momentum, thanks to its capability to enable key applications, including autonomous transport, the internet of things, and industrial automation.
Filtronic has demonstrated an impressive commercial track record for the development of millimetre wave products for terrestrial communications.
By bringing the firm's expertise to the table, the contract is expected to create several commercial opportunities in the space industry, including more efficient production and the development of spin-off technologies.
The contract is part of ESA's Space for 5G and 6G Programme, and falls under ESA's programme of Advanced Research in Telecommunications Systems (ARTES), which promotes commercial innovation to boost European and Canadian leadership in the fiercely competitive global satcom marketplace.
Paul Bate, Chief Executive of the UK Space Agency, said: "As we rely increasingly on satellite communications across all aspects of our daily lives, innovations that improve and expand the scope of these services have become an economic engine for the global space sector.
"Filtronic's products, which aim to tackle major challenges, such as bandwidth requirements for emerging telecoms, provide a brilliant example of how the UK is excelling in this area; exploiting opportunities to enhance services that make our lives better and contribute to the growth of our thriving satellite communications and wider space sector."
Antonio Franchi, Head of ESA's 5G/6G Programme, said: "ESA is proud to partner with Filtronic on a project that will apply the company's excellent commercial capabilities to advance the digital transformation of society and industry, achieved through the development of hybrid satellite 5G networks."
Tudor Williams, Director of Technology at Filtronic, said: "Filtronic has already developed a range of technologies and products for millimetre wave bands. This contract allows us to gear our core technology towards the low Earth orbit market.
"Satellite operators are increasingly turning to frequencies that deliver ultra-high bandwidth data links and Filtronic is uniquely positioned to adapt existing products, manufactured in commercial volumes, for the specific requirements of space."
Fabrizio De Paolis, 5G/6G Implementation Manager at ESA, said: "Filtronic is in a great position to deliver this contract. Its in-house design and manufacturing capability is one-of-a-kind in the UK and, through the ARTES programme, ESA is delighted to partner with Filtronic to establish a leading position in this exciting and growing sector."