Applications
Launch of Space Solutions Ireland
Ireland boosted its use of space technology this week for down-to-Earth applications by opening the ESA Space Solutions Centre Ireland business incubator.
"The centre will give Irish entrepreneurs and start-ups a unique opportunity to access the funding, expertise and networks they need to grow their businesses and create jobs," said Mary Mitchell O'Connor, Ireland's Minister for Jobs, Enterprise and Innovation.
Led by Tyndall National Institute in Cork in partnership with Athlone Institute of Technology, Maynooth University, and Irish Maritime and Energy Research Cluster, and funded jointly by ESA and Enterprise Ireland, the ESA Space Solutions Centre will support the application of technologies developed for space to tackle challenges on Earth and beyond. It is ESA's 14th Business Incubation Centre in Europe.
"We are proud of the fact that four of the country's leading science and technology institutions are at the forefront of such an innovative and exciting initiative," continued the minister.
"With the support of ESA, Enterprise Ireland and the Department of Jobs, Enterprise and Innovation, Ireland can look forward to the rapid expansion of the Irish space sector in the coming years."
"We have now nurtured over 400 new companies in Europe at our business incubation centres, demonstrating the value of using advanced space technologies to create benefits here back on Earth," notes Franco Ongaro, ESA Director of Technical and Quality Management and Head of ESA's ESTEC research and development centre.
"This has been achieved thanks to our well-proven incubation scheme and resulted in new businesses and local jobs in the ESA Member States.
"Having already seen the competences of Irish companies to develop and innovate technologies capable of performing in the extreme environment of space, we see a great potential with this latest ESA business incubator."
Opportunity for Irish entrepreneurs
ESA Space Solutions Centre Ireland will provide enticing opportunities for both new and established companies. Each of the 25 start-ups accepted to join the business incubator will receive €50,000 in seed funding, along with expert technical assistance and opportunities to access other funding mechanisms.
The centre will also offer 10 rounds of €40 000 funding to support technology transfer for established companies that want to develop demonstrators for new products and services using space technology. Companies can work from any of the four host institutions.
ESA Space Solutions Centre Ireland will also be the national broker in ESA's technology transfer network supporting industry in taking advantage of technologies, patents and systems developed for Europe's space programmes.
Manager David Gibbons emphasises that companies do not necessarily have to develop products for use in space:
"SubTeraNDT, an Irish company that has already been through an ESA incubator programme in the UK, uses subterahertz frequencies originally developed for space applications to detect corrosion and defects under layers of paint, insulation and coatings. This has particular applications in the oil and gas industries.
"ENBIO has benefited hugely from ESA in developing space and non-space related products. It has used coating materials originally developed for use in artificial hip joints to create 'sunscreen for satellites' to protect them from solar radiation. This has since led to other terrestrial uses, including non-stick molds for tyre-making and ways to cool electronics."
The incubation programme will support the start-ups for two years and they will also gain access to additional funding mechanisms, in addition to take advantage of the brand value of ESA. Being part of the ESA incubator family opens the door to a host of opportunities and ESA resources such as the use of satellite data and access to the agency's lab facilities.
"This is an open call for companies and entrepreneurs to start talking to us, even if they are not sure whether they fit.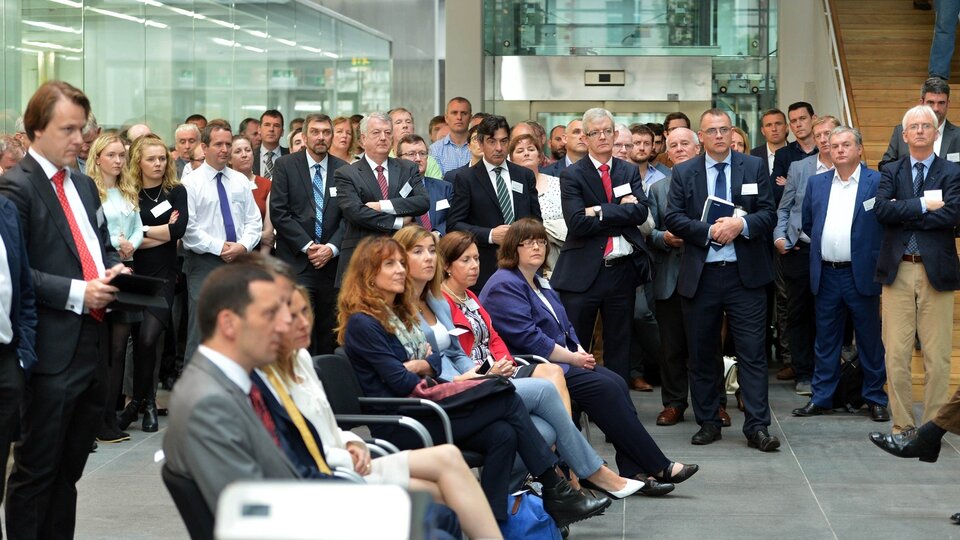 "So much technology that we use every day originally came from space programmes. People get hung up on the idea of technology that will be used on satellites or spaceships, but this is about applying space technology more broadly to create good products, good companies and more jobs.
"Think enterprise, rather than the Starship Enterprise."
The number of companies in the space sector in Ireland is expected to expand from 50 to over 80 by 2020, generating annual revenues that are predicted to grow from €76 million in 2015 to over €150 million by 2020.
ESA's growing business incubation initiative
Started by ESA's Technology Transfer Programme in 2003, the business incubation initiative has now grown to 14 centres, with two more to open soon, fostering hundreds of new companies yearly, creating thousands of new high-tech jobs.
The initiative profits from space technology and expertise to create new businesses and jobs in Europe, which also boosts local economies and Europe's competitiveness. Thanks to these start-ups and their entrepreneurs, leading-edge technologies and expertise from Europe's space programmes are used to create smarter terrestrial applications.
Through its centres in the Netherlands, Germany, Italy, UK, Belgium, France, Spain, Portugal, Sweden, Czech Republic and now Ireland, ESA offers business incubation support at 33 locations throughout Europe.
Centres in Austria and Switserland are planned to open later this year, raising the number of start-ups springing from ESA's Business Incubation Centres to 130 every year.