Agency
Ladybird Guide to Spacecraft Communications Training Course gets students thinking like spacecraft operators
30 university students from 12 different ESA Member States have successfully completed the latest Ladybird Guide to Spacecraft Communications Training Course. Running from 5 – 8 February 2019, and hosted at ESA Academy's Training and Learning Facility, ESEC-Galaxia in Belgium, the course was delivered by a senior ESA engineer from the Advanced Concepts and Management Support Office of the Operations Department.
This course was the fourth edition of ESA Academy's Ladybird Guide to Spacecraft Communications Training Course. The tried-and-tested aim remained: acquaint students with the fundamental concepts of spacecraft telecommunications. The "Ladybird approach" was used throughout, meaning that lectures avoided excessive mathematical and analytical detail, and were furnished with a wealth of real-life examples supplemented with easy to understand diagrams.
"When I arrived, I didn't know anything about communication systems in general," admitted a German student from the University of Stuttgart. "I enjoyed gaining so much knowledge through the lectures, the implementation in the simulation exercise, and the visit of a real ground station in ESEC-Redu, with so many interesting people from all over Europe. The combination of theory and application of spacecraft make this course incredibly fun and educational."
A secondary course aim was to "fill the gap" between spacecraft operators and telecommunications designers. Traditionally, designers cannot think "as operators", and this course offered participants an opportunity to use the "spacecraft operator point of view" when designing a ground station or a telecommunications subsystem of a spacecraft.
The trainer has many years of experience with spacecraft operations, and as a result the teaching approach was filled with actual examples from spacecraft missions. . Students were challenged with real operational scenarios to bring them as close as possible to what the actual problems are during a real spacecraft mission.
Throughout the course students were introduced to various spacecraft telecommunications topics, including:
Signal modulation and demodulation
Channel coding
Communication protocols
Transmission
Link budget for signal reception
Ground stations
With a foundation of knowledge under their belts, the trainer turned up the heat with a challenging group exercise! The students were split into three teams: Taurus, Minos, and Step Safe. In these groups they had to produce a "Ladybird design" of a spacecraft. On the course's final day, they operated their craft in a virtual spacecraft communications scenario! Each team performed well in this simulation, putting into practice the lessons they had learned during the earlier lectures.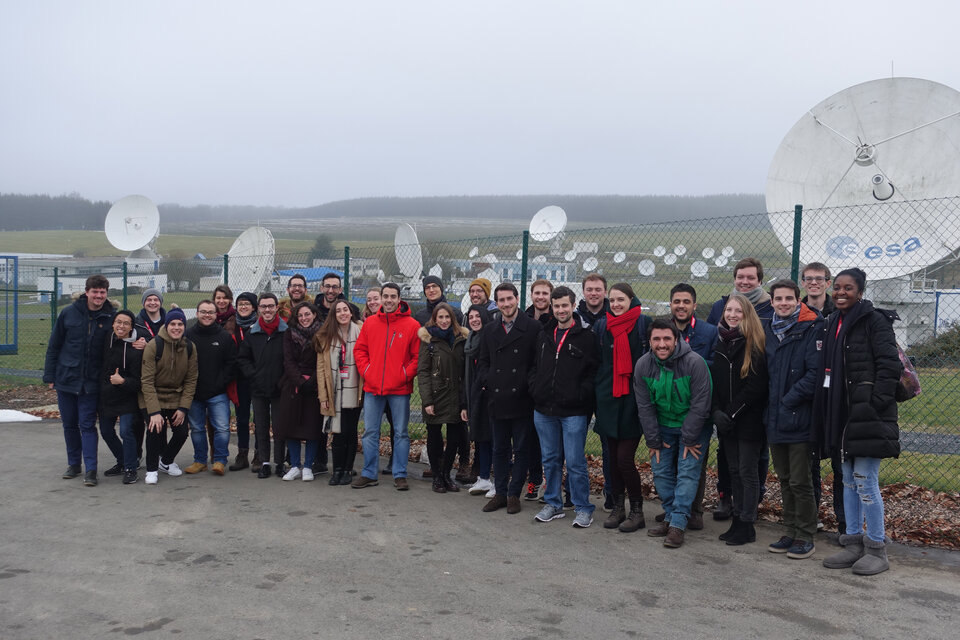 "This course is an unparalleled opportunity to learn about spacecraft communications," enthused a Spanish student from the University of Oviedo. "It is theperfect mixture of education and entertainment in an exceptional environment."
In addition to the lectures and group exercise, the students had the opportunity to visit ESEC-Redu with three different Operations Engineers. They visited the Proba Operations Room and received insights on how ESEC-Redu communicates with the Proba satellite. They also toured the Baseband Equipment Room, as well as inside the Redu 1 Antenna (boasting a 15-metre diameter dish). Finally, they toured the site of ESEC-Redu to see all the other antennae present. The students also learned about ESEC-Redu activities that support ESA's Galileo programme. Participants took advantage of the chance to talk with the satellite and ground station engineers, gaining yet more valuable information.
"Before attending the course I would have never imagined how much I could learn in such a short time," said a Spanish student from the Universitat Politècnica de Cataluyna. "Entertaining lectures and detailed concepts, highly recommended for students to cut their teeth on spacecraft communications!"
Additionally, a livestream of the course was set up, such that another 14 students from seven different ESA Member States, could attend the lectures. Through the ESA Academy's YouTube channel, these students could follow the lectures live or play them back at some later point. Throughout the training course they also had the opportunity to ask questions to the ESA expert. After successfully completing an online evaluation, the livestream students received a certificate of participation.
"As a telecom student I had previously learned how each stage in communications works but participating in ESA's course has allowed me to connect all those stages into one full process." said a Spanish livestream student from the University of Oviedo.
ESA's Training and Learning Programme is offering several other training session opportunities in the coming months. They will cover different fields of ESA expertise, such as Space Debris, Standardisation, Product Assurance, Space Law, and Gravity-Related Research. To find more information, please check our current opportunities page.
Contact: tlp @ esa.int